June 16, 2003
Sukanya Verma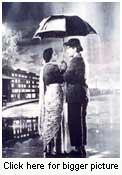 Films are supposed to mirror a larger-than-life image of reality. That is why, in Bollywood, when it rains, it pours. The idea is to insert a rain sequence to rejuvenate the mood and tempo of the film.
In real life, though everyone waits for the monsoons, you are busy cursing (at least in Mumbai) the delayed trains, traffic jams, muddy puddles and getting wet without consent, and forget to stop by and enjoy the smell of wet earth or dance in the rains.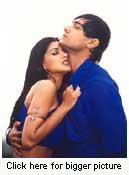 In Hindi films, the purpose of a song is to take the viewer on a brief trip to fantasy land.
The average filmmaker prefers to capitalise on the contours of his heroine, so a wet hot scenario is most welcome. So whether it is the month of June or November, actors are seldom denied the pleasure of prancing under heavy showers.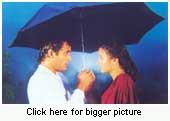 Romance and rains go together. Who knows this better than Raj Kapoor? Though Kapoor's Barsaat draws its title from the rains, his other film Shree 420 featured the memorable shot of him and Nargis standing under a black umbrella, professing their love for each other in Shanker-Jaikishan's classic composition, Pyaar hua iqraar hua.
Years later, Akshaye Khanna and Aishwarya Rai attempted to relive the moment in Raj Kapoor's son Rishi's directorial debut in Aa Ab Laut Chalein. And, of course, Anil Kapoor and Manisha Koirala in Vidhu Vinod Chopra's 1942 - A Love Story, with Rimjhim rimjhim.
Whether it is a confession or flirtation, a rainy day packs in a whole range of emotions in Bollywood. Kishore Kumar and Madhubala's playful banter is hard to miss in Satyen Bose's Chalti Ka Naam Gaadi's Ek ladki bheegi bhagi si.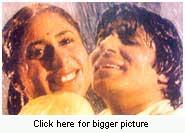 Monsoon fever has not escaped Amitabh Bachchan either. While in Basu Chaterjee's Manzil, the Big B and costar Moushmi Chatterjee silently enjoy a walk against the roaring rush of waves on Mumbai's Marine Drive, in Prakash Mehra's Namak Halal, the actor goes completely wild. Even the normally subdued Smita Patil threw caution to the winds with Aaj rapat jaaye.
In Bollywood, rains are also used as a metaphor for tears. Gulzar's Maachis witnesses Tabu lament quietly with Pani pani re; while Vinod Khanna remembers his deceased sweetheart (Juhi Chawla) in Lagi aaj sawaan from Yash Chopra's Chandni.
Speaking of Chopra, his penchant for rains, romance, Switzerland and pastels is well-known. The incurable romantic in him is in full swing in the rain sequences of Chandni (Parbat se kaali ghata, Lagi aaj sawaan), Lamhe (Megha re megha) and Dil To Pagal Hai (Koi ladki hai). In Chandni, Sridevi's character has a valid excuse to get wet, as she is shown to be crazy about rains.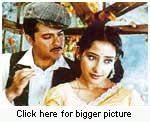 Chopra's son Aditya did not fail to acknowledge rains either. Remember the dripping Kajol frolicking in that teensy-weensy white skirt in her yard or a doused Shah Rukh Khan play football in Dilwale Dulhania Le Jayenge?
Saris and seduction go together too. No Hindi film heroine has escaped getting drenched. In Bollywood, it almost amounts to baptism. Whether it was the sultry Zeenat Aman luring a disinterested Manoj Kumar in his Roti Kapda Aur Makaan (Hai hai yeh majboori), or a sensuous Raveena Tandon pouting and preening for Akshay Kumar's attention in Rajiv Rai's Mohra (Tip tip barsa pani), seduction was the common ground in both. Interestingly, while shooting for the intimate sequences of this Rajiv Rai action flick, sparks flew between Tandon and Kumar resulting in an offscreen romance. The duo split after a brief engagement.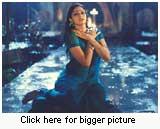 But the crown for the sexiest of them all goes to Sridevi's wet number in Shekar Kapur's Mr India. Draped in blue, the actress has audiences drooling over her till this date.
When it comes to courtship during the monsoons, men are not far behind either. Aamir Khan's foot-tapping act under Neelam's balcony was rather cute in Shahjahan's Afsana Pyaar Ka. The film was a no go at the box-office, but the song Tip tip baarish shuru ho gayi enjoyed good airplay on Vividh Bharti (the radio station).
Filmmaker Ram Gopal Varma used rains to convey two contrasting emotions in Satya and Kaun respectively. In Satya, Urmila's budding fondness for Chakravarthy is expressed in Geela geela pani, whereas in Kaun, rains add to the impact of creating fear.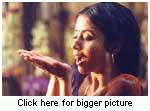 Rains play a crucial role in most suspense thrillers and murder mysteries. For instance, Mehmood and R D Burman sneaking on a rainy night in Mehmood's Bhoot Bangla or a raincoat-clad Jackie Shroff heading mysteriously for his apartment in Partho Ghosh's 100 Days.
Other than exploiting the heroine's vital statistics, rains also act as a powerful buffer to heighten the drama during an emotionally charged scene.
In Karan Johar's Kabhi Khushi Kabhie Gham, Shah Rukh Khan reaches out to Kajol to offer his condolences for her father (Alok Nath) and at the same time resolves to marry her, despite his father's (Bachchan) resentment.
The histrionics in the screenplay coupled by a heavy rainfall adds to the emotional impact of the scene.
At times, rains play the bad guy resulting in road accidents and loss of memory, as seen in Rishi Kapoor's case in Henna. His car skids so badly, he actually ends up in Pakistan with a bout of amnesia. It can't get worse, can it?
Action sequences shot in rain double the intensity. Rahul Rawail's Arjun featured a stylish shot of an exciting chase between two protagonists in a crowded rush of people holding black umbrellas. Also, Salman Khan's wet fury against Tej Sapru in Sooraj R Barjatya's Maine Pyar Kiya made one's heart skip a beat.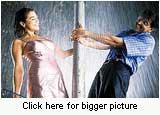 Rains are also of prime importance to farmers in India. In the Oscar-nominated Lagaan, the absence of rainfall was the root cause of the entire crisis. Going by Ashutosh Gowariker's logic, winning a cricket match pleases the rain gods no end and ensures a regular supply of rains for years to come.
In Rakesh Roshan's forthcoming sci-fi drama, Koi... Mil Gaya, Hrithik Roshan and Preity Zinta do a perfect impersonation of Hollywood dancing legend Gene Kelly from Singin' In The Rain.