Home > Movies > Bollywood News

'Don't get carried away with my role'

Syed Firdaus Ashraf in Mumbai | July 12, 2003 15:07 IST



"Everyone says I have to be a role model. Let me tell them, I am also a human being. It is upto the media to portray me the way they want. You have the power of pen. You guys decide what to write and what not to. I have been leading my life peacefully."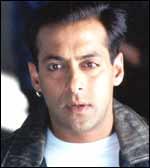 Strong words from Salman Khan, who has always been called the troublemonger in Bollywood by the media.

Recently, he was involved in a car accident on September 28 when he allegedly killed a person. Vivek Oberoi then held a press conference alleging that Khan called him 41 times on a single night, threatening to kill Oberoi if he didn't stay away from Khan's former girlfriend Aishwarya Rai.
Friday, July 11, saw the music release of his latest film, Tere Naam, directed by Satish Kaushik.
When asked how important Tere Naam was to his career, he says, "Every film is important." Then he joked, "But I guess this film is more important for the producer and distributor."

The first half of the film sees Salman sporting long hair while in the second half, he is bald. "The story is about two people in a small town," he explains.
Recent reports suggested Tere Naam was based on the romance between Khan and Aishwarya Rai. Khan says, "This is ridiculous. The climax of the film is not at all like my personal life. I would tell my fans not to follow what I have done in the film. Do not get carried away with the role. One has to move on in life and that is what I have learnt in life," he says.
The only reason he did this film, he says, is because, "I liked the script and the fact that Satish was directing the film. He is a really competent director and I wanted to do this film with him."

About his director Satish Kaushik, Khan says, "He is an actor so he knows actors' problems. I just had to follow him." Bhoomika Chawla, the heroine who debuts in Hindi films with Tere Naam, he says, is "so sweet. She reminded me a lot of Bhagyashree of Maine Pyar Kiya."

Khan claims he does not feel misunderstood. "Everyone knows what I am," he says. "But my life and my doings make interesting news copy. Look at Shilpa [Shetty]'s dad Surendra Shetty. Why did he get arrested? People write about this every day. It is most ridiculous. One has to be honest to oneself. Take a stance and be clean. That is what I am doing and I have done."

He says, getting up from his chair, pressing his hands hard together, "God and I are this close."


What do you think about the story?








Read what others have to say:





Number of User Comments: 97








Sub: salman .................tere naam

hi cuty man , i've seen ur films more than 50 times. i'm too much agree with u , i know all the chitters like ...


Posted by TEENA









Sub: cuty salman

hey sallu, all ur fans r with u we know ur not like the media is showing u . so don't be disturb by all ...


Posted by teena









Sub: salman

yes salman u r very correct tht " God nd U are very close"....u r the purest man and that is the field where problem ...


Posted by anirudh









Sub: Salubhai great comeback from the worst time of any human life

we're with you.....just remember you're on top ....that diappoints the media and any moron who think he/she's perfect.


Posted by JAKK









Sub: salman is the best...

everyone has bad phases in their life. Salman also had... But i think salman is really very good ... His heart is clean. He is ...


Posted by Prince Shah






Disclaimer