Home > Movies > Bollywood News

'No sex, no vulgarity, no double meaning'

Shobha Warrier | July 11, 2003 13:27 IST



Priyamana Thozhi, the most talked about film in recent times, has been produced by AVM, the 58-year-old Chennai production house, and directed by Vikraman, who has successfully helmed many Tamil family entertainers.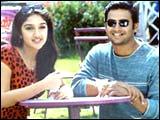 Expectations are high in the industry and trade circles as the film stars Madhavan, the current teenage heartthrob. After successfully wooing the urban audience with Nala Damayanthi, Madhavan is set to conquer the rural masses with this film.
Jyothika and Sridevi are cast opposite him in Priyamana Thozhi, which releases July 11.
Though Vikraman has made only a handful of films in the last decade, all his films, including his debut Pudu Vasantham, have been box office hits. In addition to his films being commercially successful, Vikraman has won recognition by winning several Tamil Nadu state awards.
AVM Saravanan confesses AVM booked Vikraman over a decade ago after watching Pudu Vasantham. AVM also booked Vikraman's music director S A Rajakumar. Says AVM, "I used to feel bad whenever I saw one of his [Vikraman's] films, because we had not yet made a film with him. With Priyamana Thozhi, our desire has been fulfilled. He is a producer's director because he does not waste a single penny."
He claims watching Priyamana Thozhi gave him as much happiness and satisfaction as he got from watching Moondanu Mudichu (director: Bhagyaraj); a record-breaking hit from the AVM banner. "This film also will be as successful as Moondanu Mudichu."
After last year's bumper hit Gemini, AVM made a small film called Anbe Anbe, but the film bombed at the box office. Now, everybody expects Vikraman, who has also directed Vaanathe Pol and Poove Unakkaga, to deliver a huge hit with Priyamana Thozhi.
Vikraman described making the film for the AVM banner as the 'ultimate' experience. "Whenever my grandfather wanted to take his family for a movie, he would only take them to an AVM film. My father, who was not a big movie buff, also watched only AVM films. And here I am, making a film for AVM! Now, my son sings O podu [the hit song from Gemini]. I don't think there is any other production house in Asia that has fascinated four generations."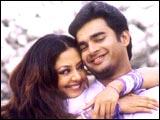 Madhavan is equally excited about the AVM banner, though he was slightly worried about working with Vikraman. "Many in the industry told me Vikraman sir was very strict on the sets. I thought, okay, that's fine. But when we started shooting, we were in for a big shock. He was not at all like what we heard."
Save for some songs which were shot on foreign locations, the film was shot in Ooty, Tamil Nadu, in December.
Madhavan recalls how homemade food would be sent for the unit from AVM Guhan's (Saravanan's son) house in Ooty. "The high point each day was the delicious food that came from Guhan sir's house. By the time the shoot was over, I had gained weight."
According to Vikraman, "Priyamana Thozhi does not have any sex or vulgarity. Its dialogues have no double meaning. It's a clean film. This film will give the same kind of pleasant feeling that Hum Aapke Hai Koun..! or Dilwale Dulhania Le Jayenge did."
Click here for More Features 


What do you think about the story?








Read what others have to say:





Number of User Comments: 1








Sub: I am sure...

I am sure this movie is going to be a superhit and is going to save the industry from going the masala way to reap ...


Posted by Sai Anand






Disclaimer