Home | Movies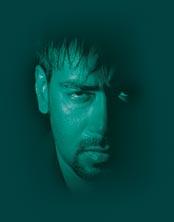 Harry Baweja's Qayamat sees yet another Hollywood film, The Rock, starring Sean Connery and Nicholas Cage, being 'adapted' on the Indian screen.
Starring Ajay Devgan, Suniel Shetty Arbaaz Khan, Sanjay Kapoor, Aashish Chowdhary, Isha Koppikar, Riya Sen and Neha Dhupia, the action-packed Qayamat releases July 11.
The film marks the Hindi debut of the former Miss India-Universe Neha Dhupia, and television actor and model Aashish Chowdhary. It is also Chunky Pandey's comeback film, after his 1999 film, Mahesh Bhatt's Yeh Hai Mumbai Meri Jaan. He is, incidentally, a popular star in Bangladesh.
India's first digitally colour corrected film, the Rs 15 crore (approximately US $3.2 million) has great Matrix-style action sequences. Chowdhary even fractured his leg while descending a cable wire with Devgan.
For Baweja, this is an important film. His last films, Karz and Mujhe Meri Biwi Se Bachao, bombed at the box office. The only big hit of his career, Dilwale, also starring Devgan and Shetty, released in 1994.
Will the trio recreate the magic?
Design: Uday Kuckian


Tell us what you think of this special