HOME | MOVIES


Abhishek Bachchan feels his life is insignificant.

"People in cities just don't know about the contribution of the jawans and our soldiers on the border. When I came back to Mumbai after shooting LoC-Kargil, I realised we live a happy and cozy life only because our soldiers die every day at the border. We should be thankful to them every day," he says passionately.

The actor just cannot seem to get over the difference between a secure life in the city versus life at the border: "My first reaction when I came back home was, 'What the hell I am doing in this city? I have not done anything great in my life compared to those in the armed forces'."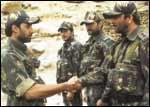 The conditions in Ladakh, where he shot for J P Dutta's LoC-Kargil, were bad, he recalls: "We shot at great heights. In one of the scenes, we all had to run and climb mountains. We got there with great difficulty, but collapsed soon after. We were then told that in real life, soldiers climbed 5,000 feet more. What's more, there was intense firing from above. So what we have done in the film is nothing compared to what our soldiers did in real life."
Abhishek plays the role of the late Captain Vikram Batra in LoC-Kargil.
Captain Vikram Batra, of 13 JAK rifles was posthumously honoured with Param Vir Chakra, India's highest award for gallantry. He led his men to fight Pakistan-backed infiltrators and recaptured Point 5140 for India. Even though he was seriously injured, he forged ahead bravely. He lost his life in the operation.
"Luckily for me, I met Captain Batra's twin brother Vishal in Chandigarh. It was one of the rare honours of my life. My role is a tribute to him and all the armed forces people of this country," says Abhishek.
Abhishek describes his meeting with Vishal Batra: "I was told by Vishal that Captain Batra was a great fan of my father's [Amitabh Bachchan] acting. I felt good hearing that. All said and done, I told him I would never be able to achieve in my life what Captain Batra did for our country."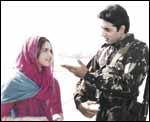 Asked whether his perspective towards the armed forces had changed, Abhishek says, "I have always held the army in high esteem. My first film, [J P Dutta's] Refugee, was shot at the border of India and Pakistan. But after this film, I feel we as Indians don't give them [the soldiers] what they deserve. This film is our humble effort to highlight the achievements of all those people who lost their lives in the Kargil war."
Abhishek says he did not have to do any research for his role: "When you work for a J P Dutta film, he does all the work for you. I just sit like a puppet in front of him."
The film has been accused of having strong anti-Pakistan content. Abhishek explains, "I think they [Pakistanis] will appreciate the film and respect our soldiers. This film is not about hating someone. The film is about the Indian armyman's life, his commitment towards his country. And how he would not hesitate to loose his life for his country if it comes under attack. The film shows the unity and bonding among armymen under extremely difficult circumstances."