Home > Movies > Interviews

The Rediff Interview / Anu Malik

A. Ganesh Nadar | December 23, 2003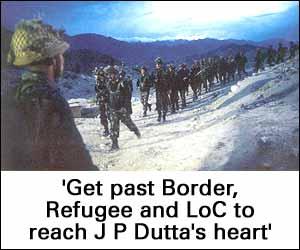 Anu Malik made his debut in 1981 with Poonam. He was not even 22. The son of veteran composer Sardar Malik, Anu won the National Award for J P Dutta's Refugee (2000), starring Abhishek Bachchan and Kareena Kapoor.
Refugee was the second of Dutta's war trilogy. The first was Border, the music for which was also scored by Anu Malik. Who can forget the stirring Sandese aate hain and To chaloon (Border) and the melodious Panchchi nadiyan pawan ke and Aisa lagta hai (Refugee)?

It was inevitable that Anu scored the music for the final film in the trilogy, LoC-Kargil, says A Ganesh Nadar:
What was your inspiration for LoC-Kargil? Was it J P Dutta's script or the sacrifices made by the soldiers?

A bit of both. I have been involved with [J P] Dutta since Border. [When] he called me over to discuss the script, the saga, valour and bravery of our soldiers came to light, as the story unfolded.
| | |
| --- | --- |
| | More on rediff.com! |
| | |
In 1999, 99 of our soldiers were shot dead, point blank. We lost 635 soldiers in Kargil.

For LoC, I was not told to outdo Border or Refugee. The emotions flow out if you are a patriotic Indian, irrespective of caste or religion. You are talking about your Indian brothers. In the heights of Ladakh and beyond, when we were eating food, they [the soldiers] were being killed.

The songs were not made to become hits, but to express the pain of the soldiers and their families.

Where were you when the Kargil war broke out in 1999?

I must have been with my family or at the studio. Maybe I was celebrating the success of a film. Nothing compared to what the soldiers were going through.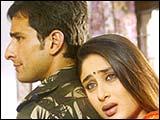 The year 1999 has become an important year for me knowing that I was not there [Kargil] when the war was going on. I am sure Indians all over the world feel the same. Hats off to the Indian Army.
Did you follow the events in Kargil closely ?

Yes, I did follow the Kargil war, hoping that a major war did not break out. Most Indians are concerned about their wives and children. But when I read the script of LoC, I realised that the jawans giving their lives for the country do not think of their wives and families. My thoughts and prayers go out to them.
Did that lead to a surge of patriotism that made you compose some stirring music?

The songs of Border and Refugee were from my heart. Everything that is patriotic comes from the heart. If these songs come out time and again, that shows how much I love the country.
I think it was former US President John F Kennedy that said, 'It is not what the country does for you, but what you can do for the country that is important.'
I did it for the soldiers. I made the song Sandese aate hain for the soldiers to sing in their bunkers.
Dutta told me of a jawan who died. He [the jawan] had said he wouldn't mind dying for the country. He used to sing that song.
His mother said [to Dutta], 'I don't know whether to love or hate you. My son joined the army after he saw your film [Border], and heard that song. Today, he is dead. I am happy that you are making LoC. You made him live again.'
What kind of songs did Dutta want? He is known to have a very strong personality. Did he indicate that the songs had to be different or similar from the ones you had composed for Border?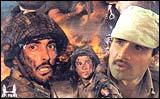 He never tells or expects. He knows I will deliver. He did not pressure me during Border or Refugee. I think we are destined to be together. Javedsaab [Javed Akhtar] gave great lyrics. The singers sang well. Dutta felt I had it in me.
For example, when the whole world turned against me, he gave me Border. And Sandese aate hain was born. It was a song that rocked the world. I deserved the National Award for Border, but got it for Refugee. It silenced all the critics. Today, when I make tunes for LoC, he believes in me. He did not talk about Border or Refugee.

How long did it take for you to compose the music for LoC?

We don't work to a time format. For example, J P Dutta calls me home, shows me the stills of what he has shot. He explains the scene to me. I go off for a month and come back with a tune.
Sometimes, he goes to Javedsaab for the lyrics. I hum the tune to him. If he doesn't like it, he just goes away. If he likes it, he records it and gets back to me.
Sandese aate hain was made in seven-and-a-half minutes. A 30-minute song in LoC was made in 30 minutes.
Sandese aate hai became the nation's anthem. Is there any song in LoC that can hold a candle to that?
[Actually] It is not good to compare. [But] I think all the songs can. Seemayein bulaye and Oh jaane wale are good. Main kaheen bhi rahoon is now rocking the nation. And Ek saathi aur bhi tha will become the anthem too.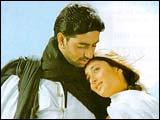 LoC is the best war film I have seen in my life.
You composed your best music for Border and Refugee. What is it about J P Dutta that makes you go that extra mile?

First, the themes inspire me. Second, the faith and confidence that he has in me. I don't think I could have composed such great music for Border had he not selected it. He has a great sense of what he wants.
When I hummed a tune like this [he hums a tune], it comes from the soul. It is not a raga. Anyone can sing a raga. J P Dutta knows what he wants and he knows that I will deliver.
How different is it working with him than, say, Sooraj Barjatya (Main Prem Ki Diwani Hoon), Santosh Sivan (Asoka) or Subhash Ghai (Yaadein)?

Every director has a style of his own. Subhashji and I had a wonderful time making Yaadein. In Asoka, Santosh Sivan was different as a director than as a cinematographer. Sometimes I had to fight with him because he thought that another tune was better.
I had a wonderful time with Sooraj Barjatya also while making Main Prem Ki Diwani Hoon. It would have been another story if the film had become a hit. I enjoy working for Rajshri Films.
I feel Dutta pushes me to new horizons. He makes me explore new areas. He sits quietly and scratches his beard. Doesn't scare me, doesn't disturb me. He never makes me feel that I will lose the film if I don't compose the music immediately. He gives me time.
Do you have any disagreements while composing the music? Do you give in to the director's point of view or vice versa?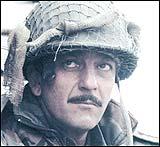 I persuade only if I feel it is their loss. If you are losing a great tune, it will be your loss. I would never persuade a great director. You would not be a good director if you do not have a mind of your own.
You cannot tell Dutta that this is the best tune. It shows your own insecurity, that you cannot compose a better one. I am not made like that. If you don't like a song, I will make another one. If I think it is a beautiful tune, then I will fight for it. But if they feel that I am trying to pawn off a tune, I make another.
How much of the LoC score is J P Dutta's?

He always tells me, do your score. It is entirely my score, whether it was Border, Refugee or LoC. But because he is taking that music, I would say it is his score too.
Take a song like Pyaar bhara. If he had refused to listen to that and asked for something else, I would be lost. I just hum the melodies he likes. He never asks for item songs. He never talks about trends.
Border helped you get rid of the unfair allegation of being a copycat. Does Border hold a special place in your heart?

Yes. You used the right words, 'unfair allegation.'
Border did turn the tide in my favour. Refugee also did a lot for me because the National Award is the Grammy of India. I received that from the President of India. LoC has also buried that unfair allegation.
Gurinder Chadha is making an international film, Bride And Prejudice, and has chosen me to compose the music. I must be good, that is why she chose me over the others.
Tell us about Bride And Prejudice.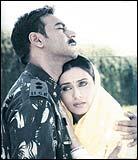 I cannot sing the tunes for you. Bride And Prejudice is one of the most beautiful and melodic films. The characters break into a song like The Sound Of Music or The Wizard Of Oz. It has been a challenging task and a major achievement to make those songs. Gurinder Chadha has a beautiful sense of humour. Together with romance, it is a beautiful film.
After Border, you have grown as composer. Do you think you have been given your worth for your work? Does it hurt you that people still treat you lightly, as if you are a Bappi Lahiri clone?
I don't think people treat me lightly. If that was the case, Shah Rukh Khan would not come to me with his films. Every young director wants to start his/her career with me. Whether it is Meghna Gulzar [Filhaal] or Farah Khan [Main Hoon Na].
Every actor and actress is identified by the songs I have given them. Like Urmila Matondkar, the Chamma chamma girl and Shilpa Shetty the Chura ke dil girl. Karisma Kapoor is known as the Sexy sexy girl and Tabu is known as the Rukh rukh girl.
Nobody takes me lightly. It is in the mind of the media. They create these labels.
Today, I choose my directors. All the directors I have worked with have come back to me. That is a great achievement. Loose talk has died a natural death. Anyone can approach Dutta. But he will have to go through Border, Refugee and LoC to reach his heart.
If anyone wants to be Anu Malik, he will have to create music for the innumerable films that I have done. I have worked with Lata Mangeshkar and Mohammad Rafi to present day singers. From Amitabh Bachchan to Hrithik Roshan. From Hema Malini to Kareena Kapoor.
[The year] 2004 will be a new beginning for me.
Where do you think you will feature in the history of Hindi film music? In the first rank of composers like Naushad, C Ramchandra, Shankar-Jaikishen, S D Burman, R D Burman or below?
To compare me with the masters is not fair. But I will be remembered for films like Border. I will be remembered for my versatility. I can compose for a Virasat and a Josh. When compared with the greats, I have a long way to go.
Coming back to LoC, how difficult is it to compose music for a patriotic film as it is for, say, a romance like Main Prem Ki Diwani Hoon?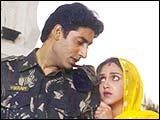 No music is easy, whether a romantic or patriotic film. Whenever we start making a film, I am nervous. I may show attitude, but I am still a child at heart. Will I be able to please them? You have to let your mind and heart fly.
[For a patriotic film] it is tough but I try. I think of the Kargil war, or any war.
Does a score for a patriotic film always have to have a rousing, triumphant song with the mandatory regret for a fallen comrade number? Is it difficult for a composer to break out of this mould?

There is no established format. LoC is very different from Border. I go from subject to subject. Every song [I compose] is fresh.
I don't follow Kar chale hum fida jaano tan sathiyo [of Chetan Anand's Haqeeqat for inspiration]. I listen to the song. If it is good, my inspiration stops there. I create something else.
Sandese aate hai is different from Kar chale hum fida.
How do you create tunes? Do you wake up in the morning, lock yourself in a room and start composing tunes? How many hours do you spend in your music room? Do you create a bank of tunes, which you offer a director when he signs you on? Or do you work to a director's agenda? Do you also compose tunes while doing routine things?
I make my work sound easy. That is my style. I wouldn't want to tell you how I work. That's my trade secret. Many directors ask if I was walking on the streets when the tune came to me. If the song comes to you, it will.
People are surprised that Anu Malik has created this. I thank God and my hard work. When I bring God into it, people laugh at me. [But] I would not be Anu Malik without His wish.
When I get a song, I go down on my knees. Sometimes, I get it in the night. Sometimes, I am in a foul mood the whole day. My wife senses that it is the creative time.
When I made Border, I did not know I would make Refugee. When I made Refugee, I did not know I would make LoC. I take things as they come and pray to God that they work out.
My creativity works all the time. As I am giving this interview, my brain is composing some tune. If you give me some words now, I can put them to music.
I don't believe in a bank of tunes. I may have hummed 25,000 tunes into cassettes and thrown them away. When a producer or director comes to me, I hum fresh tunes to them. I might have a bank of 35,000 tunes, but I don't know where they are.
I once hummed a tune on the street. My daughter remembered it. Later, I used it for a song for Santosh Sivan. I never plan anything. It just happens.
Click here for More Interviews


What do you think about the story?








Read what others have to say:





Number of User Comments: 10








Sub: ya right virasat was Anu Maliks composition

Forget that Virasat is a remake of Kamal Hassans Tamil hit Thevar Magan with Illayaraja's music. How can Anu Malik be soo shameless in lying ...


Posted by hari









Sub: let your music speak

hi anu no doubt u r talented. let your good work speak. stop being insecure and making stupid comments. and dont forget that you were ...


Posted by Arnab









Sub: appreciation for the song!

hi Anuji, we loved the song -ajnabi shehar mein,in movie janaman.the song is so thrilling.keep it up. love.-alka.


Posted by alkam36@hotmail.com









Sub: anu malik

This guy has the biggest bloated ego i have ever heard of. Come on, let other people do the praising, you copy-cat, instead of blowing ...


Posted by raj









Sub: nowhere near rahman

bah! humbug he isn't half as talented as rahman


Posted by rakesh






Disclaimer