Home > Movies > Bollywood News

Salman and Akshay fight it out!

Syed Firdaus Ashraf | December 10, 2003 19:33 IST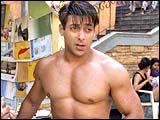 Producer Sajid Nadiawala wants something hatke.
None of the usual dishum-dishum between two heroes in his latest film, Mujhse Shaadi Karogi.
So, you have Salman Khan fighting 100 Akshay Kumars for heroine Priyanka Chopra!

Nadiawala explains, "I bought the same camera used in Keanu Reaves' Matrix series [where Keanu fights 100 Agent Smiths], and we will create 100 Akshays fighting Salman. It will be one of the unique scenes in our film. The technical term of this motion camera will be understood only by those who know photography. It helps in the multiplication of images."


| | |
| --- | --- |
| | More on rediff.com! |
| | |




Top 5 - Aishwarya Rai!

Shabana Azmi never says never!

Quiz: Can you spot a remake?
Vote! Best Actors, 2003




Nadiadwala hopes Indian audiences will love this technology. "The camera costs Rs 5 crore [Rs 50 million]. I imported it specially from Hollywood for this film," he says.

Director David Dhawan gets ready for the shot. When he yells 'action', Akshay Kumar steps forward, along with two look-alikes. Replete with artificial nose and padded jaws, it is hard to tell the difference between Akshay and his look-alikes.

Salman takes his position against the three Akshays after taking his shirt off and displaying his muscles. After the shot, he struts around shirtless with light blue jeans and cowboy shoes. A earring in his navel grabs attention.

When asked about three Akshays on the sets, Dhawan replies, "Watch the film and you will see what wonders we are doing with it. I cannot reveal anything more because it will lead to revealing the story."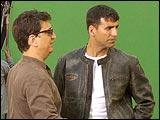 Nadiadwala plans to spend Rs 22 crore [Rs 220 million] on the film. After its Mumbai stint, the unit will fly to Mauritius and Italy to shoot 50 per cent of the film.

In Mumbai, the shooting venue is atop a hillock in Film City. Called Helipad, the place is windy, green and very silent. There are no buildings around.

Some children roller skate and cycle for the shot. A huge library has the numbers 1850 painted on it. A church, some restaurants and pubs constitute the rest of the sets.

Nadiadwala claims he had wanted to shoot in Goa, but couldn't go there. So he tried to recreate Goa in Mumbai's Film City.

Akshay states that he was keen to learn more about the technology in Mujhse Shaadi Karogi. "I know there were some scenes in Matrix which took 90 days to shoot. It is interesting to know about this technology. But it will take a long time for such technologies to come to India."

Salman was forthcoming. "I have only understood what they are doing in the shots," he says. "I don't want to get into the details of the camera and technicalities. It is best that the people who handle the camera do their job well so that the audience will love the film on screen."

Mujhse Shaadi Karogi

is likely to release in May 2004.

Photo: Rob Elliott/AFP/Getty Images

Click here for More Features





What do you think about the story?








Read what others have to say:





Number of User Comments: 2








Sub: Idiots

The director would be shocked to know that the 100 Agent Smith fight sequence was computer-generated. If you watch that particular fight sequence on DVD ...


Posted by Nihar Panda









Sub: hard to make peope fool.

People are already 100% stressed from their lives, they need somthing like KHNH. I think directer is gonna waste his rupees 500 crores, but i ...


Posted by nikki






Disclaimer