Home > Movies > Westside Story





Cruise, Koizumi croon Elvis tunes

rediff.com Entertainment Bureau | August 30, 2003 15:34 IST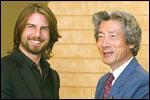 After ex-wife Nicole Kidman's musical outing in Baz Luhrmann's Moulin Rouge, it's Tom Cruise's turn to sing a song or two.
The Hollywood superstar was in Tokyo recently to promote his upcoming movie, The Last Samurai.
During his stay, Cruise met Japan's Prime Minister Junichiro Koizumi, a report in The Washington Post said.
| | |
| --- | --- |
| | More on Rediff! |
| | |
But the 41-year-old actor's meeting with Koizumi wasn't limited to exchanging pleasantries. The two sang Elvis Presley hits.

While Cruise refused to tell reporters which songs he had sung, Koizumi later admitted he had sung 'I want you, I need you, I love you', which he said was the first English song he had learnt.

In The Last Samurai, partly shot in Japan, Cruise plays US military officer Nathan Algren in the late 1870s, assigned by the Japanese government to train its troops.

Depp discovers a mean streak!

He may be one of Hollywood's most underrated actors. But soft-faced Johnny Depp has always experimented with roles. Remember Edward Scissorhands, Ed Wood, Donnie Brasco, What's Eating Gilbert Grape and From Hell?

But one Pirates Of The Caribbean changed Depp's fortunes big time. The pirate flick is raking in the moolah and has placed Depp on Hollywood's hot list.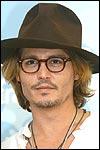 The actor, however, maintains he has no idea why the film became such a big hit, or so he told News Interactive.
In his next movie, Once Upon A Time In Mexico, co-starring Antonio Banderas and Salma Hayek, Depp discovers his mean streak. Depp told Toronto Star he 'had a ball' oozing venom as a CIA agent in the film.
As an aside, Robert Rodriguez's Once Upon A Time In Mexico is the third part in the El Mariachi series after El Mariachi and Desperado. The action drama will enjoy a screening in the out of competition category at the Venice Film Festival, which is now on.
Alexander takes over daddy Farrell?
Colin Farrell is feeling gloomy. Reason: the star of S. W. A. T. and Phone Booth is expecting to become a daddy in September. But the Irish actor won't be with his companion Kim Bordenave during childbirth.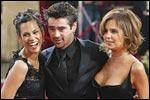 Too bad for Farrell, but he will be shooting for Oliver Stone's Alexander around the same time, says a snippet on the Internet Movie Database.
Besides Farrell in the title role, Stone's historical drama also features Anthony Hopkins, Angelina Jolie and Jared Leto.
Photographs: Getty Images
More Westside Stories:
Cameron: highest paid Hollywood actress
Found! Wife for Brad Pitt!
Julianne Moore: Just married!
Tom Cruise turns evil!
Depp to play Willy Wonka