Home > Movies > Message Board

August 27, 2003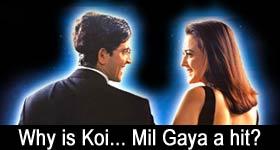 There was much debate.
Will it work? Won't it? Will Hrithik Roshan finally have a hit?
August 8 answered all these questions.
Koi... Mil Gaya, Rakesh Roshan's release after Kaho Naa... Pyaar Hai, is an unqualified hit.
Hrithik is once again king of the box office.
What made Koi… Mil Gaya such a hit?


What do you think about the story?








Read what others have to say:





Number of User Comments: 144








Sub: hrithik roshan ka career phir se raushan...........

hi koi..............mil gaya is an excellent movie with a story never being seen before in bolly wood. Beautiful direction by dad rakesh roshan adds life ...


Posted by niloy choudhury









Sub: Hrithik has done superb job he is fantastic in movie

i really dont expected KOI MIL GAYA to be such a nice movie but when i watched it it was really great Hrithik made it ...


Posted by rashmi









Sub: All Time Top 12 grossers at Box Office in India.

In the first three weeks after its release KMG has collected Rs.26,78,65,500 (Rs.26.79 Crores) at the Box Office. It is the 12th best ever collection ...


Posted by Suddhadhan Chand









Sub: Don't Forget it's an Indian movie

No doubt Hritik has done exceptionally well but don't forget it's a so called indian sci-fi. the write and the producer don't even know that ...


Posted by Aqeel









Sub: we love that alien!

this film is being liked by everyone from children to the adults. thats because of that pretty cute ALIEN too!conventional aliens are very ugly and ...


Posted by Amey Joshi






Disclaimer