Home > Movies > Mad about movies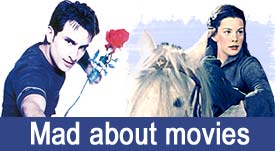 Parinda marked the beginning of a trend

Gaurav Sharma | August 27, 2003 16:11 IST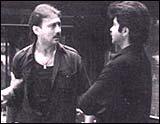 Every decade is marked by a couple of films that define the trend for the coming years.
Parinda was one such film. Released in 1989, this movie made a realistic statement on the underworld even as it stayed within the commercial format. The nineties saw many movies along the same lines like Satya, Company, Ghulam, Kabhi Na Kabhi.

Rarely do the masses and classes both appreciate a movie. Parinda was an exception.
| | |
| --- | --- |
| | More on Rediff! |
| | |
The story revolves around four characters: brothers Kishen (Jackie Shroff) and Karan (Anil Kapoor), Karan's love interest Paro (Madhuri Dixit) and Kishen's boss Anna (Nana Patekar), who plays an underworld don.

US-returned Karan is shocked when his best friend and Paro's brother, Inspector Prakash (Anupam Kher), is killed in front of him by people who turn out to be his brother's associates.

The story builds with the growing conflict in Karan's mind. He realises that Kishen took to crime to educate him. He realises that the system cannot fight Anna. He realises that Paro thinks he is weak.
Karan becomes a member of Anna's gang to seek revenge for Prakash's murder. After that, their lives are never normal again.

The characters in Parinda have a distinct identity and have been sketched beautifully by writer-director Vidhu Vinod Chopra.

Anil Kapoor depicts the conflict in his character's mind with ease. The perfectionist in him shows onscreen. For a shot wherein Kishen slaps Karan, Anil is said to have given 30 takes till he was satisfied with his performance. This, after Chopra, known to be a perfectionist himself, was happy with the fourth take.
| | |
| --- | --- |
| | Would you like to tell us |
| | |
Madhuri Dixit goes through her role with ease and compassion.

Nana's role made him extremely popular with the masses. Anna's stoic way of handling crises, his matter-of-fact manner of speaking and his indifference towards human emotions and relations enthralled the audience.

But the actor who takes the cake is Jackie Shroff. His role as Kishen is arguably the best of his career till date. His frustration, anger and helplessness onscreen were a pleasure to watch. Both Nana and Jackie were deservingly awarded the Filmfare Award for this film.

Technically, the movie was leagues ahead of its times. Chopra's extensive homework showed in the way he took long shots with utmost perfection.

The film's climax was shot at the Gateway of India (where the second of the twin bomb blasts in South Mumbai took place on August 25) on New Year's Eve.

Anna's bungalow bore a gloomy look, and Chopra's hunt to find a suitable such house is well known. The camerawork in this film is amongst the best in the country. And why not? He had cinematographer Binod Pradhan on his team.

The close-ups of regular objects are another feature of Chopra's films, be it the beer poured into glasses, glucose tubes, telephones, door locks or the flame of a cigarette lighter.

The music for the film was composed by Rahul Dev Burman. The track Tumse milke aisa laga continues to remain one of the more popular romantic numbers. Another soothing number is the Asha Bhosle and Suresh Wadkar duet, Pyar ke mod par.

The background score also lifts the tension in the scenes and gives a sophisticated appeal to the movie, unlike the loud screeches of the other potboilers of the time.

Overall, Parinda is an experience that stays with you long after you have seen the movie.
| | |
| --- | --- |
| | Mad about Movies! |
| | |
Some unforgettable scenes:
* Anna's fear of fire was portrayed well with the help of apt background shouts. Watch Nana's face when he cries and beats his head at the sight of fire.
* The three men from Anna's gang who kill Prakash belong to three different religions: Abdul (Muslim), Francis (Christian) and Shetty (Hindu).

* Sanjay Leela Bhansali assisted Vinod Chopra in song direction in this movie. He went on to direct all the songs of 1942 -- A Love Story and later made his directorial debut with Khamoshi -- A Musical.

* The movie was India's entry at the Oscars, a terrain not unknown to Vinod Chopra; he had earlier entered his documentary film, An Encounter With Faces, in this prestigious competition.

* The dialogues are believable and in right dose. Check out the way Musa (Tom Alter) tells Nana the truth without breaking his promise to Karan.
Are you Mad about Movies too? Here's your chance to tell us why!


What do you think about the story?








Read what others have to say:





Number of User Comments: 4








Sub: Parinda is the Best movie I ever seen

Parinda is the Best movie i ever seen till now. The roles Portrayed by the actors were incredible and won the awards. I love to ...


Posted by Mohammad Asif









Sub: One of the best movie on Underworld

'Parinda' is truly one of the better films made in India. It is Vidhu Vinod Chopra's best till date. Why has he stopped making films ...


Posted by Tushar









Sub: Parinda

I remember the elctrifying chemistry between one of the most endearing screen pairs of all time- AK-MD. The love-maling scene at the end was done ...


Posted by esbee









Sub: Parinda a Masterpiece

I truly agree to all your comments about Parinda. One thing I would add about the music, everyone forgets the unforgettable song Kitni Hai Pyari ...


Posted by Puneet Srivastava






Disclaimer