Home > Movies > Bollywood News

'This was destined to happen'

Onkar Singh in New Delhi | August 22, 2003 21:04 IST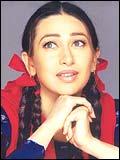 Actress Karisma Kapoor says her proposed wedding with industrialist Sunjay Kapoor is a matter of destiny.

The actress, who was in New Delhi to attend the launch party of her television serial Karishma: The Miracles Of Destiny, said, "We have known each other for a long time as friends since childhood. I am happy."

She refused to answer any questions about the breaking off of her engagement with Abhishek Bachchan, announced on Amitabh Bachchan's 60th birthday on October 11, 2002.


| | |
| --- | --- |
| | Don't miss! |
| | |
She claims she agreed to be associated with Karishma because it offered a challenging role. "You will see me as a child, a young woman, a middle-aged woman and, finally, a grandmother. I go through various generations. That is what I like about the serial. I am grateful to Shubrat Roy [promoter of the Sahara India Pariwar] for providing me this opportunity. Despite the fact that the serial had run into problems, shooting continued because Mr Roy was convinced that sooner or later, it would be out of trouble," she says.

She made it clear she would going to continue work in television serials and films even after her wedding, though at a smaller scale.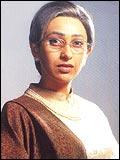 Sushanto, son of Subrata Roy and CEO, Sahara Media and Entertainment, told rediff.com that the 262-part serial would cost Rs 60 crore (Rs 600 million). "We have already signed contracts with advertising agencies and sponsors for the first 13 episodes. I am sure this serial will be a big hit. We hope to be the number one entertainment channel by December 2004," he says.

The serial will be launched on Sahara Television on August 25.

Karisma said her grandfather Raj Kapoor was the 'greatest showman the Indian film industry has ever produced.' She added, "He was a great director, producer and above all, a great human being. I miss my Dadu [grandfather], particularly since my wedding is nearing."

The actress said the biggest lesson she learnt from Raj Kapoor was that while shooting, you must give your best, or not shoot at all. "I am following his instructions. I am trying to give my best."

Click here for More Features





What do you think about the story?








Read what others have to say:





Number of User Comments: 12








Sub: congrats!!!

Hey Karisma, Frist of all congrats,on becoming a mom .Hope ur baby girl is healthy and as preety as u r.Plzzzz dont stop doing films.I ...


Posted by Jessica









Sub: dear karishma, best of luck to u and sanjay!

dear karishma, i m a fan of urs. and all i would like to say is that u did the right thing in marrying sunjay ...


Posted by Richa









Sub: All the best for future Karishma

Dear Karishma, there was a time when i did not like u as an actree, but today you are my 2nd favorite after Sridevi. I ...


Posted by poonam









Sub: congrats

Mere yaar ki shaadi haai, magar mein khus nahin hoon. mere dildar ki shaadi hai magar mein khus nahin hoon................................... anyway i was just cracking. ...


Posted by sandeep dammani









Sub: Alwase loving U Karisha

wishing you all the best please continue films and i would like to see you getting more national awards. you are the best actress after ...


Posted by Amar Shaw






Disclaimer