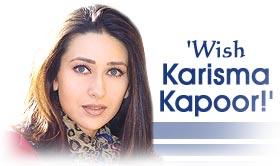 Karisma Kapoor is radiant.
She will marry Delhi-based industrialist Sunjay Kapur.
"Now everyone knows why I was cutting down on my workload," she laughs. "We have selected September 29 as the day for our wedding. We are going to keep it very small and intimate. It will be held at Chembur [northcentral Mumbai], where my grandad [Raj Kapoor] lived. I want his blessings. I am very nervous and excited. Marriage is a huge responsibility for any girl."
Elaborating on her decision, Karisma jokes, "Think of the advantages. I don't have to change my surname! But seriously, my instincts tell me Sunjay is the right person for me. I have known him since childhood. We grew up together. He carried on with his business. I got into movies. Whatever is destined to happen will happen. After all I have been through recently, my parents have been keen I settle down. I have found the right man for me."
Karisma reveals that her mother, yesteryear actress Babita, and her prospective mother-in-law Rani Kapur have been friends for years. "My mom became friends with his mom, who is Raunaq Singh's [the late Apollo Tyres tycoon] daughter, when she was 18. In fact, mom shot one of her movies, Haseena Maan Jaayegi, at my mother-in-law-to-be's house. They have been friends since. All of us kids grew up together. His sisters are very close to me. We went to school together. So it was almost like love was arranged into marriage."
Apparently, the new Kapur in Karisma's life has no objection to a working wife. "Certainly not!" she says. "Today, it is very important for both partners to pursue their careers. I have been a workaholic from the age of 16. And I don't wish to chuck it all. But I do want to slow down now."
"I am looking to enter into a new phase in my life. I have slogged it out for nearly 13 years. Now, it's time for me to find another level in my life. So far I have been fulfilling a moral responsibility to my career, my producers and fans. That will continue. I will do a good project whenever it comes my way. I am not one of those actresses who will grab anything coming my way. I will continue doing my serial Karishma: The Miracles Of Destiny. And a couple of films per year."
"Now, it is time for me to find personal happiness. What makes me specially happy is the smiles that I see on my parents and sister's faces. I just want everyone's blessings," she says.