Home > Movies > Mad about movies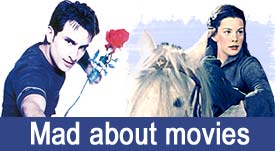 Why Lamhe is my all-time favourite romance!

Asha | August 14, 2003 18:04 IST



Yeh lamhe, yeh pal, hum barson yaad karenge
Yeh mausam chale gaye toh, hum phariyaad karenge
These lines probably say it all. Lamhe (1991) was a gem from Yash Raj Films.
The movie fared badly at the box office. For me, though, it remains at the top of my favourites list.
Billed as a mature love story, the movie did not go down well with an audience fed on a diet of teeny-bopper romances or fights. Most dismissed it as a dumb flick about a teenager's silly infatuation for a man about the age of her father. They could not imagine such a relationship.
Happily, I am not 
| | |
| --- | --- |
| | More Mad About Movies: |
| | |
alone in my love for this classic.

Lamhe is all about

Lamhe was about how the young prince Virender Pratap Singh (Anil Kapoor in one of his best performances) comes to his ancestral land in Rajasthan and falls for the girl next door, Pallavi (Sridevi in a magnificent portrayal). Unfortunately for Viren, as the prince is referred to by his 'Daijaan' (Waheeda Rahman in a brilliant supporting role), Pallavi is not only older to him but, as he finds out later on, she loves another.

Viren now has to deal with the pain of heartbreak which he does by fleeing to London. Daijaan calls him back, telling him about the accident in which Pallavi and her husband lose their lives. Pallavi's newborn baby is left in Daijaan's capable hands while Viren flees to London again, this time after losing Pallavi all over again.

Returning to India on Pallavi's 18th death anniversary, he is stunned by a vision of Pallavi and discovers that she is Pooja (Sridevi again), Pallavi's daughter.

While Pooja experiences first love with all its attendant joys and idiosyncrasies, Viren has to contend with the ghosts of his past. Can he ever realise that Pooja is not Pallavi but a person in her own right? Will he be able to separate the daughter from her mother's memories?

What I liked most

* Its ability to delve into delicate matters like the death of someone you love very much and the feeling of abandonment.

* Viren's passion for the lively Pallavi.

* Pooja's joie-de-vivre and how she deals with the realisation that she is falling in love with her 'Kunwarji', as she calls Viren

* Daijaan's helpless caught-in-the-middle situation: she has brought up Viren and Pooja and both are equally precious to her; she does not want either to be hurt.

* Pooja's maturity in dealing with the situation. These are myriad shades that portray real human emotions, things that could happen to you or me.

Lamhe has more
| | |
| --- | --- |
| | More on rediff.com: |
| | |
Lamhe is not all gloom and doom though. Prem (Anupam Kher as Viren's best friend) provides laughter and balance in an otherwise intense setting. He offers Viren a shoulder to cry on. He tries to bring Viren around to the fact that Pooja is in love with him (Viren).
Prem is the voice of reason spiced with subtle sarcasm. He is the best friend everyone should be blessed with, alternately castigating or cajoling a friend to stop wallowing in self-pity.
Anupam Kher's comic abilities are at the fore as he indulges in horseplay with the ebullient Pooja and he becomes her friend too.
And those memorable lines
"Main badi hokar Kunwarji se byaah kar loongi"
-Pooja declaring to Daijaan that she will grow up and marry Kunwarji so he cannot refuse to meet her (Viren would studiously avoid any contact with Pooja as her birthday was the same as her mother's death anniversary).
"Yeh jhumke, yeh tasveer, yeh rumaal, yeh sab tumhare nahin hai. Yeh tumhare maa ki hain"
-Viren yelling at a stunned Pooja after she discovers what she assumes are her personal items in his bedroom drawer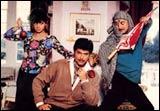 "Aanken bandh karta hoon toh Pallavi dikhai deti hain"
-Viren cannot get the image of Pallavi out of his head years after her death.
"Paalne aur palne mein bahut phark hota hai, Anitaji. Mujhe Kunwarji ne nahin, Daijaan ne paala hai"
-Pooja points the difference between raising someone and providing for their upbringing, saying she had been raised by Daijaan while Kunwarji just paid for her upbringing.
The movie is well-written and evenly paced. There are no meaningless interludes with unwanted parallel tracks to distract from the tug of wills between the main protagonists. The dialogues are contemporary thanks to Honey Irani.
While all the songs were well-written and picturised, my favourites are Morni baaga ma bole and the poignant slow number Yeh lamhe.
Are you Mad about Movies too? Here's your chance to tell us how much!


What do you think about the story?








Read what others have to say:





Number of User Comments: 26








Sub: i love lamhe

i think that lamhe was the most beautiful film ever made n moreover the desert scenes made it even more mystical n romantic...........


Posted by harshita









Sub: A classic !!!

Lamhe is indeed a matured film packed with brilliant performances & excellent screenplay; meant for the classes.


Posted by Deepa Keswani









Sub: Why Lamhe is my all-time fav-

One guy out of the twenty loved it. Here I'm the 21st reader, and I loved it. Are there flaws. Yes. Yes, Anupan Kher at ...


Posted by Lakshmi









Sub: lamhe

i thought i was the only one who loved the movies and still remember and recall the dialogues after so many years it's wonderful to ...


Posted by niloufer hussain









Sub: What a movie...!

This is my favourite movie and love story of all time! Even though i'm a die hard Madhuri Dixit fan, there is no doubt that ...


Posted by Sonali






Disclaimer