Home > Movies > Reviews > Readers' review

15 facts about aliens

Madhukar | August 12, 2003 15:38 IST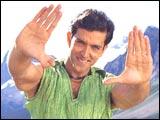 Here are some interesting facts I experienced (and that too for three hours). I must tell you 15 facts about aliens:

1 Aliens are very sensitive about human feelings. They even understand maternal affection and your girlfriend's love.
2 Contrary to international research results (that they are greenish in colour), aliens are actually blue in colour.
3 They are not sticky as shown in Hollywood. They are very cute, fresh-looking, neat and clean people. You can even kiss them without worrying about any chemical on their skin.
4 Even though they are believed to be very powerful and advanced in science (see their spaceships), they are still scared of dogs and elephants.
| | |
| --- | --- |
| | Koi... Mil Gaya on Rediff! |
| | |
5. They do not eat anything; they live only on solar energy. They get charged from sunlight or dhoop (perhaps like our calculators).
6 Their powers are rivalled by no less than God himself. They can cure a mentally
handicapped child (whom even US doctors have given up on) with just a tap on his head.
7 Forget contact lenses, contact aliens. They can correct your vision.
8 They can help humans fly (provided it is not cloudy outside and they have enough dhoop). The flying helps in many ways, including winning basketball games.
9 Given a chance, they can earn well with their magic shows. After all, they are very good working magic with clouds and your shadows, etc.
10 They can understand and speak Hindi and English.
11 Did you know ISRO (Indian Space Research Organisation) actually works on alien research and not on space research?
12 If you have a green monocrome monitor and four obsolete 5-1/2" floppy drives, you can make a device with which you can communicate with aliens.
| | |
| --- | --- |
| | Would you like to tell us: |
| | |
13 Aliens will never come to your city until they first ensure a total power blackout.

14 They are generous enough to resume power connections in your city soon after they take off.

15 If you produce a particular sound (by whistle, instrument or whatever) you can call them as many times as you want to your town. They are free and are actually looking for such invitations so they can visit earth.

Watch Rakesh Roshan's latest film Koi... Mil Gaya for more.

PS: The only good reasons for watching KMG: Hrithik's acting, Priety's beauty and the spaceship. Nothing else.

Click here for More Reader Reviews


Click here for More Reviews



What do you think about the story?








Read what others have to say:





Number of User Comments: 7








Sub: 15 facts about aliens

You guys are missing the bus.Let's see the review in its right spirit. Come on guys where is our sense of humor. can't we joke ...


Posted by Sarma









Sub: Bakwaas is the word !!!

whats so different? there is a love triangle .... a not so flexible & ugly alien . the story before interval was bearable but after ...


Posted by Nayeem Md









Sub: koi mil gaya

Many may have loved it, but I beg to differ. Koi Mil Gaya is a totally faked attempt to be different.Despite Hrithik's touching performance and ...


Posted by Jahan Bakshi









Sub: comments about a comment

Hi Madhukar, Food for thought? >>>>Contrary to international research results (that they are greenish in colour), aliens are actually blue in colour. On which "INTERNATIONAL ...


Posted by abhay









Sub: 15 facts...

I did not know that an international research had concluded that aliens are green. I did not know either that aliens needed conventional earth food ...


Posted by rush






Disclaimer