Home > Movies > Reviews > Readers' review

Take my word, watch KMG!

Rajiv Walia | August 12, 2003 15:03 IST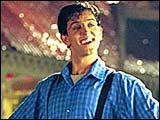 To all those who doubted the chameleon-like acting abilities of Hrithik, here is the undeniable proof. Koi... Mil Gaya sees him playing the role of an underdeveloped child. As a retard, he brings a combination of factors to play on his performance.
First of all, if you did not know better, you probably would not notice Hrithik, the star. The costume department, coupled with his hairdresser, dresses him as a unique personality and sharp eyes bring an intensity to his performance as the underdeveloped child.
| | |
| --- | --- |
| | Would you like to: |
| | |
Then there are those scenes where he bristles with energy in conveying the helplessness of his situation. He shines with warmth when Preity apologises to him and conveys the innocence of his character effortlessly. Even the scenes where he is beaten by his classmates and when he feels jealous of how his sweetheart is rooting for his arch rival who wins a basketball tournament. The scenes are well-emoted and touch a chord. His interaction with his friends who are much younger than him is heartwarming. yet he fits in very well with their age group.

Hrithik's cries of help to Krishan Bhagwan bring out the pathos of the situation and make the audience sympathise with Hrithik. This adds to the anticipation of the audience of wanting someone to come to his help!

This brings us to the other part of the movie regarding his involvement with outer space.
| | |
| --- | --- |
| | Koi... Mil Gaya on Rediff! |
| | |
I would not like to say more than it fits in well with the storyline. But even the die hard skeptics would enjoy the convincing visual effects.
Okay, so you say 'but I am not a baby and this story is too off beat for me.' Still, take my word and see this film. You will come out believing in hope and friendship and will enjoy an encore performance by Hrithik, especially when he sets the dance floor on fire with his brilliant moves.
Though there are some weak links in the story that defy logic like the way the Canadian scientists do not even bother to look at the facts logically and summarily dismiss Rakesh Roshan. Yet, one can always relate to this too, as how many times do we feel we are not understood at our work place!
Rajiv Walia is based in the USA
Click here for More Reader Reviews
Click here for More Reviews


What do you think about the story?








Read what others have to say:





Number of User Comments: 4








Sub: Flops of the filmfares

Seems like Rakesh Roshan and Johars are bribing Filmfare to award their movies as the best movie. Oh my god, filmfare award has lost all ...


Posted by jk









Sub: koi mil gaya is the best science fiction movie i have ever seen!!!!!!

the film 'koi mil gaya' is the best science fiction movie i have ever seen!!! its just tooooo amazing!! hrithik roshan,preity zinta,jonny lever,etc. everyone has ...


Posted by CHITRA NISAL









Sub: O man what a movie !!

oooh man what a movie, what a movie... there are UFOs, there are aliens, then there is a hritik who plays a fool in first ...


Posted by PV









Sub: kmg

kmg is the most stupid film i have ever seen in my life. hritik is good ok in the film , but the film is ...


Posted by anil






Disclaimer