Home > Movies > Box Office

KMG: Raves in India, rants in USA

Arthur J Pais | August 12, 2003 12:01 IST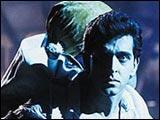 Despite the hype, Koi... Mil Gaya became an orphan in North America, earning less than $300,000 in three days and occupying 29th place on the box office chart.
The film's disappointing showing despite hype by Yash Raj Films proved that Rakesh Roshan as a director has not been able to create waves in North America, unlike Subhash Ghai, Sanjay Leela Bhansali and Sooraj Barjatya. 
Rakesh Roshan's Kaho Naa... Pyaar Hai wrote box office records across India and made Hrithik Roshan a huge star. But it was a hardly a charmer in North America.


| | |
| --- | --- |
| | Have you checked out: |
| | |
On the other hand, Ghai's much maligned Yaadein opened with a mighty $650,000 in North America and earned over $1.2 million while Barjatya's Main Prem Ki Diwani Hoon, which was much reviled in India, went on to earn a decent $1.35 million in North America.

Both films toplined Hrithik Roshan.

Three films by desi filmmakers were found among the top 30 weekend grossers, with varying results.

While Koi... Mil Gaya played on 55 screens grossing $274,000 gross, the Ismail Merchant-produced Le Divorce, directed by James Ivory, got off to a promising start, grossing $516,000 with just about 34 screens.

Gurinder Chada's Bend It Like Beckham, a certified hit, proved disappointing in its wide release. Chadha's film was at No 14 while Merchant's bittersweet love story revolving around two American sisters in Paris was at No 20. Both films were released by Fox Searchlight.

Koi... Mil Gaya lived upto the apprehension of many desis who feared the film was an amalgam of many American sci-fi films, a point stressed by The New York Times' Anita Gates who ridiculed the film in sentence after sentence in a 400-450 long review.
| | |
| --- | --- |
| | More on Rediff Movies! |
| | |
If the usual pattern of box office decline for Hindi movies holds for Koi... Mil Gaya, it could earn a paltry - in view of the film's big budget - $700,000.

Chadha's Bend It earned  less than $1 million, losing nearly 48 per cent of the previous weekend's box office. With $30 million already grossed, the film could be around for a few more weeks. Its unprecedented expansion from about 150 screens to over 1,100 did not fetch stellar results.

In about two weeks, Merchant's Le Divorce the movie could be playing on more than 100 screens. It could eventually reach 800-900 screens.

Many top publications, including The New York Times slammed the film, but the widely circulated San Francisco Chronicle and Rolling Stone magazine gave it near rave reviews. The film weighs not only the cultural differences between Americans and the French but also examines how issues such as infidelity and divorce affect the two American sisters and their French lovers in different ways.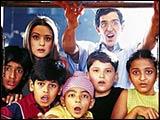 While Jonathan Foreman called the film based on Diane Johnson's international bestseller 'deeply disappointing'  in New York Post, in The New York Times A O Scott called it 'a thin and unsatisfying concoction.'

The movie, starring Kate Hudson and Naomi Watts, was reportedly made for $10 million.

In Rolling Stone, Peter Travers called it 'a romantic comedy of true sophistication' while San Francisco Chronicle's Edward Guthmann said, (James) Ivory's direction is so polished and smooth and full of smart observations that I never found my attention lagging.'

In USA Today, Claudia Puig took a middle ground: "a tasty bonbon, initially appealing but not terribly satisfying.'
Click here for More Features


What do you think about the story?








Read what others have to say:





Number of User Comments: 10








Sub: Who cares...?

Who cares whether KMG is a hit in the US or not?! As long as the movie is appreciated in India and is successful here, ...


Posted by Abhik









Sub: is the movie good

the movie is the best


Posted by inderjeet









Sub: what the hell??

the movie is fabulous..why on earth are we thinking about "non-indians"?? the film is made for indian families and not for american or nri's. it ...


Posted by pavan









Sub: The Phenomena called Hrithik is back

The Phenomena called Hrithik who made his debut in his father's film Kaho Naa.. is back with a bang right at the top. After Kaho ...


Posted by S.Chand









Sub: i wish rediff would stop lying

why can't u guys get your facts straight? will you turn and twist everything around to get a story? Anita Gates review is largely positive, ...


Posted by Sumier






Disclaimer