Home > Movies > Reviews > Readers' review

Rakesh Roshan was not too brave

August 11, 2003 21:08 IST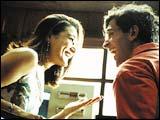 The first scene that strikes you in Koi... Mil Gaya is very early on in the movie, where Rohit is told by his mother (Rekha) that he has to stay in Std 7. That scene sums up Hrithik's performance. His interpretation of the character, little nuances like Rohit's awkward body language shows depth of talent. The performance can be compared to similar performances by Anil Kapoor in Eeshwar and, I dare say, Kamal Haasan's performance in Sipikul Muthu.
Rakesh Roshan has come out with a 3/5 script. Only a child could have communicated with an alien in the way depicted in the film. That explains the need for a low IQ character. But the basket ball match was pits. Instead of making the children fly, something else should have been shown.
Another scene that jars is one where Rohit leaves Nisha's parents and the collector's family open-mouthed. During the film, I was hoping that the ending would be left open to the viewers' interpretation of Rohit's IQ. But, I guess, Rakesh Roshan was not that brave. The dialogues overall were good in the first half. But after Rohit had the shakti, the quality went down. Music is excellent. I wonder why Rajesh Roshan does not take offers outside his home banners. The special effects might be good as per Bollywood standards but cannot be compared with those in the other part of the world.
Contributed by Deepak Kapoor
| | |
| --- | --- |
| | More on Rediff! |
| | |




New! Mad about Movies!
Forever Rekha!

I have a story about Lagaan

Ramu's latest brainwave!
Showcasing Koi... Mil Gaya
Rediff review: Hrithik is paisa vasool!
Send your review!


KMG

: Landmark in Hrithik's career
I did not have high expectations when I saw this film. But I must say that Hrithik has done it this time. Same with Preity Zinta: for the first time in her career she looks enchanting, though she only has a few songs and emotional scenes which, as usual, she does with all her heart and soul.
The children have done a fantastic job, especially the Sardar. The theatre chanted 'boo' when this little wonder shouted 'Bole so nihaal sat shri akal'. Rekha has such mysterious eyes. She has done her part with determination. The alien, Jaadoo, does not live up to expectations. He could have been of some colour different than blue! But, children would still love him.

Rajesh Roshan's music is harmonious. There are quite a few songs in the first half. Rakesh Roshan has one again become the box office maseeha for son Hrithik. I don't think anybody else could have done it better than Hrithik in playing a boy in man's body. He changed his hairstyle, body structure and speech drastically. His determination and hard work is apparent and it will be remembered for a long time as a landmark in Hrithik's career and film industry as well.
It is a must see for everybody, be it child or an adult.
Contributed by Tejas Shah
Universal appeal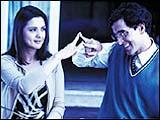 Here's a film that will appeal to people of all ages. The critics will always find faults in the film and try to compare it with E.T. and other films. But remember: No film is perfect. Koi... Mil Gaya is really good. I liked the film very much and going by the audience reaction, I can say that the film is a huge hit.

Hrithik's performance is a reason enough to watch this film. The screenplay, songs, visuals, choreography, cinematography, direction everything is good. Kudos to Rakesh Roshan for giving such a visual treat.
Contributed by Rajesh Ahuja
Rakesh Roshan proves himself again!

The kid has once again proved he is an actor par excellence!

With the over-hyped, media savvy Khans hogging print space, it is high time Hrithik Roshan gets his due. Though he gave stellar performances in Fiza and Mission Kashmir and was the saving grace of Yaadein, he was ridiculed for two years relentlessly. The fact that Hrithik does not need the cloak of a 'star' to get him the recognition he deserves is amply evident in KMG. You, at times, forget that he is an 'adult' playing the role of a Std 7 child. The naiveté and innocence of the kids that age shines through.
While a lot of intellectuals will question the logic in KMG, there will also be Hollywood worshippers (who rave about Titanic et all) who will ridicule the alien and space ship scenes and bemoan the masala climax scenes.
But Rakesh Roshan HAS doubtlessly shown that he is a far superior director in comparison with all the young turks and showmen in the industry. Slick editing and a cleverly woven tale of an alien and an autistic kid needed dexterous craftsmanship that Roshan Sr. has. He has once again shown that he can carry a film on his own shoulders.
Contributed by S Varalaxmi
Hrithik is the USP of KMG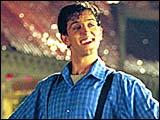 Have you ever seen a spaceship? Can you imagine one landing in your neighbourhood? Difficult, isn't it?

Well, it is and so, it is time you caught up with the latest story from Rakesh Roshan's camp. He proves yet again that he is good at telling stories. But KMG is more than just a story. It is a movie which requires the skill of an experienced actors who can masterfully unfold the story to its viewers. And this is what gives the film its credibility.
Hrithik's performance is undoubtedly one of the best performances in Bollywood. He is the USP of the movie. You have got to see it to believe it. Though I should say that the climax is a tad disappointing.

Contributed by Kiran Chand
Click here for More Reviews


What do you think about the story?








Read what others have to say:





Number of User Comments: 12








Sub: Hrithik is the best

I surely wasn't disappointed when i saw KMG, because it proved that Hrithik is undoubtedly among the finest actors today. His portrayal of rohit is ...


Posted by Ashish Verma









Sub: hritik is the coolest one!!!!!!!!!

the movie released after 5 dayz of frenship day must have realeased around it coz the message it carries iz frenship,anywayz the actor in hritik ...


Posted by vincien









Sub: Koi Mil Gaya

A pleasant movie after a long time. There is no denying that it is heavily inspired by ET, and Clso Encounters of the Third kind. ...


Posted by Taibji Mirza









Sub: Its Magic!!!!

I think Rakesh Roshan is a clever man!!He has given a new look to the ever dependable Hrithik.He takes out the best in hrithik!!! the ...


Posted by roopali









Sub: Great performance

Ritik Roshan sparkles in KMG. I think, it is one of the best performance ever. Can you imagine Tom Hanks dance or Elvis Presley act? ...


Posted by alhad sathe






Disclaimer