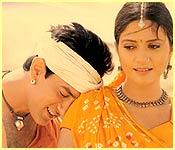 Who would throw away a lucrative and satisfying law career to work in the production department of a movie unit? Satyajit Bhatkal cannot explain why, except to say, "I had a story to tell."
Even that dream would have to wait a while. For Satyajit's initiation into cinema was an arduous route of production work on the sets of old friend Aamir Khan's debut home production Lagaan, because "there was no vacancy in the direction team, which is where I really wanted to be."
But after his first trip to the film's location in Bhuj, Gujarat, the astute lawyer spotted a backdoor opportunity to start making his own film.
Thus began his three-year-long journey towards making Madness In the Desert: The Lunacy Of Filmmaking, a two- hour-16 minute-long film about the making of Lagaan, although that is not how Satyajit would like to describe his labour of love.
This documentary has been selected for a special screening at the ongoing Locarno International Film Festival in Switzerland, where Lagaan received a special audience choice award a couple of years ago. Satyajit spoke to Deepa Gumaste about his ambitious film:
| | |
| --- | --- |
| | Have you checked out: |
| | |
How did you decide to switch careers in your 30s with no clue about what you were getting into?
I was very interested in filmmaking from my college days and had friends working towards careers in cinema. Some of them were studying at the Film and Television Institute of India (FTII). One didn't study at all and became a filmstar instead [
laughs
]. That's Aamir Khan.
Although a lot of Aamir's cinema didn't appeal to me, when he decided to turn producer, I was interested in what he was doing. With the support of my wife, I decided to work on the Lagaan team.
Was there always a plan to make a film about the making of Lagaan? How did the film come your way?
Actually, I don't quite like the description 'the making of' because it sounds like a promotional tool. In fact, most 'making of' films are used only as film promos. My film will be seen two years after the release of Lagaan!
There was never any plan to make a film about Lagaan in its early stages. But when I came back after my first trip to Bhuj and saw the work being done there, I realised that we had something huge on our hands and felt it needed to be documented. I persuaded Reena (Aamir Khan's ex-wife and the film's executive producer) to buy a professional digital camera. Since we wanted to take the legitimate route, the paperwork and process of importing it took so long that by the time it arrived, the entire pre-production was over!
How did you juggle your production duties while shooting your film?
Initially, I hired a local cameraman from Bhuj who would shoot all day and I would watch what he had shot at night. Gradually, I realised I had something very rare. It may so happen that a well-made film might not have anything dramatic in its making. But two months into the shooting of Lagaan, I knew something special was happening before my eyes.
I had a meeting with my immediate boss, Aamir and Reena, and asked them to relieve me of my production duties so I could concentrate on my film. So a memo was issued to the entire unit stating I was appointed director of the film about the making of Lagaan and that was that.
What happened next?
I came to Mumbai for some serious sound equipment. A trained cameraman, Madhu N, worked with me for a month but after that, he wanted to go back. He taught me how to use the camera in ten days. Eventually, I shot the last two months in Bhuj myself.
What was the most difficult aspect of making your film?
Editing. When I started, I thought it would take a month, but it took 13! I had to sift through 300 hours of footage and it wouldn't have been possible without the patience and belief of my editor, Hemanti Sarkar. Unfortunately, a lot of this footage was not quality stuff.
Because we had missed the pre-production phase, we had to borrow footage from the auditions and screen tests done for casting and from [art director] Nitin Desai who shot the village construction for his own production team. These people had not shot with the intention of using it in a proper film and hence it was difficult to find useable sequences.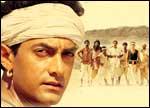 Much before you finished this film, you also wrote a book called The Spirit Of Lagaan. Was that planned?
Actually, I was waiting around for Aamir and Ashutosh [Gowariker] to get their studio interviews for my film. But they were terribly busy promoting Lagaan and I had a lot of time on my hands. So I wrote the book in the interim. To some extent, the writing of the book helped me with the structuring of the film.
Do you plan to release this film commercially?
We haven't decided yet although a few distributors are interested in giving it a theatrical release. There is also the possibility of a European release. But all that will only happen after Locarno.
What do you plan to do next?
I am writing and directing a television series for Aamir Khan Productions. It will have stories about socially relevant issues. There is also a film script I have written which excites me a lot. But I want to direct it myself and am still waiting to find a producer who will back it.