Home > Movies > Reviews > Readers' review

See the jaadoo of Jaadoo and Hrithik Roshan

Vikas Khair | August 09, 2003 15:39 IST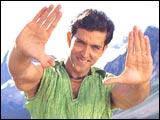 When you go to see a movie like Koi... Mil Gaya, which is much hyped and awaited, then your expectations about that movie are quite high.
I was not disappointed when I saw the film as it is well executed. Hrithik Roshan's performance is excellent. The film's music is also very good, except for some songs like Haila haila and Jaadoo Jaadoo. When you sit in the hall once the lights are off and look at the overall film, you forget yourself and just laugh and feel sorry for Rohit. The alien Jaadoo is a little dumb, but is still a fair attempt from the Roshans' camp. Everybody related with the film deserves a big applause.
The child artistes have done well too. What I would like to say is this: You must see this film at least once and see the jaadoo of Jaadoo and Hrithik Roshan.
Click here for More Reviews


What do you think about the story?








Read what others have to say:





Number of User Comments: 31








Sub: If it weren\'t for Hritik.

I cried buckets of tears as I watched the movie .... I cried tears of boredom. Hritik Roshan's perfomance as a mentally challenged person is ...


Posted by k









Sub: Hi all hrithik fans

I saw KMG on first day and its really fantastic.Let me tell you..people will really like it.more science fiction movies should be made, of this ...


Posted by Arun









Sub: KMG Review

The movie is sort of coming back for Hrithik.He has acted very well as a boy with a retarded mind.He is simply superb! Creating a ...


Posted by Paresh Sheth









Sub: Award Winning Performance

Hi Hrithik !!! well Done I should say that u have done a award winning perofrmance in this movie...well wheather u get the best hero ...


Posted by Praveen Antal









Sub: A disappointment

It's an overhyped movie. A big disappointment the way it was executed. Could have been better. Hrithik and the "kid brigade" gave a good performance. ...


Posted by Dharmender






Disclaimer