Home > Movies > Message Board

August 05, 2003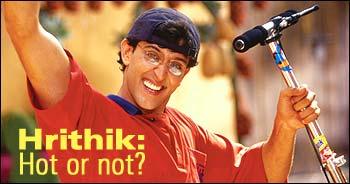 He is back. This time with an alien in tow. 
Hrithik Roshan's new film Koi…Mil Gaya wears the tag of being India's first alien film. It releases August 8.
Directed by father Rakesh Roshan who launched Hrithik in Kaho Naa…Pyaar Hai, Koi…Mil Gaya also stars Preity Zinta, Rekha and an alien. KNPH catapulted Hrithik to superstar status overnight.
He then went on to record a spate of flops, most notable being Sooraj Barjatya's Main Prem Ki Diwani Hoon. Koi…Mil Gaya now is said to be Hrithik's make-or-break film.
Interestingly, advance tickets for the movie are sold out in Mumbai and Delhi. A recent promotional campaign for the movie in Delhi saw a 5,000-strong crowd thronging the venue to catch a glimpse of or meet the star.
Will the father-son combination prove second-time lucky? Will the concept of an extra-terrestrial work with the masses?
More important, is Hrithik still hot or not?


What do you think about the story?








Read what others have to say:





Number of User Comments: 209








Sub: He is the man!!!

Hirthik si so cool he is so hot all his movies are so cool!!!!!!!!!!!!! they are never flop like SOME people say!!!! I LOVE HIM ...


Posted by Angle









Sub: hrithik is cool

hey you know hrithik is so cool and hot I love his blond,brown,black hair. He's just tooooo cool but you know I felt sad about ...


Posted by Angle









Sub: HEy guys!!!

hi I haven't repled or said for a long time!! reply tro meh say anything!!PLZZZZZZZZZZZZZZZZZZZZZZZZZZZZZZZ???


Posted by Angle









Sub: I LOVE U

i love hritik! my younger brother is mad about hritik. you are just too good to be compared with any body else in the industry. ...


Posted by pinu









Sub: HI

hi hrithik,i really hated you after watching u in kaho na pyar hai but afterv watching u in koi mil gaya,i became ur big fan.hands ...


Posted by SUTEJA






Disclaimer