Home > Movies > Interviews

The Rediff Interview / Rani Mukerji

I don't feel insecure: Rani

Syed Firdaus Ashraf | August 02, 2003



Rani Mukerji began her career with Salim's Raja Ki Aayegi Baarat. But did you know Mamta Kulkarni was the original choice for the role?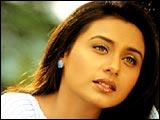 Again, in Vikram Bhatt's Ghulam, Pooja Bhatt was supposed to be Aamir Khan's leading lady. She walked out of the film at the last minute and Rani stepped in. 
Aishwarya Rai began playing Priya in Chalte Chalte before her former beau Salman Khan turned up on the sets and quarrelled with producer-lead actor Shah Rukh Khan. The next thing you know, Ash was out and Rani was in.
"It is just coincidence," she says. "But, today, people are writing roles for me. I am very happy about that."

The 25-year-old actress spoke to Syed Firdaus Ashraf about her latest film, Chori Chori, which released yesterday. Excerpts:

How is Chori Chori a departure from your previous films?
I am not a playing a typical Hindi film heroine. My looks are not important in this film.
For the first time in my film career, I have tried comedy. I really enjoyed doing it because I always wanted to do comedy. I am playing the role of Miss Nautanki and Ajay [Devgan] is called Mr Sadiyal. I am a fun-loving person. He is tall, dark, and handsome. He is serious and I am not. The relationship between us is very funny.


It is about two people who would never dream of being together but come together because of certain circumstances.

What was working with Ajay Devgan, who happens to be your brother-in-law, like?


He was very helpful. He is my senior. I don't want to bring personal relationships into this [Ajay Devgan is married to actress Kajol, who is Rani's cousin]. The experience has been fabulous. The best part about working with seniors is that you learn a lot. He was a thorough professional.
Did you feel bad when Chori Chori's release was delayed?
Yes. This is true for every film that gets delayed. We work as a family and a team to make a good film. We get emotionally attached to it. But the good thing is that the film is being released. This is a good time for a release as people are going to the theatres.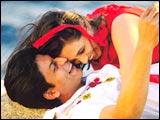 How important is growth for an actor?

Growth is very important in life. If you don't grow as an actor, you don't change. You can do that only if you work with all kinds of directors. There is a transformation in my looks and the actress in me. I am grateful to everyone in the film industry for that.

And the numbers game? Is it important to be number one?
I am not in the numbers game. I have always worked hard and that is my motto. My father [producer Ram Mukerji] is from a filmi family. He told me in the beginning that this line is all about ups and downs. He said if you are successful you will be on a constant high but when you fail you are very down. So I must take both success and failure in my stride. People say that this is my rebirth [as an actress]. If that is true, I am grateful to God.
New: Debate: Did Ajay deserve the National award?
Also see:  Chori Chori is heartwarming
Hungama: A confusing comedy
3 Deewarein: Without compromise
You have lost a lot of weight…
It is important for every one to keep fit. I lost weight three-four years ago. Sometimes I feel my weight is more popular than my acting [laughs].
Earlier, when I joined the industry, I used to eat a lot at night. Once I controlled that, I lost weight.

You are sporting a new look as well.
The credit for that goes to my make up-men, dress designers, et al. I am quite lazy. I don't bother much about what to wear and what not to wear. I know nothing about fashion. I am cool with a sari or maybe a tee shirt and jeans. In films, I am doing different kind of roles so I have to change according to my role. I feel if you look good on screen, half your battle is won.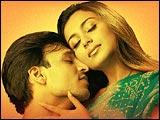 Would you like to do Bengali films?
Yes, I would love to. I am a true blue Bengali. It is my mother tongue. I am looking for a good script and director.

You played a married woman in Shaad Ali's Saathiya and Aziz Mirza's Chalte Chalte. Has this help you mature as a person?
 There are many women who are not married till they are 30 and they are mature. Saathiya is about of a young couple and the difficulties they face immediately after marriage. Chalte Chalte is a mature love story.

Any dream roles?

Not yet. Never thought of that till this juncture. When someone asks me this question, I feel I have grown as an actress. I have never planned my career. I have always accepted my roles spontaneously. If I can relate to the character I have to play, I immediately agree to do the film.

Who are your favourite actors?
Amitabh Bachchan. He is incomparable. When I was in school, I would skip classes to see him acting on the sets.
As far as actresses are concerned, I am a great fan of Madhuri Dixit and Sridevi. I have always been a film buff.

How does it feel to have been signed by Mani Ratnam and Sanjay Leela Bhansali (Bajirao Mastani and Black)?
I don't plan anything. I only try to work hard. It is an honour for me to work with these filmmakers.

Now that you are doing so well, do you feel insecure?

I don't feel insecure but I always want to do better films.


What do you think about the story?








Read what others have to say:





Number of User Comments: 14








Sub: Best Of luck

hi, Must say in this rat race you ahve really carved out a space for yourself which is so unique and new. You have that ...


Posted by Debi Neogy









Sub: message

Rani is what i think is a real life rani.


Posted by Richa









Sub: what is this?

Hi, I wonder if you all don't have better things to write!!!


Posted by Nitin Korepal









Sub: RANI --Queen of hearts

i think Rani is the only actresses who have the ability to look convincing in sexy as well as very natural girl next door roles.Be ...


Posted by puja









Sub: chalte chalte

the film is very nice .i like this film very much .i saw this film 200 times. the song which is favourite it is prem ...


Posted by satya






Disclaimer