HOME | MOVIES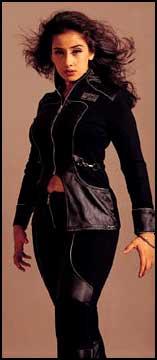 She has a timeless quality about her face.
Tragic radiance in her eyes.
Melancholic grace in her smile.
She is a classic in the making. She is Manisha Koirala.
She's used to fame and fortune, hailing as she does from a prominent political family in Nepal. Her uncle, G P Koirala, served the nation as Prime Minister.
Manisha soon began to get offers from filmmakers. The first Nepali film she acted in was Pheri Didhora. Meanwhile, Subhash Ghai, who was on the lookout for a new face, signed her for his mega multistarrer Saudagar.
The film did well and critics saw sparks in Manisha, even as she was constantly referred to as Madhuri Dixitís lookalike. At times, she was even likened to Meena Kumari.
Sadly though, after Saudagar, all of her films, like First Love Letter, Anmol, Dhanwan, Milan, Yalgaar and Guddu, flopped miserably and she ended up sharing the jinx tag with Raveena Tandon.
Making it worse, Manisha was branded as unprofessional and was mainly in the news for her supposedly bohemian attitude as a social animal -- booze, late nights, new boyfriends, catfights with costars like Ajay Devgan, Karisma Kapoor and Aishwarya Rai.
Then came 1942 - A Love Story. Manisha got rave reviews as the naÔve Lajjo. Followed Bombay. All of a sudden, Manisha was the best thing to have happened to the film industry.
If she wooed the masses as well as classes with her outstanding act as Shaila Bano, a Hyderabadi Muslim mother of two in Bombay, she carried off the dream role of Anne Braganza in Khamoshi and Kiran, an ignored wife trying to discover her own identity in Akele Hum Akele Tum with equal panache.
She went on to win the Filmfare Critics' Award for both Bombay and Khamoshi.
The commercial hits, Agnisakshi, Hindustani and Gupt, strengthened her foothold among the top stars.
Although Manisha has consistently given likeable performances and has worked with the cream of directors like Mani Ratnam, Subhash Ghai, Vidhu Vinod Chopra, Shekhar Kapur and Inder Kumar, her BO status looked dim. Because Dushmani, Dil Ke Jharoke Mein, Achanak, Maharaja, Khauff, Kartoos, Mann, Hindustan Ki Kasam, Laawaris and Grahan all crashed.
A stray hit like Kachche Dhaage and the highly publicised Dil Se didnít do much for her, either.
So it must not have seemed a bad idea when Manisha decided to cohost Sawaal Dus Crore Ka, Zee TV's answer to Star Plus' Kaun Banega Crorepati, along with actor Anupam Kher. The show didnít fare well; the duo got all the flak.
Manisha then concentrated on social service. She happens to be Indiaís goodwill ambassador at the United Nations, and has channelised her energies towards fighting child prostitution and population.
She was also instrumental in mellowing down the Anti-Hrithik Roshan wave caused in Nepal, thanks to some uncalled-for rumours.
Ironically, she herself is controveryís child. Her off-screen affairs are legion. After being involved with Vivek Mushran, Nana Patekar and DJ Whosane, she found an anchor in Aussie ambassador to Nepal, Crispin Conroy. She bumped into him at a photo exhibition in Nepal and the duo instantly hit it off.
With her much talked about Lajja getting her praise, and topnotch projects like Abhay, Rakt, Company, Moksh and Mehbooba in hand, Manisha is all set again for the big league.
She also plans to get into direction in the future.
For now, hereís looking at the beautiful actress:
Text: Sukanya Verma