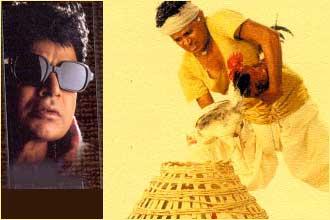 HOME | MOVIES


Raghuveer Yadav
Bhura, the poultry farmer

The beginning: Aamir called me one day asking whether I would like to work in his film.
I didn't even have to audition for it. Maybe it was because Aamir knew my work -- we had worked together in 1947 -- Earth. The story seemed very interesting. Now, I feel since there were so many actors, we didn't get enough showtime.

The shoot: It was tiring. It was very cold in January and very dusty, too. After a while, I felt like I was in jail, since I couldn't even go home. But people were very nice to us in Bhuj. We were like family -- the villagers and the crew. All of stayed and worked together, including the British.
In my spare time, I used to play my flute, read, write poetry or just sleep. Sometimes, we went sightseeing.
On April 29, 2000, I had an appendix operation. I was in the hospital for almost a week. My stomach was cut in four places. I was in pain. While I was being operated, they were shooting the song, Radha kaise na jale. If you notice, I'm not there in the song.
I shot some scenes with the stitches still on. I remember one: When Lakha was challenged by Bhuvan to run up and down the temple stairs thrice to prove he could join the team.

Best scene: When I get out in the match. Though I think it could have been better. I'm just not satisfied easily, I guess.

On Lagaan: It is an exception to other films -- no vulgarity and no fights. It's such a simple film.
I feel very good now that it has been declared a success. Nice films always work. I categorise films as good and bad, not art and commercial. People like good films -- they don't care whether it's an art film or commercial.
I expected Lagaan to do very well. If it hadn't worked, it would have been a big blow to theatre artistes like me.

Future projects: Tumse Achcha Kaun Hai and Aanch. I don't want to do any television serials.