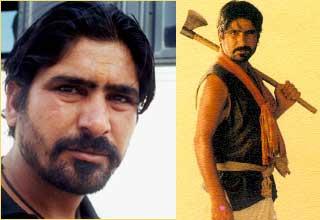 HOME | MOVIES


Yashpal Sharma
Lakha, the woodcutter

The beginning: Ashutosh Gowariker and I acted in the television serial, CID. I had a really small role. I think he must have kept me in mind then.
After that, he saw me in Shyam Benegal's Samar. He really liked me.
When they were casting for Lagaan, Aamir called and told me he wanted me in his film.

The shoot: I was sceptical about how Aamir would behave, since he's such a big star. But he ate with all of us and did the same things we did. He is very humble. I found that very surprising.
I enjoyed my stay in Bhuj. We roamed a lot, played cards and sang bhajans. I also visited the Peerji ka darbar there.
I could relate to my role as a villager because I come from Hissar in Haryana. I look like a villager so I just had to work on the language and my clothes.
My role as Lakha was not negative. It just had a negative shade to it. I loved the same girl (Gracy) Bhuvan did, and that's why I hated and betrayed him.

Best scene: I was comfortable doing most scenes, except two. One was when I get caught in front of the entire village. The villagers run after me and I run to the temple and lock myself in.
In the next scene, Bhuvan confronts me. I wasn't sure how to emote -- whether to beg for mercy, be angry or be frightened. The original script didn't seem right for this. So Ashu and I sat down and discussed the flow of emotions.
The script was changed a bit. I rehearsed it and then we shot the scene.
The next day was the proving myself scene -- I had to take a difficult catch. I practised catching for four or five days. So on the day we shot the scene, we took at least 20 or 30 takes. I didn't get it right. The shot was cancelled. The next day, we tried again. The second take was canned.

On Lagaan: I didn't expect the film to have a 100 per cent BO collection.
I knew it would do well, but not so well! Anyway, it is impportant to me that the film is good. The BO collections don't matter.
I think the industry needs films like this to create a new trend. The performances were amazing.

Future projects: I am working in Kamal Haasan's Abhay, where I play a terrorist. I kidnap eight or nine British people and ask for ransom.
Another film is Bawandar, where I play a rapist.