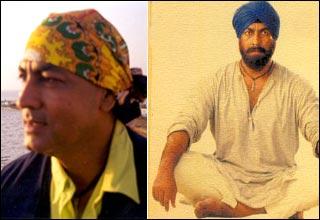 HOME | MOVIES


Pradeep Rawat
Deva, the Sikh from a neighbouring village

The beginning: I worked with Aamir in Sarfarosh as Sultan.
At the Sarfarosh launch, Aamir asked me to go to his office the next day to audition for his home production. I agreed immediately.

I had to enact my entry scene in the film. I still remember all my dialogues because I don't have too many in the film! I wanted a bigger role. I kept telling Ashu I want more scenes, more dialogues. He told me to be patient because everything would turn out great.
Actually, Mukesh Rishi (Salim in Sarfarosh) had already been selected for Deva, the role I had auditioned for. I don't know why I was asked to auditionů maybe Ashu wanted a choice.
Two months later, I received seven calls from his office. They gave me a date to report to Bhuj. The next day, I was to go to the office and sign the contract. I couldn't sleep that night. I kept waiting for the morning so I could sign the contract.

The shoot: Two months before we started shooting, we got a bound script. We were sworn not to tell anyone the story. We were all well paid. This is the highest I've ever been paid in my career.
The payment, too, was organised. As soon I signed the contract, I was given 30 per cent of the money. After the shooting, I got another 30 per cent. Just before the film released, I was paid the remaining amount.

Everything was organised. Even the technicians were given good clothes so they looked smart. The food was excellent: Samosas, eggs, toast, juices, idlis, dosas, etc, for breakfast. For meals, we had to choose between Chinese, Italian, Punjabi and Gujarati cuisine.

One day, Aamir was late and missed the actors' bus that took us to the sets. That day, his wife Reena, the executive producer, scolded him for being late. She told him he had to set an example for the rest of the crew. If he started coming late, how could she tell the others to come on time? Reena is such a nice person!

The temperature was around 50 degrees Celsius. There were so many people around -- everyone couldn't be provided with shades. Umbrellas and shamianas were given only to the main actors and some crew members.
Many sat in the sun. Reena always did. Her logic was if she could not provide shade to everyone, then she couldn't sit under the shade either. She's very principled.

When I went back to Bhuj on June 10 for the premiere of Lagaan, I was shocked. We stayed in an eight-storeyed building. I expected ruins after the quake. But it was just ground!

On Lagaan: Ashu reminds me of Shekhar Kapur. Very cool and prepared. Very comfortable to work with.
I feel great about the success of Lagaan. I haven't been able to sleep at all since its premiere at Sun City. I hadn't expected this success at all.
Cricket in films have never worked at the box office. There was a film by Dev Anand (Awwal Number) which didn't do well.

Future projects: I'm not doing any films at the moment. But I'm considering some ad films.