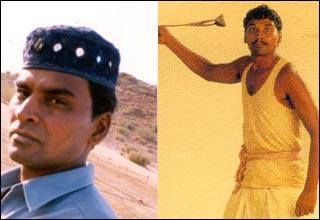 HOME | MOVIES


Dayashankar Pandey
Goli, the man with the largest piece of land

The beginning: Ashu and Aamir have known me since Pehla Nasha, Ghulam and Baazi.
After my audition, Aamir told me I was selected as Goli. Initially, I wanted Kachra's role. Perhaps I didn't get it since I look like a Bombay tapori!

The shoot: Before shooting, Ashu and I would discuss every emotion and expression. All credit for my acting goes to him.
The last day of the shooting was very emotional. Some even cried.
I related to the film very well -- I'm from Bhadohi district, Uttar Pradesh. My father is a farmer.

Best scene: When Bhuvan convinces me to join the team. The feeling that there's still hope -- all is not lost because the lagaan is doubled -- comes through very clear.
People have appreciated my bowling action a lot.

On Lagaan: The success of the film has made me so happy. People are talking about me. I am recognised.
We were expecting a hit, but not such a big hit. It's all because of good direction, good music, a bound script and good costumes.

Future projects: Junoon, directed by Sanjay Khanna. I play a killer in this suspense film.
Vikram Bhatt's Kalyug.
I have also directed the television serial, Yeh Duniya Hai Rangeen, which is still being telecast.