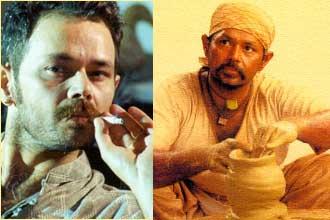 HOME | MOVIES


Raj Zutshi
Ismail, the potter

The beginning: Aamir and I are old buddies.
We acted in Holi and Qayamat Se Qayamat Tak. Holi marked Ashu, Aamir and me as good actors. I screen-tested for Lagaan and was selected as Ismail.

The shoot: Began on January 6, 2000 and went on till June 20, 2000.
We reached Bhuj on January 2 to get used to location, the look, the haircuts, the make-up and costumes. We lived like brothers. We needed those few days to show the camaraderie between us. This time was very important for our relationships to feel real on screen.
We were like family. We had rented a building called Sahjanand Towers, which had around 30, 40 flats. We stayed there. There were three bedroom and two bedroom flats with balconies. It was like home. A housekeeping department kept it neat and clean.
We kept reciting our lines so that during the actual shooting, none of us needed the script. It was like a pastime. We had a dialogue coach so that it didn't look like we were saying it for the first time.
In our free time, we'd go up to the temple and just sit there. Maybe watch the setting sun. It was very peaceful. There were grand parties, too, unless we had to shoot early the next day.
During the shooting, two English actors, Katkin and Jamie, got married at the temple. Aamir and Reena performed the kanyadaan. A pandit was called and the mantras were read. It was a mingling of cultures.

Best scene: I loved the scenes between Aamir and Gracy. The scene when Bhuvan's mother and Bhuvan talk about the challenge and she says that he is so much like his father.
Also when I re-enter the match in spite of my injured leg. I love the 'I must go on till I drop' attitude that the Ismail character had. I helped make the score a little respectable before I finally get out.

On Lagaan: I'm very happy to be associated with this film. Great script, excellent technicians, great production team and a very long shooting schedule -- it was a wonderful way to greet the new millennium.
Everyone wants to watch Lagaan today. When an actor's film is successful, it's like all his prayers are answered. This is the victory of Lagaan. It's a film about positive vibes and immense hope. No vulgarity. The characters and emotions are real.
The fact that Lagaan has succeeded is thanks to the production team -- from Ashu and Aamir to the entire cast and crew.
Lagaan is not just a Hindi film, it's an international film. We interacted with Western actors and benefited from it. Lagaan is a memory we will cherish all our lives.