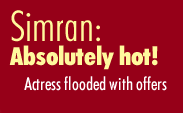 Rajitha
The story of Simran is getting curiouser and, to quote Alice, curiouser.
The erstwhile glam doll hit a high with an impressive display of acting skills in the superhit Vaalee (costarring Ajith). And word was out that she was Tamil Nadu cinema's new queen bee.
Then came the buzz about her romantic liaison with ace choreographer Raju Sundaram. Simran, while acknowledging the relationship, indicated that wedding bells were not imminent -- but the industry buzz was that she was cutting down on her assignments.

Cutting down, hell! You can't go to a muhurat, seemingly, without tripping over the svelte star. And her assignments seem to be getting more and more high profile with every passing day.
There is, for instance, Udaya, costarring Vijay -- a film to be directed by Azhagham Perumal. Then, there is the one she is doing opposite Kamal Haasan -- Pammal K Sambhandam, to be directed by Mouli, with Simran playing a doctor.
Also 12B, the directorial debut of cinematographer Jeeva (whose credits include the first three films of director Shankar, namely Gentleman, Kaadhalan and Indian, the last of which was also a hit in Hindi in the dubbed version Hindustani).
In this film, Jeeva, in fact, pulls off a casting coup, getting TN's two top heroines Jyotika and Simran back together in one frame.
The last time the two came together was in Vaalee -- at which point, however, Jyotika was a complete unknown.
Not to forget Simran's coup in landing Paarthale Paravasam -- the 100th directorial venture of K Balachander, doyen of Tamil film directors. This one, incidentally, will see her sharing screen space with, among others, her very own Raju Sundaram.
If that list isn't high profile enough for you, then here's the clincher: Mani Ratnam, no less, has now cast her in the lead, opposite Madhavan, for his upcoming film Kannathil Mutham Ittaal.

The film, incidentally, has Madhavan playing the father of two kids. And, again, Mani Ratnam, with an eye to scoring talking points, has cast Malavika, daughter of ace Carnatic singer Sudha Raghunathan and Keerthana, daughter of matinee star Parthiban and his wife, the erstwhile actress Sita, in the two child roles.
It's Simran's entry into the cast, though, that's got the industry buzzing.
Word was that Mani first considered Soundarya, then the up and coming Bhumika (who, incidentally, is hot coming off a mammoth superhit in Telugu, opposite Chiranjeevi's brother Pavan Kalyan, in the remade version of the Tamil Vijay-Jyotika starrer, Kushee.
It's Simran, though, who's gone and landed the project -- and for a star supposedly cutting down on her engagements, she seems to have acquired a pretty full hand.