Juniors in senior stakes
Rajitha
Padmini was a kutty (child) when she entered films.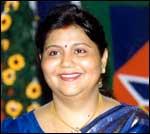 She grew into her teens and began doing adult roles, a few of them with Kamal Haasan who was transiting into adulthood himself at the time. But the Kutty stuck to her name.
Unlike her costar who went on to superstar status, Padmini's film career failed to take off. Then came marriage and a gradual progression to the small screen where she moved from acting to production.
Now it is the turn of daughter Keerthana (by Padmini's first marriage), to make her debut in Kaadhal Sokkuthey opposite another new face, Arvind Singh.
And that makes the second time in recent times that the child of a former child star is making it to the marquee -- the earlier instance being Tarun, son of Roja Ramani.
Meanwhile, Padmini and second husband Prabhu Ne Paul have been making a mark on television, her credits ranging from serials like Mandhira Vaasal, Krishna Dasi, Police Diary et al to Hindi serials like FIR and Customs Diary.
Prabhu Ne Paul, albeit of Indian origin, had spent a large chunk of his life in South Africa, where among other things, he studied direction, serial-making and editing. Prabhu, who has direction credits for some of the serials the couple have produced, will now debut as a film director with Kaadhal Sokkuthey (cinematography by Senthil Kumar, story by 'Vietnam Veedu' Sundaram and dialogues by Crazy Mohan).
Still sticking with the theme of debuts, there is Aishwarya, which is being seen as a small-scale Snegithiye. The latter was Priyadarshan's attempt at an all-woman film, with Jyotika leading the cast.
The film went on to do very well in Tamil Nadu and Kerala, and its Hindi version is now being readied for the Bombay marquee.
Aishwarya will be journalist-turned-producer Gnyanasekharan K V's directorial debut. The film is being positioned as all-woman.
Reverting to the theme of children of yesteryears' stars making their bow, leading the cast of Aishwarya are Uma, daughter of erstwhile heroine Sumitra, and Monal, sister of TN's reigning star Simran.
In fact, Uma was slated to make her debut in director Bharatiraja's latest venture, Kadalpookal -- supposedly a remake of the Malayalam National Award winner of the Sixties, Chemmeen. The film, however, has seen more than its share of delays.
In the interim, Uma did a fleeting role as Abhirami's sister in Vaanavil.
Abhinayasri, daughter of erstwhile screen sizzler Anuradha, who danced up a storm during her heydays, will also star in Aishwarya.
The debut phenomenon is by no means restricted to the female side, though. As many as three new male faces will make their bow in the very near future, and attempt to make a mark on a scene dominated at this point by Ajit Kumar, Vijay and Madhavan.
There is, firstly, Shyam -- a native of Madurai who arrives on the marquee with a few modeling credits and a maiden role in cinematographer Jeeva's directorial debut 12-B -- one heck of a debut given that he gets to star opposite Simran and Jyotika, the two leading ladies in Tamil cinema today.
Then there's Srikant. A Tirupati resident, who studied computer science, moved into doing a few fashion shows, and is now making an entry into movies. He is the lead in Rojakootam, directed by Sasi, who had debuted with Sollamale. He will be paired with the up and coming Bhumika who, with Badri and the Telugu version of Kushi is being marked as one of the rising stars on the distaff side.
By way of aside, apparently one of the quirks in Rojakootam is that in every single scene you will see a rose -- sometimes up front, sometimes tucked unobtrusively away, but it will be there.
And then there is Richard -- more famously, the brother of Shalini, who will co-star with Abbas in director Kathir's next film, Kaadhal Virus.
Incidentally, Sridevi (no, not Mrs Boney Kapoor), who was seen as a child star in Rickshawmama, will graduate to adult roles in this film, where she leads the female cast. Youngest daughter of former stars Vijaykumar and Manjula, her two elder sisters, Vanita and Preeta made their way to the marquee recently, but failed to make an impact.