The nation labelled him a phenomenon.
Hrithik Roshan felt it was just the winds of change. A reaction to something new which they had never seen before.

He had a roaring debut. He had a not-so-roaring follow-up to that debut. The latest being the Yaadein debacle.
Roshan Jr has some big banners on his hands. But not a sustained run at the BO. In that, he is lucky and unlucky at the same time.

He says, pragmatically, "I am lucky to be so successful. But Iím unfortunate, too. Because, each time the audience and my fans go to the theatre to watch a film, they expect to see a Raj or Rohit. Thatís quite unfortunate for me."
Bharati Dubey catches up with a reflective Hrithik Roshan, post Yaadein:
How does Hrithik Roshan take flak from the media and audience on Yaadein?
I have no right to judge the film especially if it is a Subhash Ghai film.
As an actor, I did exactly what I was told to do. I did my job as honestly as possible.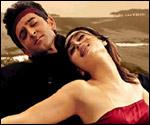 All I can say is each film has its destiny. This one did, too.
About the flak I got, all I can say is I am an actor. I did exactly what the director told me to do.
You know, sometimes, some things go against the sensibilities of an actor. He does his job like any other person. He delivers what the director asks.
What are your thoughts about this media hype and overexposure?
All this craze over me didnít make any sense to me. I always knew it was not true. Everyone was swayed by the craze, including the media and the trade.
Besides, all my films after Kaho NaaÖ Pyaar Hai were not MY films. After KNPH came Fiza, which was Karismaís (Kapoor) film. It was followed by Mission Kashmir. When I signed on for the film, I knew it was Sunjay Dutt's film.
Even Yaadein was not my film. It was about three people. Mostly, it was about Jackie.
I know my fans are let down. They come to the theatres thinking itís my film.
But thatís because they were all projected as if they were my films. Thatís totally wrong.
The rumours about your alleged affair with Kareena Kapoor... How does that affect you?
They would have affected me if Suzanne were affected by them. She isnít. Because she is also part of the same industry.
Are you the typical husband?
Of course. I love being pampered.
Karan Johar has stated in an interview that Hrithik is a a student compared to Shah Rukh KhanÖ
Let me tell you something. I havenít enjoyed acting with any other costar as much I did with Shah Rukh.
Heís fantastic to work with. He is not a selfish actor. Not only does he think about what he could do in a scene, he also invests thought in what I can do to make the scene better.
When you think about it, that is the goal of every person involved in a film. And that happens if you want the other actor to look good. And act well.
As for the student part, I am three years old in the industry. Shah Rukh has been acting for the last 20 years.
So yes, I am a baby compared to him.
You are working with directors who are known to be temperamental. How do you work around that?
Every director has his style. As an actor, you should find your own groove with every director.
The directors I am working with are great human beings and great people to work with.
There is a lot of debate, especially in the media, that Yaadein is a setback to Hrithik's careerÖ
I don't know. But I do know that it doesn't make a difference what they say about me and my career.
Yaadein might affect my career. It might not. You might be right. You might not.
Every film changes your path. My next three films could be the biggest hits of all time. They could be the biggest flops for all you know.
And you might conclude that it happened because of Yaadein.
I am an actor. The only thing that will affect me is if I do a bad job. A hit or a flop will not affect my career. A bad job will.
Does the security cover around you upset or distract you while at work?

I guess one has to learn to live with it. But I know itís because my parents are concerned about me.
Where do you see yourself ten years hence?
I guess I would have had my fill as an actor. And I might be preparing myself to direct a filmÖ
I know it is a huge responsibility. But coming from a family of directors and knowing a bit about the work that goes into making a film, it would be quite natural for me to take to direction.
Do tell us what you think of this interview