From scanning hospital entrants to disinfecting hospital areas and floors, robots are being roped in for tasks considered high-risk, says Peerzada Abrar.
As you step inside a Chennai hospital which is treating Covid-19 patients, you hear a soft, humming sound.
Look around, and you find that it's the sound of a robot moving around the lobby and the hallway.
Its task? To go to various parts of the hospital and disinfect them.
The robot, named Astra-C, uses its ultraviolet light (UVC)-based disinfection equipment to kill the coronavirus.
It communicates directly with the elevator to reach a particular floor and empty isolation wards which need to be disinfected.
Astra-C is programmed to carry out the disinfection on its own since UVC light is harmful for humans.
Astra, which means "weapon" in Sanskrit, has been developed by a Bengaluru-based company called Invento Robotics.
Several hospitals in India such as Yatharth in Noida and Apollo in Bengaluru are already using the robot to disinfect their wards and protect frontline health workers.
UVC has been traditionally used in operation theatres for its germicidal properties.
More recently, it was successfully used in Wuhan and in Italy which saw some of the worst outbreaks of Covid-19.
So far, the disinfection units were either stationary or moved by humans.
Invento Robotics improved upon the idea and built a robot that can move to specific areas on its own and kill micro-organisms.
"Human workers are sometimes afraid to go into the Covid wards," says Balaji Viswanathan, co-founder and CEO at Invento Robotics.
"Even if they do, the normal way of cleaning is not sufficient for the coronavirus."
Viswanathan -- a robotics engineer who started his career at Microsoft in Redmond, US --says that UVC radiation is one of the most effective ways to kill the coronavirus as this light reaches every bit of a surface.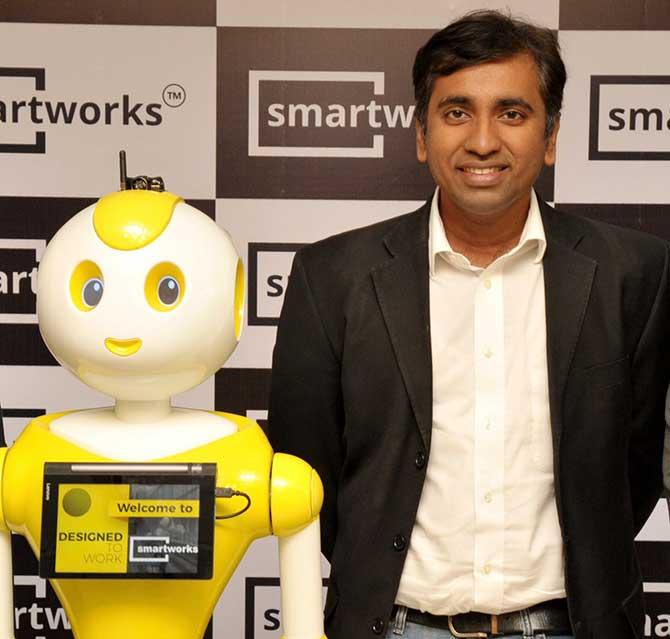 Built on self-driving technology, the Astra robots can create their own maps, go on a patrol and reach particular places for disinfection.
Six lamps mounted on the robot emit intense UV light at 253.7 nm wavelength, as per current medical device standards.
The lamps, made in Germany, are certified for medical standards.
Invento's key innovation lies in making the robot mobile using technologies such as LiDAR (Light Detection and Ranging) and SLAM (Simultaneous Localisation and Mapping).
LiDAR is a laser-based remote sensing technology that uses light to measure distances.
SLAM allows the robot to create its own maps by aligning the sensor data they collect in real time with those they have already collected.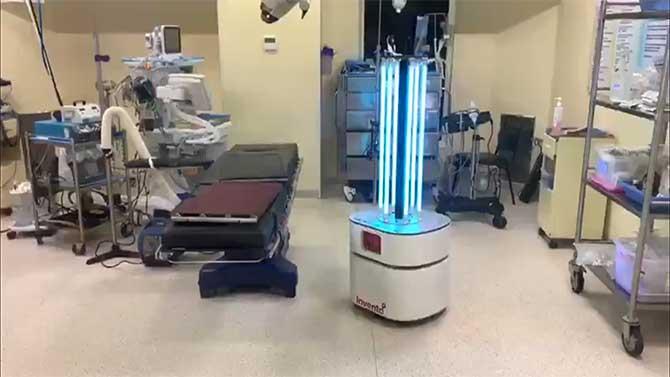 Viswanathan says that before building Astra earlier this year, Invento had witnessed a huge demand for its temperature screening robots in China.
The company was planning to export these to China and was in the process of setting up a sales office there.
But in the last week of March, everything came to a complete halt in India due to the lockdown and that's when Invento started the work on building the Astra robots.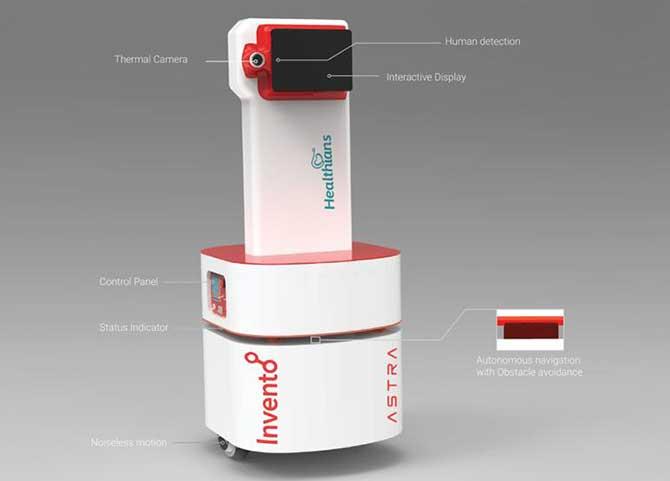 Invento has created another robot called Robodoc, which helps augment the capabilities of doctors and nurses fighting the pandemic.
This robot comes with a range of onboard tools such as thermal imaging cameras and sensors for remotely detecting temperature, pulse level and the electrocardiogram (ECG) of patients.
The Robodoc is propelled by proprietary self-driving technology and is constantly monitored and assisted by human pilots from a remote location.
Once it is near a patient, Robodoc uses facial recognition technology to identify them and starts an automatic conversation via voice.
This is to get patients to answer routine questions regarding their state of health.
Following this, a doctor is brought on board through video.
The patient can have a video consultation with the doctor, who can even perform remote auscultation using an on-board digital stethoscope.
Robodoc is currently in the process of commercialisation.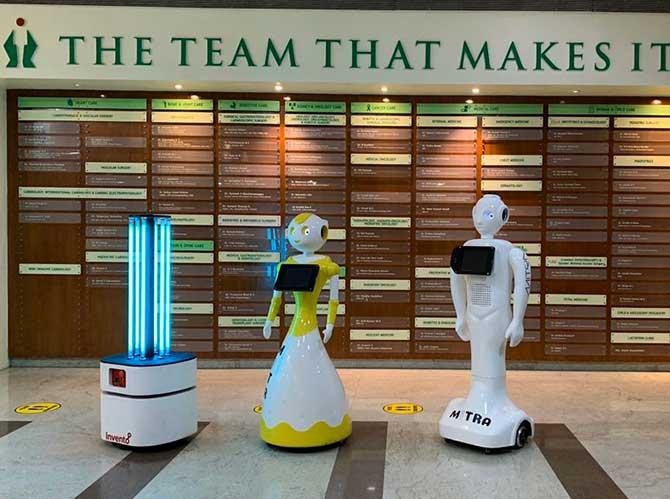 As for Astra, Invento says that it has been certified in India by the National Accreditation Board for Testing and Calibration Laboratories (NABL).
Designed for Indian conditions, the robot is priced at about Rs 8 lakh which, the company says is one-third the price of its competitors.
The firm is also providing these robots to hospitals on a pay-as-you-go model.
According to Invento, going forward, one of its key markets could be the US, where it is competing with global players such as InTouch Health and MetraLabs.
The company is in the process of getting approval from the US Food and Drug Administration.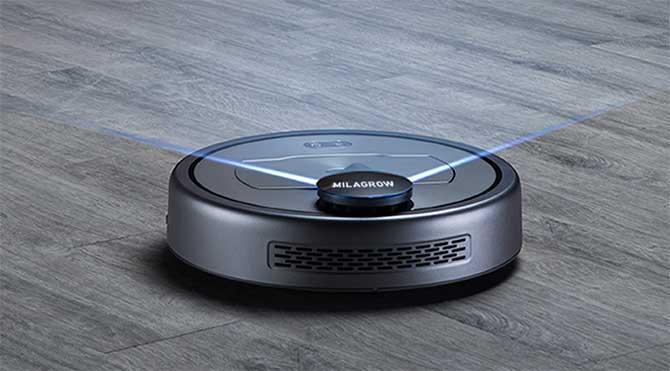 Invento is not the only company in the country which is building robots to fight Covid-19.
Gurugram-based robotics brand Milagrow is helping the All India Institute of Medical Sciences (AIIMS) contain the spread of the pandemic amongst doctors and healthcare workers.
The company's artificial intelligence-powered robots -- Milagrow iMap 9 and Humanoid ELF -- are being tested in the advanced Covid-19 ward at AIIMS, Delhi.
The Milagrow iMap 9 is a floor-disinfecting robot which can navigate and sanitise floors without any human intervention.
It can destroy Covid spores on floor surfaces using sodium hypochlorite solution, as recommended by the Indian Council of Medical Research.
The robot moves around autonomously without falling and avoids obstructions.
It plans its own path, guided by LiDAR and advanced SLAM technology.
The firm's other product, Milagrow Humanoid ELF, enables doctors to monitor and interact with Covid-19 patients remotely.
Feature Production: Ashish Narsale/Rediff.com