'Imagine taking care of a patient who is infected with Covid. A human nurse is unable to do that due to fear of infection. The robot can do that task, while it is controlled or supervised by the human nurse. So the robot becomes an extension of the nurse.'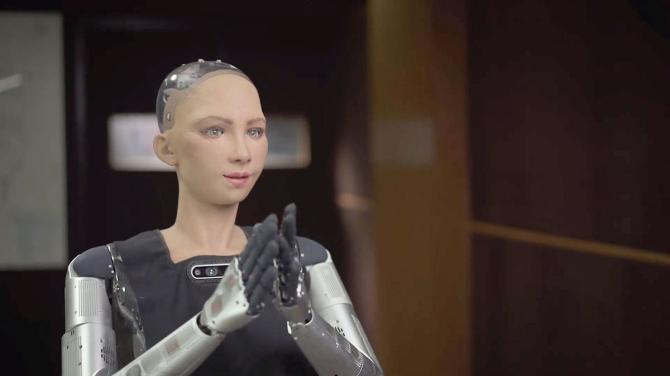 A major attraction at the recently held Bengaluru Tech Summit 2020 was 'Asha', a robotic nurse.
The robot, which has a human-like face, is capable of showing real emotions -- it can smile, make lip movements while talking, blink, make hand gestures -- and speaks in a female robotic voice.
The robotic nursing companion is one of the many projects being undertaken at the Artificial Intelligence and Robotics Technologies Park (Artpark), which has been set up at the Indian Institute of Science (IISC) in a public-private model with support from AI Foundry, a venture studio devoted to building next generation AI companies.
An ambitious project supported by the department of science and technology, Artpark looks at promoting technology solutions for problems unique to India.
These include research and development projects in areas such as health care, education, mobility, infrastructure, agriculture, retail and cyber security, among others.
"Imagine taking care of a patient who is infected with Covid," said Prof Bharadwaj Amrutur, research head and director at Artpark, talking about 'Asha'.
"A human nurse is unable to do that due to fear of infection. The robot can do that task, while it is controlled or supervised by the human nurse. So the robot becomes an extension of the nurse."
Asha, which is being developed by the researchers at IISc, TCS, and Hanson Robotics under Avatar Robotics, is expected to be able to take care of the first patient as early as next year.
It is currently learning Hindi and Kannada and is being trained in other languages as well.
It is also being trained to be remotely controlled by a human being.
Artpark has also initiated a drone skyways project called 'Akashmarg.'
The thinking behind it is that there is a need for roads in the sky for the autonomous operation of drones.
Another project, 'Eklavya', looks at facilitating remote labs enabled by robotics to provide equal access to learning to millions of young learners in the developing world.
Artpark will develop AI and robotics facilities to support technology innovations as well as capacity building through advanced skills training of students and professionals in these areas.
Some of these facilities will be key enablers for new sets of technologies, products and services.
One such is DataSetu, meant to enable a confidentiality and privacy-preserving framework to share data and run analytics, spurring the data-sharing ecosystem, creating a data marketplace, and boosting AI applications and solutions.
Another is BhashaSetu, which will enable real-time Indic language translation, both speech-to-speech and speech-to-text.
This will further unlock the economic potential of the country, and enable citizens to equitably participate in the economic progress, regardless of their language.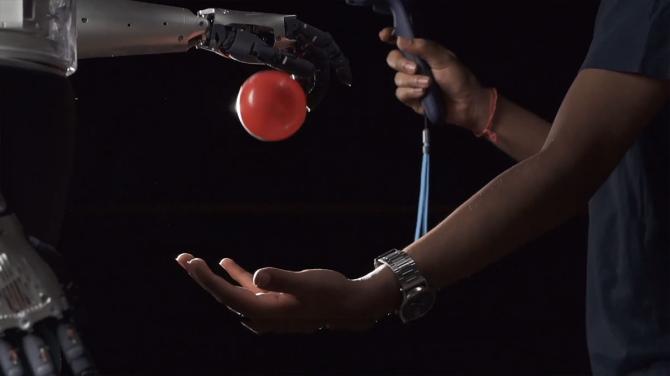 "We are preparing the ecosystem to spawn next-generation start-ups in AI and aerospace. To this end, Karnataka is hosting an AI-focused research and innovation park," said Prashanth Prakash, chairman, Vision Group for Startups, government of Karnataka, and partner at venture capital firm Accel.
The facility will come up with solutions to large societal problems and strategic projects for the Indian ecosystem by leveraging AI in healthcare, next-generation transportation, financial inclusion and starting agriculture supply chains.
"It will also help inject 5,000 AI trade engineers into the local ecosystem," Prakash added.
With seed funding of Rs 170 crore ($22 million) from the central government's department of science and technology, Artpark is looking at building a collaborative consortium of partners from industry, academia and government bodies.
"It also sets a template for Centre-state partnership in the frontier areas of technology -- a theme which will receive focus in the soon-to-be-released Science, Technology and Innovation Policy 2020," said Prof. Ashutosh Sharma, DST secretary, at the recent launch of Artpark.
According to research by professional services firm PwC, AI could contribute up to $15.7 trillion to the global economy in 2030, more than the current output of China and India combined.
However, if the current path of AI technology evolution continues, gains from this major revolution in AI might be unequally distributed to a chosen few.
It is feared that the developing world might miss the impact of this major revolution.
Artpark aims to leverage AI and robotics in a mission-driven model to bring a better quality of life to billions of people in the developing world.
Indian academia has been carrying out cutting-edge technology research in various domains.
"However, we have had systemic issues in moving the results of this research from university laboratories into the outside world," said Prof Govindan Rangarajan, director at IISc.
"Artpark would go a long way in establishing a template for addressing this need."
Feature Presentation: Ashish Narsale/ Rediff.com.