While smart boys like the Ruias of Essar, Ajay Piramal, Max India promoter Analjit Singh laughed all the way to the bank, the Tatas, Anil Ambani, Malaysian tycoon T Ananda Krishna of Maxis (which invested in Aircel), Sistema, and Norway's Telenor burnt their fingers, notes Surajeet Das Gupta.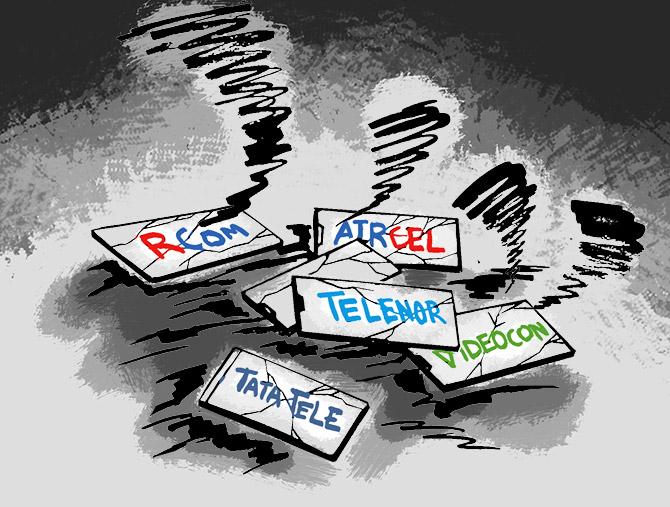 It was the best of times and the worst of times in telecom for business tycoons and multinationals.
On one side were the smart boys like the Ruias of Essar, Ajay Piramal, Max India promoter Analjit Singh, the UK-based Hindujas, and Spice Group promoter B K Modi, who hit the jackpot by first investing and then moving out at the right time, from the mobile telecom services sweepstakes over the past 25 years.
On the other were the big business houses such as the Tatas, Anil Ambani, multinationals like Malaysian tycoon T Ananda Krishna of Maxis (which invested in Aircel), Sistema, and Norway's Telenor who were compelled to cut their losses and move on after failing to create a viable business.
For many tycoons, it was Vodafone India (earlier Hutchison-Essar) which was a goldmine.
At one level, FDI rules (initially pegged at 49 per cent before rising to 74 per cent in 2005 and then to 100 per cent in 2013) ensured that foreign telcos would need an Indian investor, sometimes two, to ensure that they had the highest shareholding to run their business.
If one of them wanted to sell, they had to be replaced by another Indian business house.
At another level, Hutchison and its partners Essar had charted out an aggressive plan to become a pan-Indian operator through buys and this provided opportunities for Indian businessmen like the Hindujas or BPL to cash out.
Even Idea and Airtel used the same route to fill in circles where they did not have a presence.
The Ruias, who had a joint venture (JV) with Hutchison, were masters in the game.
When Hutchison sold its stake to Vodafone in 2007, the Ruias continued to hold their 33 per cent stake and incorporated a put option that they could sell later.
A year later, they did sell to the UK firm for over $5 billion and got an additional cash sum of $400 million as control premium.
The money was used for the group's massive $18 billion expansion programme in steel, refining, power, and other industries.
Analjit Singh had a JV with Hutchison to bid for Metro licences and they won Mumbai when mobile services were opened up to the private sector.
In an interview, Singh said he soon realised this was a big bucks game demanding deep pockets, so he sold his 41 per cent stake to his partner for Rs 561 crore in 1998.
Seven years later, he sold a residual stake of 3.16 per cent to the Ruias in Hutchison-Essar, a consolidated firm made from the acquisition of various licences including Mumbai, for Rs 657 crore.
But Singh was back in 2006, buying a 8.3 per cent from Kotak Bank subsidiaries, associates and promoter group companies in Hutchison-Essar for around Rs 1,019 crore.
Three years later, he again sold a part of the stake for Rs 533 crore and his entire stake for another Rs 1,241 crore to Vodafone.
The third player who made a bonanza through Vodafone India was Ajay Piramal.
In 2012, he bought 11 per cent in the telco for Rs 5,864 crore so that the UK firm could comply with FDI rules.
After FDI rules were upped to 100 per cent, he sold his entire stake at a 52 per cent return on his investment.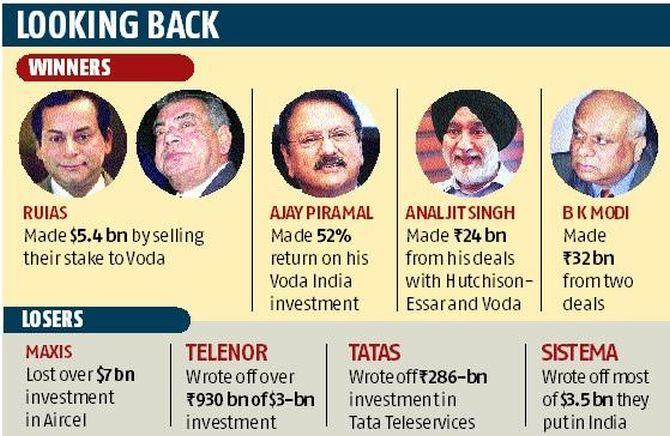 There were, of course, other competing telcos apart from Hutchison who saw acquisition as the way to expand quickly.
Idea, for instance, bought Escorts' mobile business in six telecom circles for Rs 350 crore.
The company also struck a deal with Modi of Spice to buy out his stake in the firm that ran Punjab and Karnataka -- markets where it did not operate -- for Rs 2,720 crore.
Modi also struck a deal with Airtel, which bought its mobile business in Kolkata for $90 million.
MNCs were not so lucky.
Russian giant Sistema, which launched MTS CDMA services in 2010, invested over $3.5 billion but after merging with RCom, which ended up in the National Company Law Tribunal (NCLT), it had to write off its investment.
Similarly, Telenor took an impairment as well as writing off over Rs 9,300 crore on Indian operations though it had made investments of around $3 billion.
But when Telenor sold its assets to Airtel, it did not get any cash in return and agreed to pay any pending dues, such as the adjusted gross revenue (AGR) demands.
Malysian tycoon T Ananda Krishnan of Maxis lost the over $7 billion he invested in Aircel when it hit the NCLT and found a new buyer.
The latter, predictably, will not run it as a mobile services company but will monetise some of the assets.
Indian business houses, the Tatas for example, also faltered in their telecom foray.
Tatas were able to get a Japanese giant as a partner in Tata Teleservices who paid over Rs 13,000 for taking a stake.
But when Tata Tele was sold off to Airtel, there was again no cash pay out to the seller for the deal.
And, Tatas also had to pay off Docomo, which decided to quit and sell its stake in the firm.
Based on regulatory filings in 2018, Tata Sons has already written off its over Rs 28,600 crore investment in Tata Tele.
Not only that, it has to still pay around Rs 14,000 crore of AGR dues as part of the Supreme Court order.
In fact, it has already paid over Rs 4197 crore of this amount to the government.
Anil Ambani, who ran RCom, also burnt his fingers.
He had no option but to go to the NCLT as attempts to sell off its assets and pay off the bank debt -- for which it had signed a deal with Jio -- did not take off due to regulatory challenges.
Before that he also made an aborted attempt to merge with Aircel.
A committee of creditors now has found a buyer for the firm's assets through NCLT through a Rs 23,000-crore resolution plan.
But the fact remains that it will not take care of the entire debt and they will have no option but to take a haircut.
Feature Presentation: Aslam Hunani/Rediff.com