'For our traditional membership base, it would be an access to disruptive ideas,' FICCI President Subhrakant Panda tells Asit Mishra/Business Standard.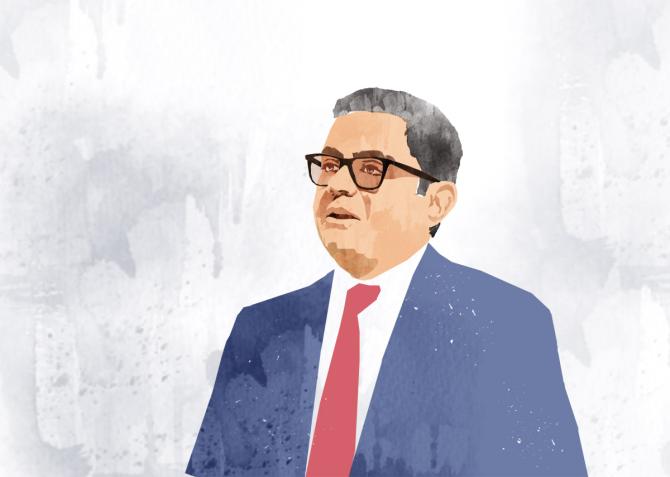 After rescheduling a few times, industrialist Subhrakant Panda makes himself available for a lunch meeting on a Friday.
Though he had time on Thursday as well, that's the one day of the week when he practices vegetarianism. And since the president of the Federation of Indian Chambers of Commerce and Industry digs seafood, a Thursday lunch was ruled out.
We're meeting at the House of Ming, the Chinese restaurant at the Taj Mahal hotel, a venue he has chosen while lamenting the lack of good Japanese diners in central Delhi.
At 52, Panda is among the youngest presidents of FICCI.
He took over from Hindustan Unilever Chairman and Managing Director Sanjiv Mehta in December last year.
A hard-nosed businessman, he is also the MD of Odisha-based Indian Metals & Ferro Alloys Ltd (IMFA), a leading producer of ferrochrome, which also operates captive mining and power generation facilities.
How does he balance the dual roles, I ask.
"I used to go to Bhubaneswar for at least a week every month. Those Odisha trips have definitely been affected," he says.
Now, he conducts a monthly review of IMFA's operations and focuses more on growth and diversification. "But then I have always left the company's day-to-day operations to the management team."
Panda has been active in FICCI for over two decades and has climbed up the ladder.
He was the first chairman of the FICCI Odisha state council and is now the first businessman from the state to head the industry body.
FICCI follows a presidium concept of leadership: The person in the executive council serves as vice-president, senior vice-president and president for one year each.
Panda says he revamped the FICCI committees by subsuming many under one overarching panel.
"The terms of the chairs and the state councils are all co-terminus with the president's, so you don't want to lose any time of your one-year tenure."
Panda's childhood was spent in Bhubaneswar (Stewart School) and Delhi (Delhi Public School, RK Puram) before he headed to the US for a degree in finance and operations management from Boston University.
He initially intended to stay on and work in the US for a couple of years after graduating in 1993 but came back and joined the family business.
"The commodity business is cyclical, and it was going through a downturn at that time," he says.
"Not that I had any illusions that I would contribute significantly from the word go, but I thought if you join a business when it is in a tough phase, you learn much more."
Panda's parents, Bansidhar Panda and Ila Panda, had founded IMFA in 1961.
Bansidhar Panda had worked as a research scientist in the US and on assignments for the British government before returning to Odisha to establish IMFA.
The Bansidhar and Ila Panda Foundation, the CSR initiatives of IMFA headed by Panda's wife Shaifalika (they met at Boston University), confers the prestigious Sarala award for Odia literature.
As we realise we haven't ordered food yet, Panda poses a question I often encounter: How can an Odia be vegetarian? But he quickly adds that there's nothing wrong with being vegetarian.
After weighing the options, he chooses golden fried prawns over baked crab meat.
I opt for assorted mushroom cheese-stuffed dimsums. Panda also orders the sweet corn crab meat soup and I go for Ming's lemon soup.
For the main course, I pick mixed assorted greens and burnt ginger fried rice, and Panda chooses shredded chicken with ginger and chilly.
Everyone in his family, he says, loves Japanese food and believes they were all Japanese in a past life.
Does he miss Odia food in Delhi? "Not at all, I have a very good Odia cook," he says.
"If I am eating at home, lunch normally is Odia food, which includes a lot of seafood, some meat or chicken. A few years ago, I decided to go off meat on Thursdays; it's more of a self-control thing. Left to myself, I can eat seafood from breakfast to dinner."
Panda's favourite Odia dish is the quintessential Pakhala, or watered rice. "I love Pakhala with all its accompaniments. That is usually reserved for the weekend because it is very difficult to do any work after having Pakhala."
The appetisers and soup are served together.
The server explains which sauce pairs best with which appetiser.
Panda is the youngest of four siblings. He has two sisters and an elder brother, the politician Baijayant Panda (better known as Jay Panda) who is the Bharatiya Janata Party's national vice-president.
IMFA's ownership is divided equally among the four siblings, though the youngest Panda runs the show and the elder one sits on the board "but is not involved in the business at all".
I scan the menu to order another plate of dimsum. Panda suggests lotus root and water chestnut dimsum and I gladly agree.
Panda says he's working on three priorities during his one-year presidency: "One is to reach out to the SME sector to understand how aware and prepared it is on digitalisation and sustainability. The idea is to see how FICCI, with its broad outreach and membership base across the country, can help in bridging the gaps for SMEs."
He pauses, and digresses from the subject. "You've been smart in what you ordered. I've ordered heavy stuff... But the golden fried prawns are the signature dish here."
And then he continues: "The other thing we are focusing on is start-ups, and trying to get them into FICCI's ecosystem. The point is to work out a method for curated start-ups to socialise with our membership base."
For the start-ups, this would mean market access, mentorship and funding, he says. "For our traditional membership base, it would be an access to disruptive ideas."
His third priority is the North East region.
FICCI is going to organise a connectivity summit on the theme of border area economic development during his presidency.
At this point, he gets a call from his daughter, who is studying in the US, and asks me to turn the recorder off for a while.
Lunch is served as he explains the opportunities for India due to the China-Plus-One strategy.
I have another question ready, but I hold it as we prioritise savouring our meal over talking geopolitics.
After munching in silence for a while, I bring up the pending economic reforms such as FDI in multi-brand retail and inventory-based e-commerce models.
I notice Panda becoming defensive for the first time.
"These are complex issues. In certain areas, there is a possible need for a calibrated approach to reforms; [there're] a lot of issues and counter-issues, which have to be considered. Let's see how it plays out."
For dessert, Panda suggests date pancakes with ice cream, a quick option I am happy with.
I ask him the obvious: his interest in politics, considering that his brother is deep into it? "I don't think politics is my cup of tea. Somebody has to focus on the business, and I like what I am doing. I can't imagine [having] anything to do with politics anytime in the future."
Has the fact that his brother belongs to the Opposition party in Odisha affected their business? "We are not a typical combination where he benefits from the business and I benefit from the political connection," he says. "The two have been kept apart, and that's the way it ought to be."
As we wrap up, he says, "Hope you'll focus on FICCI more than anything else."
Feature Presentation: Rajesh Alva/Rediff.com