Poor policymaking, a fractious industry and the cockeyed nature of regulations are to blame, saya Vanita Kohli-Khandekar.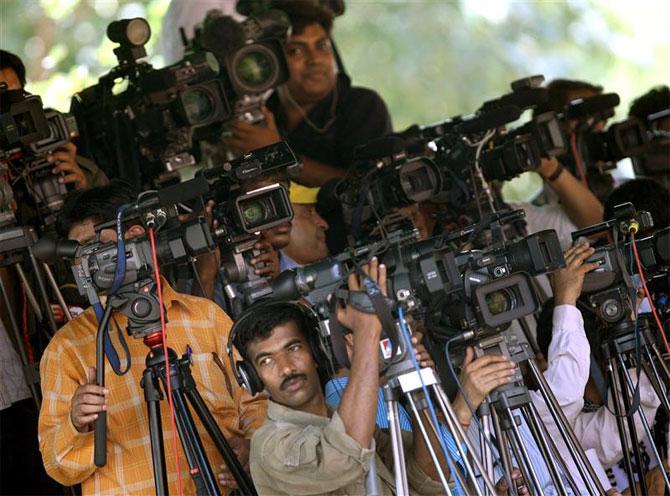 A ripple of excitement went through the Rs 115,700-crore Indian media and entertainment (M&E) industry recently.
The $900-million acquisition of Media.net by a Chinese consortium brought fresh hopes and heartburn. Media.net is founded by Indian-origin brothers Divyank and Bhavin Turakhia.
It is, however, a global ad-tech firm based out of Dubai and gets more than 95 per cent of its business from the US.
It reminded everyone, however, why India is having an abysmal time attracting investments into M&E. A total of $78.8 million (about Rs 530 crore at the dollar rate today) was raised by the entire $18-billion industry till June 20 this year, according to News Corporation-owned VCCEdge.
Compare that to a billion dollars last year and $400 million in 2014. It may end the year with better numbers but that doesn't look likely.
According to the Confederation of Indian Industry, the total amount of foreign direct investment (FDI) inflows into the sector was 1.61 per cent of the total FDI inflows from April 2000 to September 2015.
So even the good years don't amount to much. Two desperate rounds of relaxing FDI caps around Diwali 2015 and in June this year haven't helped. No one has rushed into India so far.
A country with more than 300 million newspaper readers, 900 million TV viewers and 343 million people online should have been a beehive of activity for investors. It isn't because except for a few listed newspapers nothing has delivered returns.
In TV, we are at half the margins of, say, Brazil and in films, it is the rare studio that makes money. Disney India is reported to be shutting down its local film division simply because it cannot make money. Yet there is money to be made.
That explains why every major media company in the world - except Comcast and Liberty Global - is here. Some such as 21st Century Fox have a huge, profitable local business in Star India. But Star, Times Group and Zee are the exceptions in the Indian M&E marketplace, not the rule.
The reasons: poor policymaking; a factitious, fragmented industry where lobbying is usually about one or two firms, not about industry issues; and the sheer cockeyed nature of regulations. And also some serious issues on corporate governance.
Much of this sounds like griping but look at the firms trying to build the M&E ecosystem and what they face.
For instance, India has a desperate shortage of screens. If it could double them to 20,000 and therefore, double revenues to over Rs 24,000 crore, it would make the industry more profitable and generate huge amounts of employment and taxes. And it would put India at the top of the league globally, along with China and the US.
But multiple permissions and red tape cause crazy delays for anyone wanting to build screen infrastructure. In April 2013, PVR's five-screen multiplex at Grandzz Mall in Chennai's Velachery area was ready for business. But it finally took a court directive in December 2015 to get the licence needed to open the property.
For investors, the interest costs, that of keeping the property fully staffed in anticipation of the licence and the opportunity cost of the business lost have probably reduced their profitability on the project already. "Capital is not a constraint (for growth), the ecosystem is," said Kamal Gianchandani, then CEO of PVR Pictures.
If TV and films, the two large chunks of this industry, cannot reach their full monetisation potential because the infrastructure doesn't exist, how can digital or any of the newer segments? There is no overarching policy or regulatory barrier to running a profitable media-tech business.
However, most successful media-tech firms such as Media.net or Prime Focus prefer to be outward-focused. It makes so much sense to be based out of Singapore or Dubai and use the Indian talent pool to create large, scalable businesses servicing markets where things work. It would be nice if we could say that about the Indian M&E market too.
Photograph: Reuters