Indians all over the US are going beyond being human and are learning to be humanitarian and expand their philanthropy activities finds Ajailiu Niumai.
'The raising of extraordinarily large sums of money, given voluntarily and freely by millions of our fellow Americans is a unique American tradition… Philanthropy, charity, giving voluntarily and freely… call it what you like, but it is truly a jewel of an American tradition.'
— John F Kennedy
Women leaders of Iowa City's People-for-People get together for a plant sale whose proceeds will go to charity.
The American tradition of philanthropy has slowly but surely embedded itself in what is considered its 'model minority' — the Indian Diaspora. As the community becomes wealthier, it has felt more connected to the host community and inspired by it to give back to society.
Ansul Dixit, a doctor from Iowa City, says, "Philanthropy is the norm in the United States. It is discussed, talked about in the media — day in and day out. Children are imparted the value of giving back to society starting since early childhood. My family and I have benefitted from the generosity of others. Having lived here for some time, I understand the connections between philanthropy, society and community development much better."
Though philanthropy is perceived to be more than thousands of years old and by the late 1980s and early 1990s the level of giving by the elite and even the middle class had substantially increased in the US — as evidenced by the emergence of philanthropy as an academic discipline — this trend among the Indian-American community essentially spiked only in the 21st century.
Philanthropists from the community have not only provided generous monetary donations, but also contributed in kind and skills. They have not only come from among the wealthy, but from different social strata. And their contributions not only extend to their country of origin, but also to their adopted country and others.
Raj Rajaram, a philanthropist from Chicago, says, "I see many American people giving time and money to non-profit society within US, although they make very little money, it inspired me to give back to both India and USA."
Ram Krishnan, an entrepreneur and philanthropist from St Paul, Minnesota, says, "Something happened to me and I began to think of what legacy would I leave behind when I die?"
His journey as a philanthropist began with involvement with rain water harvesting and utilising solar energy for lights projects in his native city Chennai and in two villages of Ethiopia. He has been helping hundreds of families gain access to clean drinking water and save conventional energy.
Suri Sehgal of the Sehgal Family Foundation, Des Moines, and Prem, Anil and Subhash Sahai of the Sahai Family Foundation for Educational Excellence, Cedar Rapids, Iowa, have contributed huge amounts to both the US and India, especially for education and women's empowerment.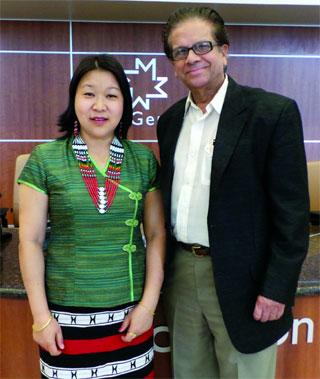 Dr V K Raju, image, left, seen here with author Ajailiu Niumai, who hails from Morgantown, West Virginia, is the founder of Eye Foundation of America, a non-profit organisation that has facilitated thousands of eye surgeries for the poor in India, Afghanistan, Tanzania and several African countries. In 2013, he started a mass campaign to raise $1 million to provide eye care to 100,000 people in rural India. It focuses on diabetic patients who are at high risk or maybe already suffering from diabetic retinopathy, a condition that leads to blindness if left untreated.
He says, "A child's life can be changed by preventing blindness with a vitamin A supplement that costs only a few pennies for a dose."
Virendra C Patel, a former professor emeritus of mechanical engineering in the University of Iowa, donates more than $20,000 annually towards philanthropic activities. He volunteers more than 600 hours annually and gives consumable goods to the needy. "When I donate 10 percent of my income towards Anoopam Mission in faith, I feel convinced that it purifies the remaining 90 per cent of what I earn," he says. "We tend to trespass some rules in accumulating wealth, but the process of giving a little back of the total wealth sanctifies it."
He is not alone in invoking his culture as an inspiration to give of himself and his wealth.
Dr Sanyo Konyak, who lives in Tulsa, Oklahoma, with his American wife and four sons, says, "My Naga culture of helping those in need, imbibed from childhood, has shaped my present involvement in philanthropic activities, especially among the Burmese refugees, Meitei (Manipuri) Diaspora, and Kuki Diaspora at the International Mission Fellowship in Tulsa. Being a doctor, I am hard pressed for time, coupled with hospital calls at any time of the day and night. I wish to have plenty of time and resources to give back a large amount to society."
My research shows while giving back to the society patterns for those who are in the initial stages of their career were affected by the economic recession, it did not have a similar impact on philanthropists who are middle level professionals and those belonging to the older generation. They remained motivated to give.
Saving taxes was also not a primary push factor for many affluent Indian Americans as they cannot claim tax deductions when they donate to certain organisations based outside the US. They are motivated solely by the desire to give back.
When we discuss altruistic behaviour in relation to patterns of giving between men and women, the question that arises is: Is feminist philanthropy prevalent among the Indian Diaspora in the US? The answer is definitely yes.
There is an emergence of a large number of Indian American women philanthropists from middle and elite class backgrounds, who were not seen earlier or often went unheard of. Relatively less recognized their contribution, involvement and intervention towards welfare services of the community cannot be ignored anymore.
Women-based organisations like People-For-People in Iowa City, PACE/Piyali Learning Centre in Southern California/Kolkata and Apna Ghar in Chicago have women as heads although they encounter patriarchal challenges in subtle ways; some of these women revealed that their male family members did not support them whole-heartedly.
Kavita Ramdas of the Global Fund for Women says the term 'feminist philanthropy' is threatening and that it must be willing to challenge the status quo, which underpins philanthropy as we know it and the patriarchy that underpins our societies. In spite of patriarchal challenges, some women continue to focus on generating funds and have invested heavily to bring about change in the life of women.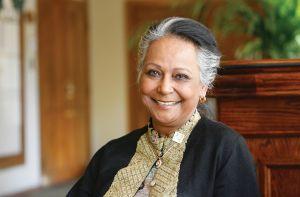 Deepa Willingham, image, left, a business entrepreneur from Thousand Oaks, California, donates $60,000 to $100,000 annually for trafficked girls and children of sex workers who were rescued by her organizations PACE/Piyali Learning Centre.
She said, "I am a noted cook and in 2013, an Italian restaurant in Southern California took my cooked food and helped me to raise $5000 for charity. On February 27, 2014, I partnered with the popular local restaurant Avant Tapas & Wine Restaurant, where the tickets were sold at $75 per person. The restaurant owner offered to host this event and all income from this event was donated to my NGO." Every $350 means she can save another girl from the grips of human traffickers.
Since many women belonging to the Indian Diaspora in the US, who want to help, have less wealth than men — some give as a couple or in the husband's name to combat that — ethnic food festivals, religious festivals, cultural performances have emerged as essential fundraising tools for feminist philanthropic activities.
Vanaja Chandran, Kaushal Jain, Mahmooda Ahmad, Nisha Mittal and Bharathi Reddy who initiated People-For-People with like-minded South Asian friends in Iowa City, a decade ago, are instrumental in organising cultural events like India bazaars, garage sales and plant sales to raise funds, which they have donated to selected organisations in Iowa City and India. For each event, each one of them invests $200 or more of their own to buy handicraft materials, food items and utilises her cooking and craft skills to contribute to the sale items.
In a year, all of them volunteer more than 600 hours. "We raised $2,000 to $3,000 in each event," Chandran says. "We raised $7,500 for Johnson county's free lunch programme in Iowa City through an Indian cultural event in 2007. May 17 and 18, 2014 we organised a plant sale in Iowa City to raise funds for the Crisis Center of Johnson County, Iowa City."
Another interesting case is that of Shanthi from Iowa City. "My NGO collected $10 per head from 1,000 women members across the US and sent the collected funds to a Chennai-based NGO for using it in providing and maintaining drinking water facility in selected schools and launching health awareness campaigns among the school children," she says.
She is a member of Sri Sathya Sai Baba International Organisation and adds, "I donate on my wedding anniversary, birthdays in the family and any special occasion for the poor and needy. My son won $3,000 in third grade in an essay competition in 2013 from his school and he donated his total prize money to my NGO."
The Indian Diaspora is taking avid interest not just in their country of origin but also in their host country.
Neha Gill, executive director, Apna Ghar in Chicago, which works for the welfare of abused women says, "I give primarily in the US in the cause of women's empowerment to the organisation. I have been involved in the organisation for work-oriented programmes and I wish to be involved in similar organisations… I give any kind of help by mail to an international organisation — Amnesty International because I believe in furthering human rights and I like their approach. I also give by mail to a national civil rights/anti-violence organisation called the Southern Poverty Law Center; I admire their work. I give in kind, etc to the Purple Heart and Salvation Army."
These women also seek to involve and work with local American women and fellow South Asians in their philanthropy. The current president of Iowa City's People For People is Mahmooda Ahmad from Pakistan who supports charitable causes in US and India.
This belief that social change takes place through collaboration between women of diverse backgrounds and actively pursing these collaborations sets an important precedent of feminist activism and movement building. They believe it can achieve substantial results in developing sustainable philanthropy.
The zeal and commitment of the women of the Indian Diaspora to uplift the poor and needy, especially girls, epitomises Simone Beauvoir's idea — 'That's what I consider true generosity: You give your all, and yet you always feel as if it costs you nothing.'
Society still does not fully acknowledge women's oppression, or women as sole agents of change. Due to cultural norms and stereotypical attitudes towards women and philanthropy, some philanthropists are reluctant to give to women-based organisations. Thus, feminist activism, which is expected to boom, is a powerful form of activism that provides a way for women to express solidarity and invest in their own liberation.
Philanthropy for the Indian Diaspora is a concept laden with caste, ethnicity, class and religious assumptions, gender and patriarchy. Yet there is no single relevant framework for examining gender and philanthropy. A critical, inter-sectional approach is required in considering the use of philanthropy and gender without neglecting privilege/power that is so intrinsic to philanthropy. This is especially essential since women make up majority of the volunteers in the NGO sector and diverse social movements.
---
Ajailiu Niumai is a visiting scholar at the Department of Gender, Women's and Sexuality Studies, University of Iowa, Iowa City. She is an associate professor at the Centre for the Study of Social Exclusion & Inclusive Policy and part of the faculty of the Centre for Women's Studies, University of Hyderabad.