While low cost carriers like Air Deccan, SpiceJet and others define the new face of Indian aviation, two new ventures are breaking the mould.
Club One Air zooms in from north India promoting fractional-ownership, while Paramount Airways takes off in the south with only business class seats.
Will the new ventures land smoothly or hit an airpocket?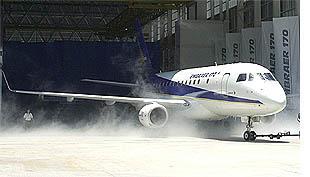 Your business is mine
The chill in the plush lobby of a Mumbai five-star hotel could freeze an Eskimo. Even the statues in the foyer seem to stare coldly. At the airport close by, the mid-September rain is obstructing landing aircrafts.
M Thiagarajan, managing director of Paramount Airways, is not on one of those flights, but he's still running late. With Paramount's launch just a week away, Thiagarajan is in back-to-back meetings.
When he finally gets away long enough to meet The Strategist, Thiagarajan mouths the stock reply of film stars promoting new releases: "Paramount's different."
But like most Bollywood films, is the difference of the blink-and-you-miss-it variety? Here's a bird's-eye-view: Paramount has only business class seating and offers direct flights between metros and non-metros. Thiagarajan says that connecting non-metros is the cornerstone of his strategy because 40-45 per cent of air travellers passing through two metros end their journey at a non-metro. An example: at present, passengers flying from Delhi to Coimbatore have to make a mandatory stopover in Mumbai or Bangalore.
Naturally, direct flights will slash travel time. A Paramount flight from Kochi to Delhi covers 2,200 miles in just over three hours. Kingfisher Airlines takes close to four hours and includes a stopover.
The other differences? Paramount offers a personal valet service -- Kingfisher, Jet Airways and several others have been there, done that. And 70 passengers on a Paramount flight have to queue outside two restrooms and fight for the attentions of four cabin crew -- that's 35 passengers to a toilet and one attendant for every 17.5 passengers.
Compare that to the business classes of Jet Airways and Indian Airlines -- one toilet and up to three cabin crew for every 24 passengers.
So, are full service airlines better? No, say Thiagarajan emphatically. He offers the price-value equation to bolster his reply: Paramount provides business class service at a lower price than competitors' economy fares.
That argument has some merit. Paramount's one-way Coimbatore-Delhi flight costs Rs 11,999, while Jet Airways bills Rs 26,205 for a regular business class seat, via Mumbai, on that route.
Even economy fares in Jet are costlier, roughly Rs 17,000. Of course, that's just the rate card price. Schemes such as Jet's Check Fares offer the same route for as low as Rs 7,385.
Is Thiagarajan's promise of business class at fares lower than economy then really valid? Paramount believes it will be recognised for more than just low price. "We intend to offer customers true delight without charging a lot at the same time. We do not cut everything and then say the cost is low," defends Thiagarajan.
He backs up this claim with numbers. Paramount has invested Rs 600 crore (Rs 6 billion) in buying five Embraer 170 aircraft. It believes that the 70-seater jets are picture-perfect for non-metro routes with a low passenger traffic. Other options like ATR turboprops are not as good.
While turboprops seat 40-60 travellers and are best suited for low passenger density routes, they cannot fly beyond 500 miles without a stopover. Jets like the Boeing 737 or Boeing 800, too, are ruled out.
With 140-180 seats, airlines find it difficult to get an 85 per cent passenger load on such aircraft for low-density routes. "In India, many routes are beyond the reach of turboprops, but jets don't fly them for lack of passengers," says Thiagarajan.
Paramount may do business, but consultants are not impressed. "An all-business class model hasn't worked anywhere in the world and the chance of succeeding in India is little," says Kapil Kaul, CEO, Indian subcontinent and middle east, Centre for Asia Pacific Aviation, a Sydney-based aviation consultancy.
He adds, "Paramount isn't a real business-class airline. It's more or less an upgraded economy class airline, with slightly more legroom and leather seats."
His argument: if Embraer 170 jets were configured for only business-class, they would have just 45-50 seats. That would mean a significant drop in revenue per flight. For instance, with a 90 per cent passenger load, a one-way Coimbatore-Delhi flight with 70 seats earns about Rs 7.56 lakh (Rs 756,000).
Modify the aircraft to a 45-seater and each flight delivers only Rs 5.40 lakh (Rs 540,000), even with a 100 per cent passenger load.
Statistics notwithstanding, Paramount claims it will have a turnover of Rs 700-800 crore (Rs 7-8 billion) and fly 3,000 passengers everyday by the end of the first year. If that happens, even the statues at the Mumbai five-star will smile.
A different club
Club One Air does not bother about travel agents or ticket sales. Even passenger density is not a concern. Because in this case, passengers are not customers. They are owners.
Launched in August 2005, Club One Air emulates international success stories like NetJets, a US-based fractional aircraft ownership model that was launched in 1986.
Club One's revenue model is simple. Eight owners (corporates, small and medium companies, and entrepreneurs with a annual turnover of more than Rs 100 crore) invest in a single aircraft, either a Citation II, a light seven-seater jet, or a Citation Excel, a medium-sized eight-seater jet. Both the airplanes have plush, revolving leather seats.
Each fractional owner pays between Rs 2 crore (Rs 20 million) and Rs 5 crore (Rs 50 million) for 100 flying hours in a year. Apart from that, he also pays Rs 4 lakh (Rs 400,000) a month as management fee and Rs 35,000-55,000 per flying hour, for fuel charges and maintenance of aircraft components.
"Normally, executives don't fly more than 150-200 hours a year. So there's no point in owning an airplane that flies 800-1,000 hours a year," points out Manav Singh, managing director, Club One Air.
Convincing argument but Singh is not taking chances with clients. Initially, Club One promises to refund membership fees of the first 25 members, after 10 years. The next 25 stake holders will get a refund of 75 per cent. Singh says six fractional owners have signed up and 40 will come on board by end-2005.
That means the five aircraft that Club One's backed with an initial investment of Rs 100 crore (Rs 1 billion) will be completely bought by end-2005. As a result, Club One will expand to seven aircraft by year-end. Singh plans to break even in three years and expects 50 aircraft with 200-400 members in three years.
Sounds good, but is it feasible? Because chartering aircraft may be wiser. Tata Group's Taj Air or JK Group's Million Air have been renting out aircraft and helicopters for almost a decade.
Singh defends himself. "It's not their (Tata's and JK's) core business, so they are not competition. I'm more serious about this business than anybody in the country." Besides, take away the initial investment, and flying on chartered aircraft costs twice as much as fractional ownership.
Fractional owners may not be particularly bothered with saving money, but they do not even save time. Even with a no-frills full service airline, executives get the privilege of tele check-ins. Then, unlike the US, where one city may have several airports, most airstrips in India are located far from the commercial or industrial hubs.
Also, conducting business meetings on private jets or finishing work in transit may be the norm in the US, where the average domestic flight time is six hours. In India, the longest flight can end in three hours.
As for the status symbol of owning an aircraft, remember there will be seven other, unrelated owners who will all want to assert their rights.
"Club One Air's impact on Indian aviation will be minuscule because of the nature of the product," says an aviation consultant from IBM.
Will Club One end up being too niche?