This is the first time the fight is between mother and son.
Both sides don't look in the mood to relent: Advisors and spin doctors have been hired, lawyers have been consulted.
Bhupesh Bhandari and N Sundaresha Subramanian recount the slugfest.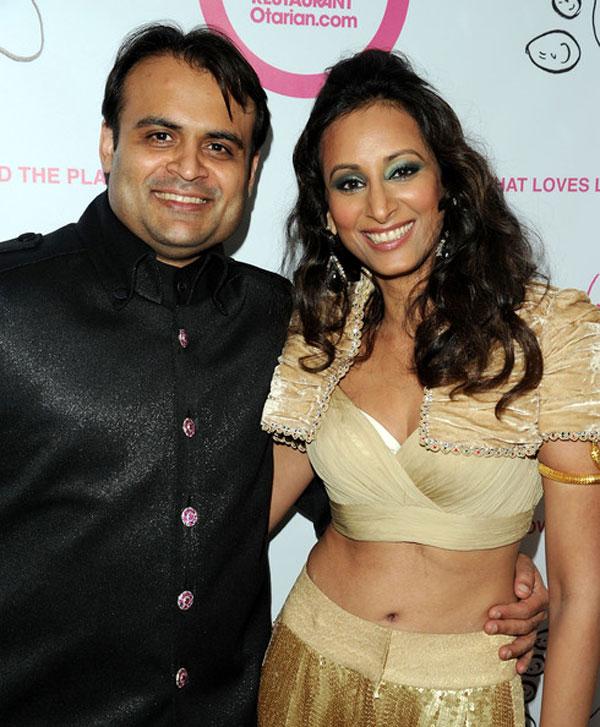 IMAGE: An FIR alleged that Pankaj Oswal and his wife Radhika had carried away files that contained sensitive information like bank statements, records of board meetings and memorandums of association.
The couple is seen here attending the opening of Otarian, the 'planet's most sustainable restaurant' in New York City, April 14, 2010.
Photograph: Andrew H Walker/Getty Images
On April 2, the directors of Oswal Agro Mills and Oswal Greentech met at the 7th floor of Antriksh Bhawan, a high-rise in the Connaught Place area of New Delhi.
On the agenda was the appointment of a new director and chairman: Aruna Oswal. These meetings were called after Aruna's husband and the chairman of the two companies, Abhey Oswal, had died in Moscow four days earlier. The mood was sombre, the meetings were short. Once the proposal was cleared by the two boards, the directors dispersed.
Three days later, around 4:30 pm, a first information report was registered at the Barakhamba Road Police Station, under which Antriksh Bhawan falls, at the behest of Praveen Chopra, the CFO of Oswal Agro Mills.
It alleged that Pankaj Oswal (Aruna and Abhey Oswal's eldest child), his wife Radhika and a few of their associates entered the office on April 4 and carried away files that contained sensitive information like bank statements, records of board meetings and memorandums of association.
Chopra alleged that these people before leaving said that Pankaj was the chairman of the two companies and they would soon get him appointed the authorised signatory with the banks.
A few days later, Pankaj called the first information report 'motivated' and said that he would file a reverse complaint to prove that these incidents did not take place, and that he would ask for the CCTV footage from inside the office to prove his point.
Without naming names, he said people were using 'all kinds of Indian system pressure tactics' to intimidate him. They, he added, had even tried to get him and his wife illegally detained.
Who were these people?
Pankaj, when he alleged that the board of the companies had put in place a person (his mother) as chairman 'who won't be able to catch them from siphoning monies off,' left nothing to the imagination. They, he said, 'will enjoy the spoils of my father's hard work.'
Another murky family fight had broken out in the business world. In the past, the country watched with rapt attention as cousins fought bitterly, brothers washed their dirty linen in public, uncles and nephews lunged at each other's throat, and even father and son strived for control.
This is the first time the fight is between mother and son. Both sides don't look in the mood to relent: Advisors and spin doctors have been hired, lawyers have been consulted.
Abhey Oswal started out as a trader in Ludhiana. In the mid-1980s, he bought a farm products industrial complex at Devas near Indore. He followed it up with more acquisitions: ICI's petrochemicals unit at Rishra in West Bengal, Union Carbide's plant at Chembur, Mumbai, and a sugar mill owned by Jagatjit Industries. At one time, he was also known to have put in a bid for DCM's fertiliser plant at Kota.
'Buying the land and setting up the infrastructure for a new project takes a lot of time. I, therefore, believe in acquisitions,' Oswal was quoted in a 1988 report.
In 1989, Oswal hit the headlines by bagging the licence to set up a fertiliser plant at Shahjahanpur in Uttar Pradesh with natural gas fed from the newly-constructed Hazira-Bijapur-Jagdishpur pipeline.
The project cost was Rs 695 crore (Rs 6.95 billion), and Oswal's capital base was small; to bridge the gap, he launched a mega IPO of Rs 500 crore (Rs 5 billion) for his company, Bindal Agro Chemicals. This was big in those days.
Many started to say Oswal was the next big thing after Dhirubhai Ambani.
In somewhat of an anti-climax, the issue was undersubscribed by Rs 30 crore (Rs 300 million), but the project did get completed. Oswal renamed the company Oswal Chemicals & Fertilizers in 1995. He subsequently set up another fertiliser unit at Paradeep in Odisha.
In 2005, Oswal sold the Paradeep facility to IFFCO for Rs 2,180 crore (Rs 21.8 billion) and the Shahjahanpur plant to Kribhco for Rs 1,900 crore (Rs 10 billion).
Now called Oswal Greentech, the company may not be left with much business but has sizeable assets on its books. It has three residential real estate projects in Ludhiana (one on land bought from DLF), which taken together involve development of over a million square feet. The land at Rishra, some 13 acres, is up for sale; Berger Paints is known to be one of the suitors.
Oswal Agro Mills owns the Chembur land, which could be redeveloped into a residential project, and the Devas estate. It is a partner with DLF for an upcoming commercial property at Gurgaon. Along with Oswal Greentech, it also owns some real estate at Mandideep, an industrial town close to Bhopal.
Then there are financial investments. Oswal Greentech owns 9.14 million shares in NDTV, which are worth Rs 92 crore (Rs 920 million). (The company had bought these shares for Rs 24.24 crore in late 2011.) It also owns 50.63 per cent shares in News Nation, a news channel that was set up in 2012, is based in Noida and works with the motto: khabrein jo banti hain aapki power (News that becomes your power).
And there is cash in the coffers. As on March 31, 2015, Oswal Greentech had cash and bank balances of Rs 342 crore (Rs 3.42 billion). On that date, Oswal Agro Mills had cash balances of about Rs 9.2 crore (Rs 92 million) but its investments in mutual funds stood at Rs 39.60 crore (Rs 396 million), and its inter corporate loans and advances to vendors were Rs 173 crore (Rs 1.73 billion).
Pankaj, 43, is the eldest of three siblings. He has a sister Shallu, who is married to Naveen Jindal, and a brother, Shael. Right from his childhood, Shael was inclined towards music and its production.
His first attempt was Planet Oswal, a video magazine he produced at one of the family weddings. Shael's Facebook page describes him as a 'renowned Hindi/Punjabi pop singer' and gives Singapore as his hometown.
Some of his songs have got over a million hits on YouTube. It is learnt that he carries out some trading activity out of Singapore and owns coal mines in Indonesia.
Pankaj, sources close to him say, joined his father's business in 1994 and helped launch the Shahjahanpur and Paradeep plants. After this, Pankaj began to look for 'international opportunities.' The sources say: "As with all fathers, Oswal questioned and was sometimes sceptical of Pankaj's vision, but all the same encouraged him to carve his own niche."
His quest took Pankaj to Australia where he set up the world's largest ammonia plant under Burrup Fertilizers. It began operations in 2006. Pankaj and his wife Radhika began to build their dream house, Taj-on-Swan, in suburban Perth. It was called the most expensive house in the whole of Australia. Their parties were the talk of the town.
Then news came in 2010 that Burrup Fertilizers had been put under receivership after a loan default to ANZ Bank. The receiver alleged that Pankaj had taken large sums of money out of the company. The Australian Tax Office got involved. Pankaj and Radhika relocated to Dubai.
Pankaj's friends claim Burrup Fertilizers ran into financial trouble after the gas supplier reneged on the 25-year contract and tried to increase price. Pankaj has initiated legal proceedings against it and appears ready to fight it out in the courts with the others: He is in Sydney to oversee the proceedings.
'It's the end of the line for them. We will show them never to deal with an Indian and a self-made man this way,' says he.
People in the other camp claim Oswal was not happy with what was happening in Australia and this had strained the relationship between father and son. Some even say the two did not interact at all. Old-timers in Oswal Agro Mills and Oswal Greentech insist that Pankaj's name never came up for induction into the board, not in the last 10 years at least.
On their part, Pankaj's friends say Oswal trusted his son to sort out his business as "he was the one who had set up something that everyone, including his late father, thought was impossible." Pankaj, in an email, said that the two were "always very close in business matters" and had spoken three weeks before Oswal died.
Oswal had been travelling to Russia to look for technology for solar energy, the new sunrise sector. That is where he died after suffering a heart attack. In a subsequent ceremony in Delhi, Pankaj claims that the family pagri (turban) was placed on his head in front of 1,200 members of the family and the community, including his mother.
Since Oswal didn't leave behind a will, Pankaj says, being the eldest child, he is the rightful successor and has demanded his share of the estate.
His detractors do not deny that the pagri event took place, but add that it was a family function, which cannot be the basis for his appointment as the chairman of the two companies.
Oswal owned 39.88 per cent shares in Oswal Agro Mills and 11.11 per cent in Oswal Greentech (Oswal Agro Mills owns another 35.58 per cent in this company). He had nominated his wife to own these shares in case of his death. This nomination was filed before the custodian, an unnamed government company, and the shares stand transferred to Aruna, people close to her say.
As she directly held 1.86 per cent in Oswal Agro Mills and 8.96 per cent in Oswal Greentech, which made her the largest shareholder, her appointment as the chairman of the two companies was logical, they add.
Pankaj, they disclose, has no stake in Oswal Agro Mills and owns just 5,000 shares in Oswal Greentech.
But Pankaj is in no mood to throw in the towel. "As my father's eldest son, I have the right to a law-defined inheritance of his personal estate. Whatever that may be, I am happy to receive my just share," he says. "I want to grow and take forward my father's legacy."
Aruna says that 'the companies were and continue to be professionally managed.' Clearly, it won't be a cakewalk for Pankaj.
How strong is her case?
Ashwini Kumar Mata, senior Supreme Court advocate, says if a man claims inheritance, he has to have a testament or will. According to the classification under the Hindu Succession Act, both the widow and son are classified as 'Class-1 heirs.'
In a scenario where there is no will to the contrary, the nomination would prevail. "An intestate inheritance cannot prevail over a nomination, unless someone can successfully dispute the process of the nomination itself," Mata says.
Pankaj has so far not levelled any charge of impropriety on his mother directly, but has questioned her competence to manage the affairs of the two companies. "She has no knowledge to run the business or to do justice to the shareholders who have invested and believed in my father's business acumen," he said in his email.
The Oswal Agro Mills website mentions that Aruna is a post-graduate and was closely associated with Oswal in managing the business.
'She has vast experience in managing national and international projects,' it adds. If insiders are to be believed, Oswal would often take her along to factories so that she knew how these were run. Indeed, at the opening of the Shahjahanpur plant in the 1990s, visitors were surprised to find Aruna at the site.
She was also the chairman & managing director of the family-owned Lucky Star Entertainment which, amongst others, produced the critically-acclaimed film Pinjar. In addition, she had handled various philanthropic activities of the family, including a 350-bed cancer hospital in Ludhiana.
Stay tuned for more.