Since 2014, the public sector banks' branch network in rural and semi urban has grown by a mere 4,000 while for private sector banks, it doubled from 9,673 to 18,437.
Manojit Saha reports.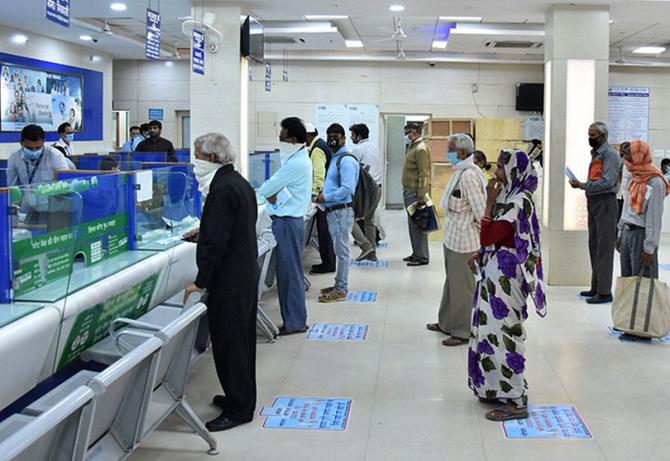 At a time when the government's initiative to privatise public sector banks has drawn flak from several quarters as these lenders are seen to be at the forefront of lending to the rural areas, Reserve Bank of India's data tells a different story.
In the last four years (since September 2017), public sector banks have cut down on their overall branch strength sharply while the presence in rural and semi-urban areas also declined.
Private banks, on the other hand, expanded their overall branch network rapidly and their semi-urban and rural presence has grown commensurately.
Public sector banks had 91,994 branches as on September 2017, which fell to 88,854 by September 2020.
Their branch network in rural and semi-urban areas reduced by around 1,200 in these four years.
Private banks, which had 28,397 branches in September 2017, grew to 36,124 in the next four years while their presence in semi-urban and rural areas increased from 14,842 to 18,437 during the period.
Between 2014 and 2020, private banks almost doubled their branch presence in rural and semi-urban areas.
According to norms prescribed by Reserve Bank of India, a bank needs to operate at least 25% of the total number of branches opened in a financial year in unbanked rural areas.
Data for the last seven years since the Narendra Modi government came into power clearly shows 2017 marks as a break from the earlier trend, as public sector banks started contracting their branch network since then.
Since 2014, public sector banks' branch network in rural and semi urban has grown by a mere 4,000 -- from 49,859 in 2014 to 53,467 while for private sector banks, it doubled from 9,673 to 18,437.
Overall, public sector branch network grew from 84,530 to 88,554 in these seven years, while that of private sector banks jumped from 19,176 to 36,124.
Prompt corrective Action
One of the key reasons why public sector bank's branch expansion was restricted was because these 11 of these banks were put under the Prompt Corrective Action framework of RBI.
Restrictions were imposed as these lenders' financial parameters deteriorated and capital depleted.
IDBI Bank, for example, which came out of the prompt corrective action a few weeks ago, had 408 rural branches and 586 semi urban branches as on March 31, 2017 -- just before the bank was put under PCA in May 2017.
As on December 31, 2020, the number remained the same: 409 in rural areas and 585 in semi urban areas.
The bank had cut down its urban branches -- from 473 to 427 and metro branches from 453 to 427.
IDBI Bank, which was government-owned earlier, was categorized as a 'Private Sector Bank' for regulatory purposes by the RBI with effect from January 21, 2019 after the Life Insurance Corporation of India acquired 51% stake in the bank.
Farm credit
As far as agriculture credit is concerned, the public sector banks missed the target of 18% of adjusted net bank credit for the financial year 2019-2020, after achieving the target in the previous three years.
'During 2019-20, although all the bank-groups managed to achieve the overall priority sector lending (PSL), several sub-targets like those for agriculture, micro enterprises, small and marginal farmers (SMF) and non-corporate individual farmers were not achieved by some of them,' the RBI's Trend and Progress report for FY20 observed.
Private sector banks, on the other hand missed their target for agriculture lending in all four years.
The banking regulator observed that priority sector credit decelerated across constituent categories as well as across bank groups during 2019-20 while the deceleration in agricultural credit was led by Kisan Credit Card loans.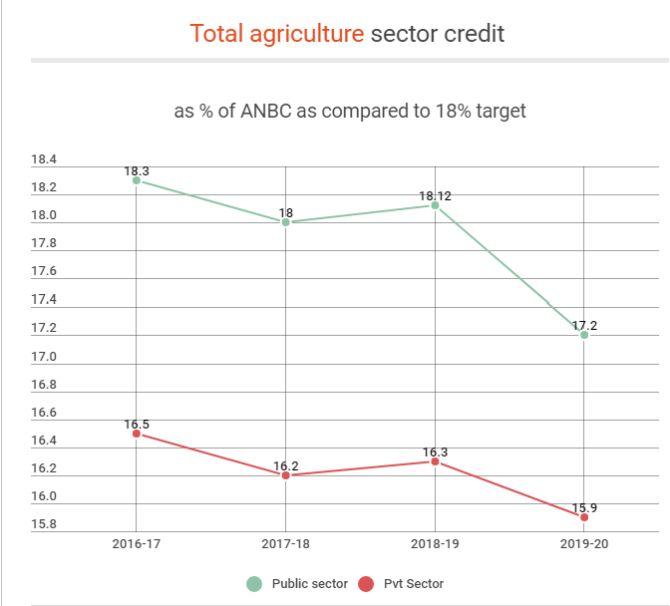 Merger
Another reason is the merger among the public sector banks.
In the last two years, 13 public sector banks have been merged into 5.
Since many of branches of merger bound had branches in close vicinity of each other so some degree of rationalisation may have taken place.
Fresh branch by the merged banks were almost stalled.
Losing market share
The decline in rural penetration also comes at a time when an internal working group (IGW) of the RBI recommended granting of bank licences to corporate houses, which is currently not allowed.
The 2016 on-tap guidelines had the condition that if promoting entity or the group has total assets of Rs 5,000 crore (Rs 50 billion) or more, the non-financial business of the group should not account for 40 per cent or more in terms of total assets or gross income, to be eligible for having a bank licence.
In its report, the IWG cited data to show that public sector banks have lost market share to private banks more rapidly than ever in the five-year period, 2015-2020.
During these period, public sector banks' fell from 74.28% to 59.8% while their deposit share dropped from 76.26% to 64.75%.
Private sector banks' gain in market share was commensurate with the fall of public sector counterparts.