Given how everything has played out, Mehul Choksi, now 62, achieved all that he wanted but for all the wrong reasons, says Pavan Lall.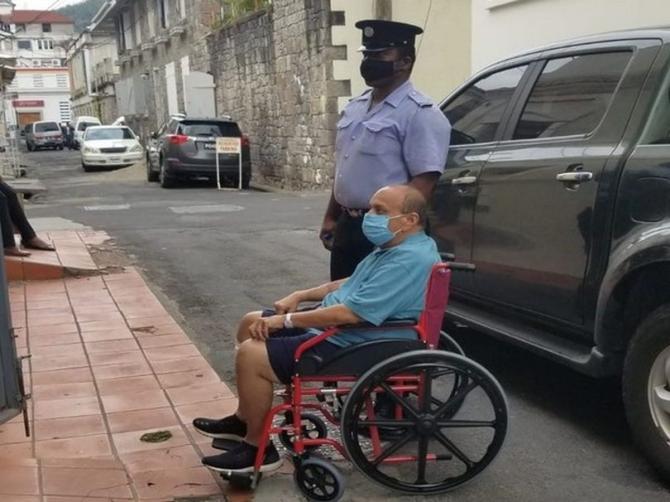 Fugitive jeweller Mehul Chinubhai Choksi, aka Pappu bhai, is now at the centre of a dramatic tabloid scene in the Caribbean Islands as he awaits a decision from the authorities on whether he can continue to stay in the country or be returned to either Antigua or India, depending on the status of his immigration and the legalities of extradition for alleged fraud and white collar crime.
But then drama has always been part of Choksi's life. Compared to his nephew Nirav Modi, who is now in jail in England fighting extradition to India, Choksi's largely been known to control the script, no matter how twisted, and stay ahead of the curve.
He had already planned his escape route and got his citizenship to Antigua sorted out in 2017, well before the Punjab National Bank (PNB) fraud broke out in 2018.
Atul Merchant, a former jeweller who went to college with Choksi, recalls, "Back in 1975, in our first year of H R College (of Commerce and Economics, Mumbai), the rest of our batch-mates were wondering what they were going to do after graduation, but Mehul Choksi was firmly script-bound. And throughout his life, his focus never wavered. I haven't seen anyone with such strong resolve to make money."
Choksi took a cue from Louis Vuitton's owner Bernard Arnault (who, incidentally, briefly became the world's richest man recently) in the way he crafted his business empire.
Taking a diamond company that his father had started in Mumbai half a century ago, Choksi reset it into a retail operation with as many as 30 brands that included Nakshatra, Asmi, Gili and Gitanjali, pushing it onto the stock market and growing its revenue to as much as Rs 14,000 crore.
Clever marketing, celebrity endorsements and a multi-pronged brand and retail rollout all went into the engineering of a successful, publicly listed gold and diamond jewellery company.
But his idols and inspiration weren't always blue-chip icons. "Bharat Shah (film financier) and Vijay Mallya were Pappu's role models. Even after Bharat Shah's imprisonment, Pappu remained in awe of him," Merchant says. Choksi even went and bought a yacht once simply because Mallya had one.
And so Choksi grew his empire with a mix of retail outlets, big-ticket advertising (Rs 200-plus crore annual budgets) and long-term endorsements from big Bollywood names such as Katrina Kaif, Bipasha Basu and Kangana Ranaut (some of whom also accused him of breach of contract), thus expanding his market cap and presence.
Then in 2013, with the change in gold loan credit facilities extended to jewellers by banks, Gitanjali's working capital got squeezed and the business faltered.
There was also an insider trading investigation against him that didn't help matters.
Finally, in 2018, PNB lodged a complaint with Indian authorities against Choksi, alleging the largest bank fraud in Indian history.
The vast web of Choksi's operations offers an insight into the scale of the scam and the brain behind it.
A forensic report by John J Carney, the examiner appointed by the US bankruptcy court, in 2019 unravelled the numerous sham transactions carried out to "import" jewellery into India using a maze of secretly controlled shell entities. It would later emerge that the whole script ran far beyond India and helped a small firm to grow into a mammoth of a jewellery company.
According to documents that examined Gitanjali Group's operations, the organisation's structure included Samuels Jewelers and 4 C's Diamond Distributors located in Hong Kong; Aston Luxury Group (New York); Belgdiam, a company managed by Rohan Choksi (Mehul Choksi's son); subsidiaries in Hong Kong; a jewellery grading company owned by Choksi's British Virgin Island firm and Chirag Patwa, a business head who worked with him; and several other entities mostly based in the United States.
Their purpose, according to Carney's report, was to create a wide and diverse web of companies across the jewellery value chain to present what would appear to be a fully-integrated jewellery conglomerate.
The real function, however, was to allegedly hoodwink customers.
An example is a company called Independent Gemological Laboratories, purportedly an independent jewellery grading laboratory, which was in fact owned 99.99 per cent by Choksi and 0.01 per cent by his associate and co-conspirator. It was alleged to be passing off lab-grown diamonds as mined ones.
The Central Bureau of Investigation and the Enforcement Directorate alleged that Choksi or his associates formed several entities across countries to circulate money and inventory whilst concealing their connection and thus rendering them "puppet vendors".
These were represented as independent third parties, when in reality they were entities owned or controlled by Choksi, Gitanjali, or employees of Choksi, according to Carney's report, and served to circulate money and inventory among Samuels and related entities -- in short, laundering the money.
The examiner's team identified numerous transactions where funds were paid from Samuels to a puppet vendor, and then almost immediately sent to a disclosed Gitanjali entity, often in India.
Sarosh Zaiwalla, senior solicitor in London, says at least 30 alleged white-collar criminals who fled India chose safe havens like London and smaller island nations.
"Switzerland has a rule of law, and so it can't be predicted how things will work out there," Zaiwalla says. "Smaller countries are easier to migrate to and one can simply buy a passport (for those) for a few hundred thousand dollars."
He adds that it's "very unusual (for Choksi) to have gone to Dominica from Antigua because it's a very small island and while the laws are very similar to English laws, one can't predict how the outcome will be because much of these proceedings could be closed circuit".
According to Merchant, it was always fame and fortune Choksi coveted.
"If I have to point out a single most prominent trait of his, I would say it was the deep-seated compulsive obsession to prove himself to others," says Merchant, adding, "This, backed by his exceptionally high nervous energy, which clearly differentiated him from the rest of us. His quest was to do something big, something dramatic."
Given how everything has played out, Choksi, now 62, achieved all that but for all the wrong reasons.
The other facet that those who know him point out is that there are no mistakes when it comes to planning his future and next moves.
As he faces trial in Dominica, it's likely that he might still have a trick or two up his sleeve.
That is, unless the law has well and truly run him into a blind alley -- this time with no escape route.