'It is only fear and speculation, without much substance, that has led to the fall.'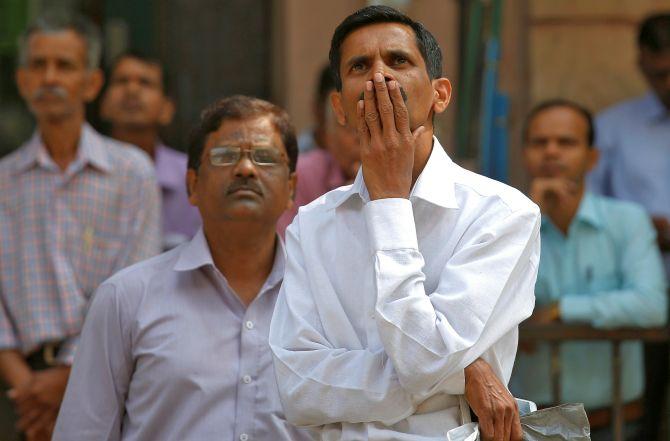 IMAGE: Stunned bystanders watch the screen displaying the Sensex numbers on the facade of the BSE building in Mumbai on Friday, February 2, 2018. Photograph: Shailesh Andrade/Reuters
'Remain committed to the Indian stock market.'
'The correction will taper off by next Wednesday.'
'Do not panic. The India story is intact and going ahead. It will grow bigger and better. On the contrary, any further correction will be seen as a buying opportunity.'
This is what stock market experts told Rediff.com's Prasanna D Zore after the stock markets crashed 2.3% on Friday, February 2, a day after Finance Minister Arun Jaitley unveiled Budget 2018.
More correction going ahead?
Deven Choksey of KR Choksey Securities expects more correction in the next few days, but is sure that it won't be as sharp as the one the investors saw on Friday.
While the 30-stock bellwether BSE Sensex tanked 840 points, the broader NSE Nifty, comprising of 50 blue chip companies, crashed 250 points, the biggest single day fall in recent times, the market crash coming a day after Jaitley introduced a 10 per cent long term capital gains tax (LTCG) on profits above Rs 100,000 on equities as well as mutual fund returns.
"I am expecting this correction to last till (next) Wednesday. It will not be as sharp as the one today; it will taper off just like the strength of a cyclone tapers off over time. The pace of correction won't be so severe, but it will continue," says independent investment advisor S P Tulsian of sptulsian.com.
LTCG to blame?
Tulsian is categorical, unlike a majority of market experts, that the introduction of LTCG had nothing to do with the market crash.
"It is only fear and speculation, without much substance, that has led to the fall today. Generally, the fear that most investors have is that this (LTCG tax) is going to affect their investment returns. So, perhaps there could be some redemption pressure on mutual funds," says Choksey.
Ambareesh Baliga, another independent investment advisor, believes that the LTCG tax just added to the correction that was waiting to happen.
"LTCG just added to this mix already building up," says Baliga.
What roiled the markets then?
Both Baliga and Choksey are unanimous that a spike in bond yields in the domestic market as well as in Japan could have added to the "high valuation" nervousness already roiling traders and investors.
"I see this sharp reaction because of the rise in the bond yields. More importantly, when the bond yields start going up, the gap between bond and equity valuations narrow down. The markets would probably shift money into bonds and give a miss to the equity," says Choksey.
"Even the international markets were comparatively weak after the Japanese rate hike. In India, there was a rally in the bond yield with interest rates expected to move further up," adds Baliga.
"Operator play, long position margin liquidation, but LTCG is not the reason for this fall," is what Tulsian offers as explanation for Friday's crash.
What's for the markets in this Budget?
"Apart from the LTCG there was nothing in this Budget for investors or the middle class. It was meant basically for the poor and the farmers," says Baliga.
He also wondered how the government was going to fund its ambitious Rs 2 lakh crore health insurance scheme unveiled for India's poor.
"Even in that there was no clarity as to how the government would fund their health insurance plan," he says.
"People have not read the fine print," says Choksey.
"According to me the finance minister has clarified this issue. The healthcare budgetary provision of Rs 2 lakh crore is a master stroke," he says.
"Rs 1.1 lakh crore will come from the increase in cess on education and the balance would probably come from private sector insurance companies. I don't think one should be unduly worried about the government's ability to raise the resources needed," adds Choksey.
Choksey is also gung-ho about the government's proposal to invest Rs 14 lakh crore into the rural economy.
"If the rural economy is flush with money and they (the government) are looking to pump in Rs 14.5 lakh crore investments into the rural economy this will put a lot of money into the hands of people which will lead to higher demand and consumption," he says.
This in turn, Choksey believes, will spin the multiplier effect wheel of the rural economy and boost consumption and demand.
Baliga, though, offers this as a counter to a spike in inflationary demands, especially with respect to the government's announcement to pay 1.5 times the cost of production to farmers as the minimum support price.
"Even if the government is planning to pump in huge money into the rural economy, the hike in the MSP to 1.5 times (the cost of production) is inflationary and could lead to higher food inflation," Baliga argues.
Investor advice
"The Budget is excellent for the capital market," says Tulsian and believes that buying will soon emerge because of the strong macro economic fundamentals one is witnessing in India.
"After 4, 5 days," says Tulsian, "all people who are predicting doom today will start saying that it (the fall) was a buying opportunity."
His advice to investors: "Remain committed to the Indian stock market."
Choksey has this to say: "Do not panic. The India story is intact and going ahead it will grow bigger and better. On the contrary, any further correction will be seen as a buying opportunity."
Baliga, however, has been asking his clients to go light since the last 18 months.
"Last couple of months I have been asking investors to book profits. I was getting very sceptical about the market valuation," says Baliga.
"I have been advising them not to go by the index but look out for specific stocks. There are number of stocks that are quoting as if the Nifty is at 9500 levels," adds Baliga.
"An experienced investor will probably invest more if the market cracks further. But a new investor will panic and that could lead to more correction," he says.
Sectors and stocks to watch out for
Baliga, who has been advising his clients to nibble on quality stocks selectively, is betting on stocks like Cummins India and Gujarat Gas.
Choksey spoke broadly about the sectors that look good to him.
"The insurance segment looks very interesting now. It has huge growth built into it with the sector likely to see 30 to 35 per cent CAGR (compound annual growth rate). One must not miss out on this sector," says Choksey.
"Huge money is also coming into the infrastructure sector by leveraging the balance sheets of public sector undertakings."