'Professors can teach even when they are 90 because they don't lose their skill with words. Go deeper and there's spirituality in it,' Dr Swati Piramal tells Pavan Lall.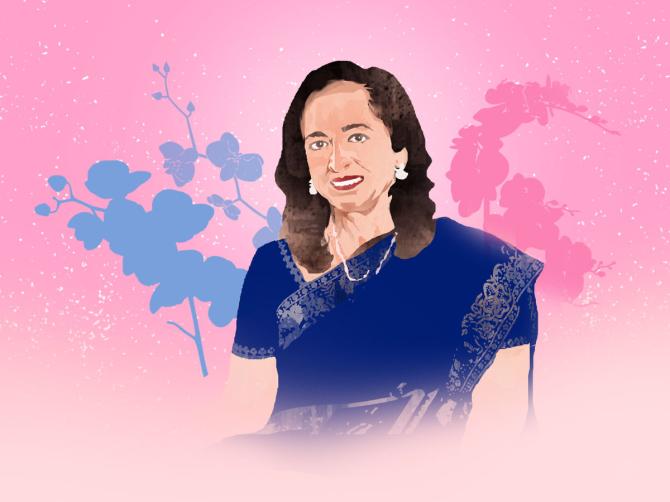 "I hope you have enough time because after breakfast I want to show you a few things," Swati Piramal, vice-chairperson of Piramal Group and a doctor, tells me as I enter her family residence, Karuna Sindhu (ocean of compassion), on the Worli Sea Face in Mumbai.
I assure her I do as the 67-year-old healthcare industrialist ushers me in on a warm Wednesday morning.
The decor inside is expectedly mansion-like, with large hall rooms, marble floors, magnificent artwork, a gym and other accoutrements that include a swimming pool, a manicured garden with flowers and carefully selected trees, plants and bonsais.
Dr Piramal, who has a green thumb, has been in the planting game well before the 'E' got included in ESG (environmental, social, and governance).
She beams when I ask her how her flower and orchid garden at her Mahabaleshwar home is doing? It's something she set up decades ago and says she's planning to now grow rhododendrons.
"Mahabaleshwar is brilliant (climatically) for Western flowers but we still have to work harder on getting back indigenous plants," she says.
"The Himalayan blue poppy from India, for example, is growing in profusion in England and Scotland, but not so much here."
We walk past an open dining table in the garden to a section that's closed off and has a few chefs conjuring up exotic vegetarian breakfast dishes.
The set menu card lists Ramasseri idlis, moong dal waffles, focaccia di recco with Medjool dates, mango pavlovas and French toast with Laduree gelato.
Dr Piramal, who has a master's degree in public health from Harvard Business School in addition to a medical degree (MBBS) and a bachelor's degree in medicine and surgery from the University of Mumbai, says she is now in phase two of her career, which includes working with young people and teams.
She's referring to Cicero, the Roman statesman, who said you have to counsel, mentor and teach later in life.
"We're trying to do all three. Fifteen years ago, we started the Gandhi Fellowship programme, which now has 5,000 alumni. Under it, 600 youth from across India are inducted every year, who go and live in a community and find a solution. We train them on leadership skills only."
An example is Rajasthan's Jhunjhunu district, where 54,000 children are out of school because they are special kids.
"So, we tried a school of inclusion for (educationally) lost children. It's a school for special children," she says.
Recently, she also began a tribal health collaborative, where she works with foundations such as Bill and Melinda Gates and Rockefeller.
"The language is different; the diseases are different; the way people think about everything is different," she says.
"They don't get influenced by modern medicine. Unless the tribal healer tells them to, they will not even drink water."
These, she says, are the big tests: Tribal healthcare, special children, motivating youth leadership, and digital transformation.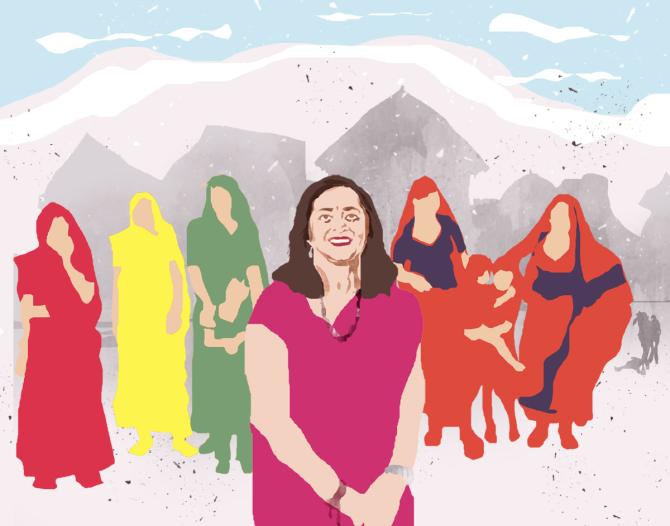 Breakfast rolls in and is served sequentially. As I bite into a fluffy idli traditionally cooked on fishing nets, I ask Piramal if, social work aside, she's stepped away from commerce?
(The Piramal Group, which runs businesses that include financial services, real estate and pharmaceuticals, reported consolidated revenues of $1.9 billion for FY2022.) "One of the most important things for any company or family is getting the next generation into business and to understand its values and principles. I'm happy both my children work very hard; they've no time for me actually," she says, without meaning it as a complaint.
"Nandini is chairman of Piramal Pharma and Anand is involved in real estate and financial services."
She also became a grandmother again in November last year, when her daughter-in-law Isha Ambani (billionaire Mukesh and Nita Ambani's daughter) and son Anand welcomed twins, Krishna and Aadiya. The whole family lives together.
Piramal says she does remain involved in what she calls corporate communication, but what really is the broader message the group conveys, including at meetings with state officials.
"We spend a lot of time in Delhi, meeting with the prime minister, taking his ideas for building the nation and things like that," she says, emphasising that there are a lot of investment initiatives in various states but the trick to it all is collaboration and convergence.
An example is Tata Sons Chairman N Chandrasekaran's recent visit to Baggar, the Piramals' village in the Shekhavati region of Rajasthan, to look at projects and explore possibilities.
"Whatever we do, we have to make an impact at scale. Otherwise, it's not worth doing," she says.
She also believes in betting big on innovation. "For example, we have 150 women in our R&D team in Ahmedabad, and they've filed patents that are strong worldwide, and can't be cracked. That's innovation."
I'm on to the last course, which is French toast with fruit-based compote.
I ask if she's travelling more, now that COVID-19 is officially over? "I'm on the board of Luxottica. which makes Ray-Ban and Oakley, so I go to all their plants in Montreal, China and Thailand to see what they're doing on the ground."
Apart from having green energy in all its factories, Piramal expresses astonishment at how the firm is really more of a tech-device company than anything else.
"There's no glass anywhere (in the product). It's polycarbonate acetate, which is anti-reflective, anti-breakable and has a material lineage that can be traced back several years." Her personal favourite is the simple but classic Ray-Ban Wayfarer.
After a multi-course breakfast that's colourful, light and flavourful, we move to a viewing room with a multiplex-sized cinema screen.
Over citrus-flavoured Blue Tea, Piramal shows me a handful of short documentaries around the grassroots work she's been engaged in.
As we watch, she tells me about her conversation with a tribal boy from Arunachal Pradesh who lives in a border region with no phone connectivity.
"The region grows kiwis and oranges but they're fed to the cows because there's no way to transport the produce to the market. I think those are some other issues to address."
Piramal is a director on the board of Nestle India, Allergan India and EssilorLuxottica and a board member of the Dean's Advisors to the Harvard Business School and the Harvard School of Public Health.
On a personal level, what are her goals now? Piramal says it's about furthering knowledge and she's been taking online courses at Harvard and Stanford on subjects that include Shakespeare, French and Urdu.
Cerebral fitness?
"Exactly... neuroplasticity," she says.
"Professors can teach even when they are 90 because they don't lose their skill with words. Go deeper and there's spirituality in it, too," she says, giving the example of 95-year-old sitarist Arvind Parekh who still teaches 70 students every day.
"I think I'm on the journey to discovering it. Hopefully, in the next 30 years," she smiles.
Feature Presentation: Rajesh Alva/Rediff.com