Natural beauty solutions have certainly come a long way — from the grandmother's kitchen to fancy tubes and bottles.
Akshara Srivastava reports.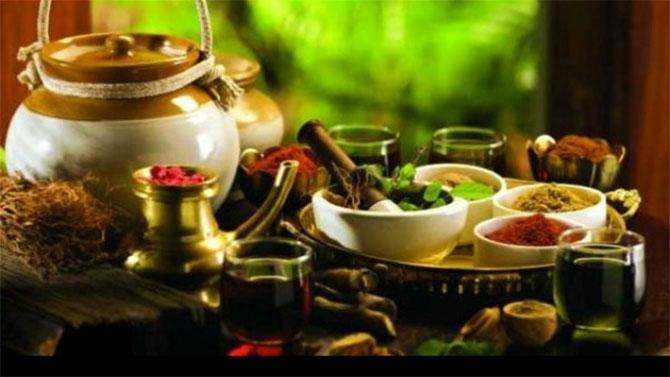 Immunity boosting foods and drinks. Sustainable fashion. Beauty products with natural ingredients.
There was always a market for these, and the pandemic has only made it bigger.
Within beauty, brands have recorded a greater demand for ayurveda products.
"Over the last two years, we have noticed a marked increase in the inclination towards ayurveda-based products, as part of a larger shift towards cleaner, organic and natural beauty," a spokesperson for e-commerce platform Myntra tells Business Standard.
"This shift has aided the surge in demand on the platform and has been accelerated with the pandemic, resulting in consumers becoming more conscious about their purchases, looking for natural but also effective ingredients."
A 2018 report by Research and Markets, which pegged the ayurveda market in India at Rs 300 billion, expects it to touch Rs 710.87 billion by 2024.
And while demand continues to be high in India, with a flurry of brands offering ayurvedic solutions for skin and hair care, the "holistic beauty movement" has also seen increasing global interest.
The global ayurvedic market, valued at $4.5 billion in 2017, is expected to touch $14.9 billion by 2026 at a compound annual growth rate (CAGR) of 16.14 per cent.
Gauging the mood, Forest Essentials ventured into the international market in October last year with a launch on UK e-tailer LookFantastic.
"(The) UK is one of our largest markets with consumers already having significant knowledge of ayurveda and a wider buy into its philosophy and what it stands for," says Samrath Bedi, executive director, Forest Essentials, which has a network of over 100 standalone stores across 29 cities in India.
"Our launch strategies were aimed at strengthening our brand associations with the existing Indian diaspora and online presence on our social media handles to reach a wider clientele."
In the coming years, Bedi plans to expanding to West Asia, Southeast Asia and the United States, besides establishing a physical retail presence in the UK in the next year or two.
Before this, in 2008, New York-based Estee Lauder Companies had bought a 20 per cent stake in the company that was founded in 2000.
Kama Ayurveda, another homegrown luxury beauty brand that launched in 2002, too, recorded an increase in sales during the pandemic.
"We were primarily an offline brand, but because of the pandemic we had to build an online presence," says Vivek Sahni, co-founder of Kama Ayurveda.
These two years, he adds, have aided the brand's visibility and "given us a new and younger customer base. Almost 30 per cent of our sales were online pre-pandemic; now it is almost 75 per cent".
In 2019, Kama Ayurveda had seen a Rs 100 crore ($14.4 million) investment from Spanish fashion and fragrance company Puig.
"When we launched (with just 10 products), we looked at what people used and what they were loyal to, and we discovered it is primarily skin and hair," says Sahni.
"Once you find something that works for your skin or hair, you're not going to change it."
It was with this knowledge that the brand launched its Bringadi hair cleanser in July 2021, and it has gone on to become its best-seller, apart from the Kumkumadi range.
Sahni says they are now "looking at going to smaller towns and opening more stores there, and hopefully in a year or so, start exploring markets outside India.
Before they launched their D2C ayurveda brand Vedix three years ago, founders Chaitanya Nallan, Sangram Simha, and Veerendra Shivhare knew that the one-product-fits-all concept wouldn't work.
So, Vedix has on offer at least 40 combinations of products made using 49 herbs that are "prescribed" after customers answer an in-depth questionnaire detailing their appetite, body frame and even how much they perspire, apart from details like hair and scalp texture for a study of their dosha (in ayurveda, "that which can cause problems") profile.
"We have seen a steady increase in sales, with a customer base of 1.2 million and 50 per cent repeat rate in orders," says Jatin Gujrati, business head, Vedix.
In 2020, IncNut, which promotes Vedix and SkinKraft, raised $4 million funding in Series A round from RPSG Ventures.
Vedix now plans to foray into the international market through a combination of platform partnerships with Amazon and D2C in the US and West Asia in 2022.
A Nykaa spokesperson says, "The farm-to-face trend has seen a massive spike; and in a shift from makeup to skincare, the natural beauty category is booming with a multitude of home-grown brands.
"Clean, natural beauty is one of the fastest growing sub-segments in the beauty category."
The e-commerce giant's own brand, Nykaa Naturals, offers a host of products from cold pressed carrier oils to clay masks, using naturally derived ingredients.
Kiehl's, an American cosmetics company, recognised this opportunity long ago.
Starting as an apothecary, the brand says it has clubbed natural ingredients with scientific solutions for years.
"Since the onset of the pandemic, there has been a visible and overall shift to more natural and sustainable ways of life.
'So, when the time came for natural ingredients to be recognised, we were prepped and ready to provide," says Shikhee Agrawal, assistant vice president, Kiehl's India.
"This definitely helped us see an increase in sales and growth in recent years."
Natural beauty solutions have certainly come a long way — from the grandmother's kitchen to fancy tubes and bottles.
Photograph: PTI Photo