The three promoters - Anil Kumar Sharma, Ajay Kumar and Shiv Priya - had diverted Rs 1,500-1,600 crore through bogus methods like loans and advances between group firms at inflated rates.
Arnab Dutta reports.
Illustration: Uttam Ghosh/Rediff.com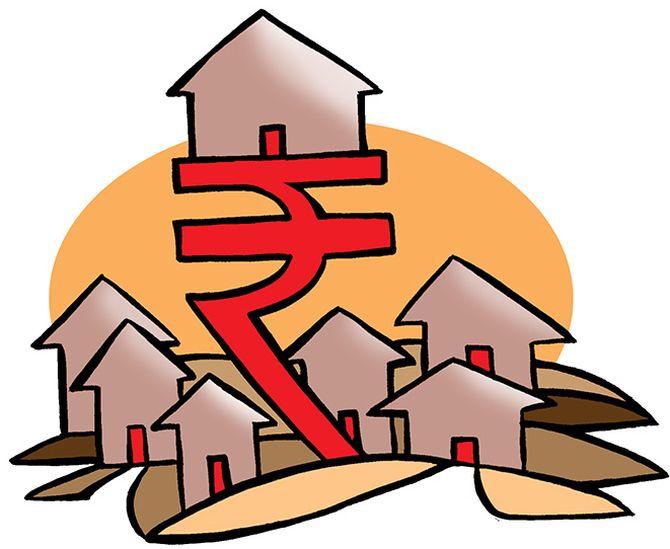 Nearly three years before the promoters of Amrapali Group were put behind bars for defrauding homebuyers, former cricketer Mohammed Kaif had raised a red flag.
In April 2016, alleging financial irregularities by the group, Kaif had dragged its three key directors - Anil Kumar Sharma, Ajay Kumar and Shiv Priya - to court.
Mahendra Singh Dhoni, star cricketer and Amrapali's brand ambassador for years, had severed ties with the group a few days before that, even as a social media campaign raged against the group for the non-delivery of flats.
Meanwhile, the three key promotes had been busy diverting homebuyers' money from the group mostly to Ultra Home Construction (UHCPL), which was being used as its mother entity - for cross-holdings to siphon off funds.
SC-appointed forensic auditors have found that of the Rs 11,652 crore the group had collected from homebuyers, Rs 3,500 crore, or over 30 per cent of it, was siphoned off.
While Rs 3,000 crore was diverted through group entities, the rest was done via "trusted partners".
Moreover, the promoters had diverted Rs 1,500-1,600 crore through bogus methods like loans and advances between group firms at inflated rates and unaccounted transfer of funds to the promoters.
This involved dozens of companies such as Amrapali Infrastructure and Amrapali Healthcare.
In Amrapali Infrastructure, Sharma and Shiv Priya used Rs 113.54 crore to purchase shares of UHCPL in their own names instead of the name of the firm from which they had taken out the money.
In another instance, group company Jhamb Finance & Leasing, which did not have any operations or expenses, saw its asset book swell to Rs 883.24 crore by March 2017, thanks to the loans and advances pouring in from group entities.
While it is unclear if the promoters had planned to dupe homebuyers from the outset, the forensic audit revealed that over the years, they had created a web of more than 150 companies, of which about 100 were used to divert funds.
Though the double dealings by the group started becoming apparent only from 2015, two income-tax raids in September, 2010 and August 2013 revealed that the trio had by then siphoned off funds worth Rs 842.42 crore through bogus billings to suppliers.
At present, another Rs 450 crore worth of related party transactions are under scrutiny by the income tax department.
However, until February 2014, the promoters were sitting pretty.
Though the property market in the Noida region was in the midst of a slowdown, and Amrapali had not completed any major project according to schedule, the trio's clout was intact.
At the extravagant parties hosted by Sharma, the group's charismatic chairman and managing director, Amrapali's promoters were seen rubbing shoulders with the who's who of Delhi's political circle, the film industry and the field of sports.
In 2014, the gala wedding reception for Sharma's daughter Swapnil and Amrapali Healthcare CEO Ritik Sinha was attended by such political heavyweights as the Ravi Shankar Prashad, Rajiv Pratap Rudi and Syed Shahnawaz Hussain, Lalu Prasad and Shatrughan Sinha.
Dhoni and his wife, former cricketer and politician Kirti Azad, and former Supreme Court judge Markandey Katju were also present, along with Bollywood music composer duo Sajid-Wajid and singer Rekha Bharadwaj who performed on stage.
The auditors have now found that Sharma had helped himself to as much as Rs 13.5 crore from Amrapali to meet the wedding expenses.
The Amrapali Group, which rose to be one of the largest realty developers in the Delhi-NCR region by 2010, is a typical rags to riches story.
It was founded in the early-2000s when Madan Mohan Sharma, father of Anil Kumar Sharma, set up UHCPL.
Documents available at the Registrar of Companies and filed in the court show that on April 2, 2003, a formal memorandum of association agreement was signed between Madan Mohan, Kumar and Shiv Priya to formalise the entity.
While Madan Mohan and Shiv Priya each held 4,500 shares of UHCPL, Kumar had 1,000 shares.
UHCPL was registered five days later on April 7, 2003, with Rs 100,000 as its paid-up share capital.
Its registered address, at least till 2007, was the same as Madan Mohan's residential home - E19, Bahubali Enclave, New Delhi.
Over the next few years, the now accused Nishant Mukul, Mohit Gupta, Adhikari Das, and other trusted partners and/or executives joined in.
Another accused, Chander Wadhwa, a chartered accountant, under whose supervision UHCPL was formed in 2003, later became chief financial officer of the group. Sources say though Anil Kumar Sharma was the architect of the firm, it was not until July 2004 that he was formally brought on board.
On July 22, 2004, Madan Mohan appointed his son a director of UHCPL. By then, Shiv Priya and Kumar had been directors for over a year.
The Sharma family hails from rural Bihar. Indeed, Anil Kumar Sharma's rise from his humble origin in Pundarakh village in Begusarai district is nothing short of a fairy tale.
Madan Mohan wanted his son to be an engineer.
And after completing his BTech in civil engineering from National Institute of Technology, Calicut, Sharma did his MTech from IIT-Kharagpur.
He put in two brief stints at NTPC and then the National Project Construction Corporation (NPCC).
He briefly served in the Bihar Civil Services as well before moving to Delhi in early-2000.
While the backstory of the two other promoters - Shiv Priya and Kumar - is less well known, sources say that both had been close to the Sharmas for years.
Shiv Priya, son of one K M Sharma, is a relative, while Kumar also hails from Bihar.
In fact, the Amrapali saga involves hundreds of related-party transactions, where the relatives of the Sharmas played key roles.
According to the audit report, at least Rs 107 crore have been diverted through their relatives.
While both Shiv Priya and Kumar were mostly involved in backend operations and business expansion by bringing in investors like Kaif, Anil Kumar Sharma was the face of Amrapali.
The group's journey into the real estate market began with one project in Noida undertaken soon after the formation of UHCPL.
At the time, their aim was to deliver affordable homes.
By 2013, the Amrapali Group had diversified into fast moving consumer goods (Amrapali Mum's was launched in Bihar), hospitality and entertainment.
The group promoted two Hindi films, 'Gandhi to Hitler' and 'I Don't Luv U', through Amrapali Media Vision, where Sharma's wife, Pallavi Mishra, was the CEO.
Sharma's daughter Swapnil was also involved in the business and had a minority stake in at least one entity – Amrapali Healthcare.
When the gigantic financial wrongdoing by the group finally came home to roost, her husband Ritik Sinha, too, was arrested on charges of fraud.