The Tata empire turns 150 this year.
R Gopalakrishnan, former director, Tata Sons Ltd, imagines a conversation among the group's founder Jamsetji, his son Dorabji, his successor, Nowroji Saklatwala, and his successor, J R D Tata.
Illustration: Dominic Xavier/Rediff.com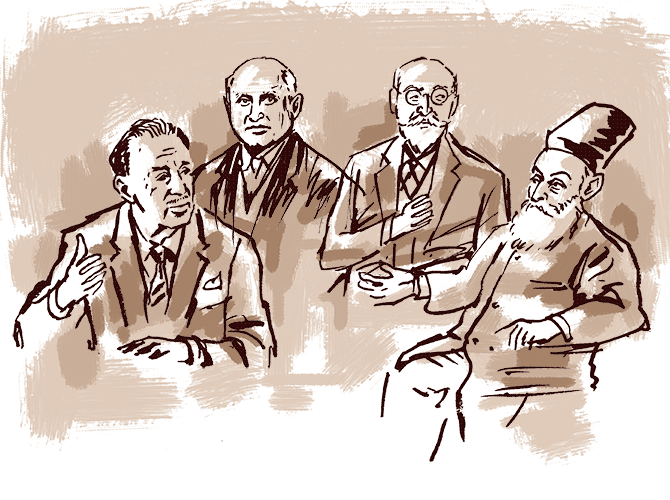 Jamsetji Tata's biographer, a historian named Frank Harris, recorded that a partnership firm called Tata and Sons was established in 1868.
While the precise date is unclear, a good conjecture is that it was in the July to September period of 1868.
On the occasion of the 150th anniversary of Tata Sons, R Gopalakrishnan, a former director of Tata Sons Limited, pays a tribute to the institution of Tata.
Based on historical facts, he imagines a conversation among four former chairmen, who together led Tata from 1868 till 1991 -- founder Jamsetji, his son Dorabji, his successor Nowroji Saklatwala, and his successor, J R D Tata.
Jamsetji: Aao dikra. It has been a long time since we chatted together.
The company we had served has renewed itself constantly to survive and grow.
The culture and values of Tata for over a century are very precious.
Future leaders must know what aspects of culture must not change and what aspects must adapt to change.
However, I suggest a word of caution for our discussion: That we reminisce about our times, but we do not make judgements about our modern-day successors.
They are managing a vastly different business in a vastly different world.
Like you, I will always wish and pray that they are holding on to the purpose that we had set for the business and some core values.
I think Tata companies have done so for all of these years.
JRD: Yes, of course, dear Kakaji.
As you know, as one of your original partners in the business, my father R D would harangue me periodically about your vision and how you had ever so endearingly articulated the purpose of the firm.
You had said that the firm is an integral part of the community, and it exists to serve the community.
Eighty years later during the 1960s, when I was the chairman, I said pretty much the same thing in the business language of my times: That what the firm earns from people must go back to the people, many times over.
It is good that this strong foundation and our business purpose have both remained intact, although the profile and appurtenances of the business have changed.
There will always be challenging times and apparent aberrations, but I am sure that the true purpose of the firm continues to be what we had intended, articulated and practised.
Dorab: It is wonderful to know that our current generation is able to maintain our corporate purpose, that too, consistently over a century.
Among the four of us, we have experienced 150 years of the firm: colonial India, the 1930s depression, two World Wars, Partition, Independence of our beloved nation, global economic cycles, and an explosion in the population of India.
Jamsetji: Yes, that is true, but the intrinsic challenges of running a business surely remained broadly similar.
I remember what a tough time I had when I bought Dharamsi Mills in Kurla, later renamed Svadeshi Mills, because the idea of making things in India appealed to me.
I was convinced that such acquisitions at a low price must be seriously considered; if I could buy an asset cheap, I felt I had a decent chance to turn it around by making finer products than it did before.
Really, it was nerve-racking because the Tata name was at stake.
I staked my own wealth and even broke the trusts to raise the funds required.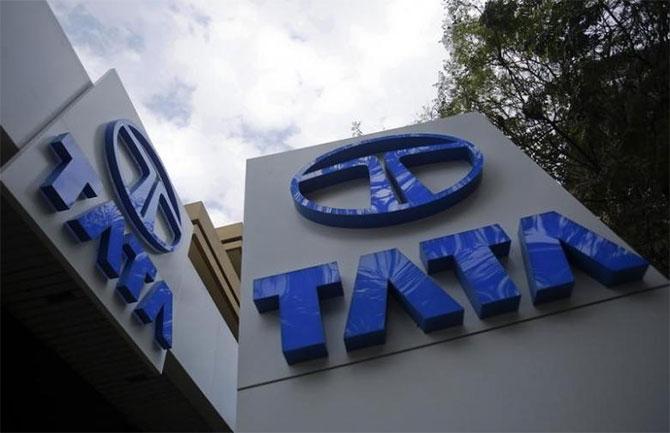 Dorab: Papa, you are so right about what happens when the name Tata is at stake.
You may recall that you were so indisposed at Bad Nauheim, cousin R D and I came to meet you.
You said to us about your wealth, "If you cannot make it greater, at least preserve it."
"Do not let things slide."
"Go on doing my work and increasing it but if you cannot, do not lose what we have already done."
We could not raise capital from the London market, but Indian financiers surprised us by subscribing to the capital of our steel company.
After initial troubles, the company made its first ingot of steel in 1912.
Within four years, I told shareholders of my plan to expand the steel production because in 1916, I told the shareholders about the bumper earnings due to production of 30 per cent above designed capacity, bursting order books and ready markets!
However, World War I began, transport and labour costs spiralled out of control, and an earthquake struck Japan, the biggest pig iron market.
Our steel company was suddenly staring down an abyss.
JRD: Oh yes Dorabji, my father had told me this story.
Was this not the occasion when one of the directors suggested that the government take over the steel mill?
My father said he was livid and that he thumped the table, swearing that this would not happen so long as he was alive!
Dorab: Yes indeed, Jeh, your father did.
After that episode of thumping the table, we received a telegram from Jamshedpur stating that there was inadequate money to pay the wages of employees.
I went to the Imperial Bank of India and pledged my wife's jewellery to secure a loan.
After that, Papa's adopted motto for the firm, Humata, Hukta, Huvarsta, worked well because Ahura Mazda smiled, and our fortunes turned.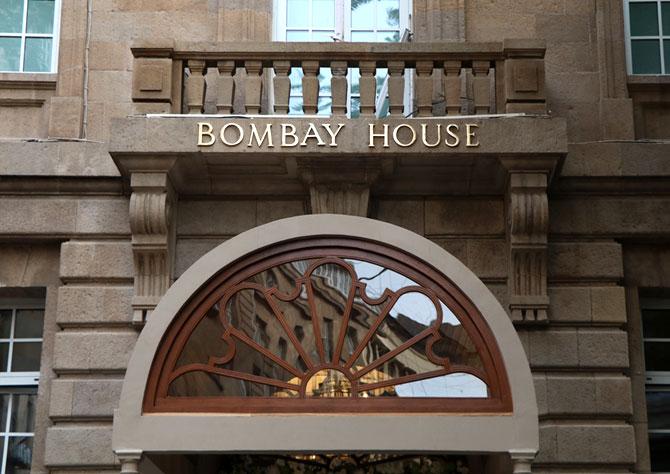 JRD: Yes Dorabji. Even the Taj Mahal hotel, which was one of Kaka's dream projects, took ever so long to make a profit.
They used to call it the 'Tata White Elephant'.
I found a talented hotelier in Ajit Kerkar, who turned the Taj around brilliantly.
During my chairmanship, we acquired a soda ash business at Mithapur.
People even told me that we had bought the wrong business in the wrong place.
Thanks to the imaginative leadership of another professional, Darbari Seth, the business turned round.
I understand that Tata is now the world's second largest soda ash player.
Saklatwala: Yeah, what you folks say is true; yet, there can be exceptions to the situation.
You must try very hard to turn around acquisitions or new ventures.
But if after trying hard and sincerely, you fail, may be for market-driven reasons, then you also need to stop the bleeding and haemorrhage.
How long can you persist with operations that you are just unable to turn around?
How do you judge when to call it quits?
After our time, Tata Textiles and Tata Oil Mills were divested because Tata could not see their way to make a sustainable success of it.
Dorab: Indeed, you raise a valid issue.
I think you have to do everything you possibly can with a great degree of sincerity, and then the time comes to take a call.
After 1917, I launched eleven new ventures; in each of them, investors fought to get shares, such was the faith in the Tata name.
Apart from Tata Oil Mills, I set up Tata Industrial Bank, New India Assurance Company, Tata Construction, Tata Electro-Chemicals, Tata Sugar Corporation, just to name a few.
Market conditions were tough and some of the ventures ran into problems.
Saklatwala: Indeed, and when I succeeded you, Dorabji, I had to get a grip on the situation I faced.
The firm was over-leveraged and the global recession did not help.
Your decisions may have been right when you took them, but later developments had their own impact.
I expressed my thoughts in a speech, "Those were truly mad days, and perhaps the maddest feature was the supreme confidence of the public in Tata, and, incidentally, the overconfidence of Tata themselves."
I really felt that these ventures suffered from insufficient preparation before their inception; some of them were over-capitalised in anticipation of rapid expansion, and some from a rapid collapse of market values and prices.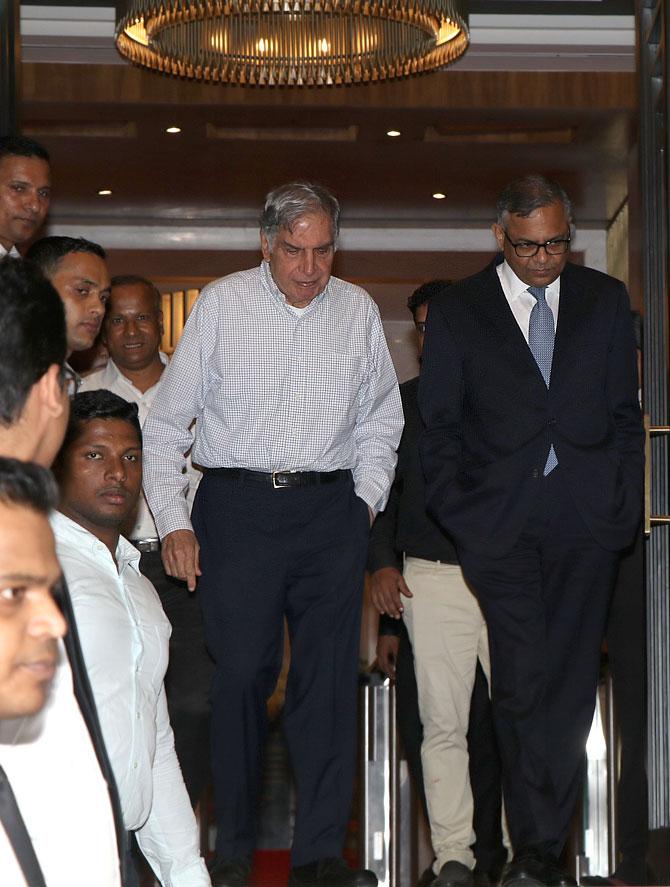 Dorab: Yes my dear Nowroji, I did hear the stories about those property disposals, but luckily for you, I was not around to express any views!
Times have changed, and nowadays businesses are sold and bought, hopefully with grace and fairness.
I heard that after the times when we headed the group, the Tata Sons board has periodically debated which businesses should be divested and how.
But, to be fair, I did support new businesses as well.
Jeh, as I recall, I supported you to enter the airline business around 1929.
JRD: Dorabji, in the late 1920s, you were totally against my idea of entering the airline business.
You felt that we were too stretched at that time, both financially and managerially.
The Tata Sons board minutes clearly carried the message of the board rejecting the firm's entry into airlines.
So I went to my mentor, John Peterson, you remember him? I cried out my emotions to him.
Dorab: You did put John Peterson on to me. How he pleaded for you.
He said something like, "Let the young man fly with his dreams."
Finally I relented, and you did a great job of developing Tata Airlines.
It was one business which you developed personally and could take full credit for.
But Jeh, you were ever so keen about the airline, it must have broken your heart to let it go when the government nationalised it.
JRD: In fact, more than nationalisation, it was the way I was removed from chairmanship that hurt me.
In business, one must take the decision that is felt to be right, but one must also attempt to implement it gracefully.
However, once the government decided to remove me from Air India, I swallowed my pride and accepted it.
Jamsetji: Changing the tack slightly to development of business leaders, Jeh, you referred to Ajit Kerkar and Darbari Seth as great leaders.
I learned early on that the key to my enterprise would be to find the right people to run the businesses.
I recruited an extraordinary man called Bezonji Mehta, a self-made man who had worked in the railway, trained him and he responded very well.
Later when I went into steel, I walked the streets of London and New York to find technocrats.
It was not that I always sought foreign technicians.
For the Taj architecture, I consulted Khanderao Sitaram.
Only after he died, did I bring in W A Chambers.
JRD: Kakaji, I think you make an exceptional point about developing technocrats and managers.
India had no business managers in those days, so Tata had to develop them internally through mentoring as well as real-life and hands-on experience.
Many Tata leaders went on to public positions.
When India was partitioned, Prime Minister Liaquat Ali Khan of Pakistan appointed Sir Ghulam Mohammed, who was a Tata director, as the new nation's first finance minister.
Jawaharlal Nehru, prime minister of the new Indian government, asked that Tata director Sir John Mathai join the interim Cabinet, first, to be the railway minister, and later to be the second finance minister in the Union Cabinet.
A D Shroff and Nani Palkhivala were two doyens on the Tata Sons board who were as influential as finance ministers without ever becoming finance ministers.
When young Sumant Moolgaokar joined the Tata board, he remarked, "At the lunch table, you felt that Tata belonged to the nation."
Dorab: This is an important part of Tata history.
Jeh, you have rattled off many names of exceptional business leaders, and perhaps, you, more than any of us, needed all of them in free, independent India.
Sumant Moolgaokar in engineering, Faqir Chand Kohli in power and computers, how on earth did you attract them, and lead them?
JRD: You know, early on, I realised that I could not possibly manage all these businesses by myself.
I realised that I was no genius.
Further, my technical education was nipped in the bud because dad asked me to join the business as early as 1924.
So I went right out, looking for people who would be better than I was.
I consciously gave them the space and visibility to stretch and deliver to their full potential.
We had differences, but, after some discussion and argument, I let them do things their way.
In this regard I particularly recall A D Shroff, a hugely talented economist, but also given to strong opinions. I managed to get the best out of him for the nation and for Tata.
What would be the use of recruiting them and then subjugating them to my view, which had its own limitations?
Jamsetji: Well, well, I must say that it is a great tribute to you that you could do this.
A true leader, I reckon, is one who is not so insecure that he needs to impose his views on others arising out of his status or position.
True power must emanate from listening to others and from display of warmth.
Authoritativeness and leadership emanate, not necessarily from status, but from these qualities.
It sure is tough to do that.
Saklatwala: Well, this has been a great conversation.
All of us can feel happy that the institution which we all served and built continues to prosper.
I pray that it continue into the future.
Jamsetji: I join you in your prayer.
Like human beings organisations too need renewal.
Just one individual could have the power to renew an institution and elevate it to founding fathers' expectations if he has two qualifications: First, he should have no past to hide, and second, he should have no personal expectation for the future.