Where will the Sensex go from here?
June 24, 2009 16:48 IST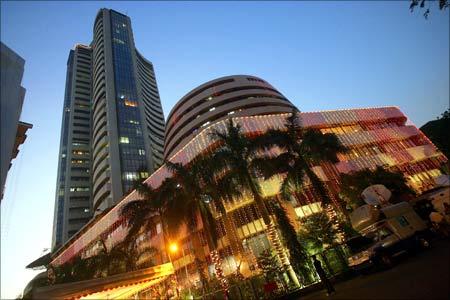 In stock markets, where fortunes change by the minute, two days is a long time. Yet, when the market closed on May 15, and the country waited for the election results the next day, no one could have said they anticipated how much the market sentiment would change by Monday.
The second weekend of May drastically changed assumptions of most stock market participants. Not only was the political uncertainty over, we had even got a stable government, one that the market participants were thunderously sure would drive through reforms and transform the business landscape of the country.
Thus, it was that the exchanges barely traded for seconds before the upper circuits were breached for the first time in the history of our stock exchanges.
Where will the Sensex go from here?
June 24, 2009 16:48 IST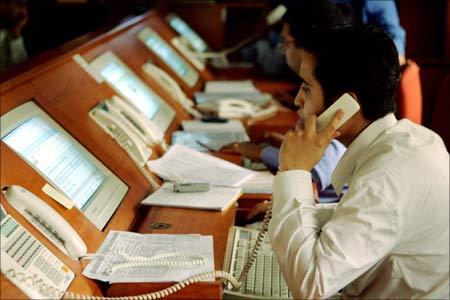 Now, a few weeks later, what seems surprising to many is not that the upper circuits were breached, but how quickly the market has moved up since, without seeming to lose steam or pausing to ponder over the reasons for its exuberance.
As we go to print, the Sensex is sitting firmly near the 15,000 mark. In the 25 days from May 15 to June 9, the Sensex went up by 24.2 per cent. If this sounds astounding, then you should take a look at the mid- and small-caps.
For several companies in these segments, share prices have moved up 150-300 per cent in the period. Real estate, the bad word of 2009, is now a star performer. BSE Realty Index has risen 60 per cent since May 15.
Where will the Sensex go from here?
June 24, 2009 16:48 IST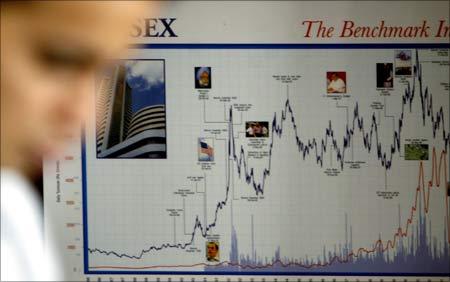 Journey to the top
Does a stable government warrant such a leap? No. But, market analysts are quick to say that the rally isn't purely a celebration of the poll verdict, but also the coming together of various positive factors.
Since the beginning of 2009, developed economies of the West have been pumping liquidity into their economies through stimulus packages. So, as risk appetite gets built, money is flowing into riskier investments such as stocks in emerging markets like India.
Also, with the global economy in a recession, India's projected 6 per cent growth is sweet music and the world's money is making the most of it.
Where will the Sensex go from here?
June 24, 2009 16:48 IST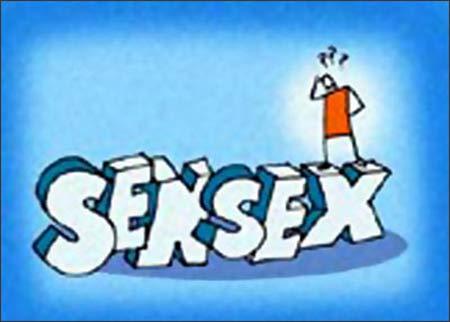 Journey ahead
GDP: India is still positively perched on this front. Sure, no one throws about numbers like 9 per cent growth anymore, but a reasonably good rate can be expected.
Says K.R. Bharat, managing director, Advent Advisory Services: "The Indian economic growth story will continue. With reforms, it will get faster; without reforms, it will be tad slower. It will not just mirror the global growth trend,but outperform it. If global GDP growth is 2 or 3 per cent, we would grow at 8 or 9 per cent. If the global economy is decelerates, we would grow at a lesser rate of, say, 4 or 5 per cent."
Corporate earnings: Deven Choksey, managing director, K.R. Choksey Shares and Securities says that an estimated 10-11 per cent growth in corporate earnings for FY10 translates into current valuations of 16-17 times forward earnings for the Sensex and Nifty stocks. "By the second half of FY10, we will start discounting FY11 numbers. Once again, we expect a growth of 8 per cent in GDP and inflation would be at 5-6 per cent levels. This would translate to 13-14 per cent earnings growth for Sensex stocks," he says.
This means that the Sensex would trade at 14-15 times estimated earnings in FY11.
"Valuations will tend to correct in due course, but we expect the growth momentum to continue," adds Choksey.
Where will the Sensex go from here?
June 24, 2009 16:48 IST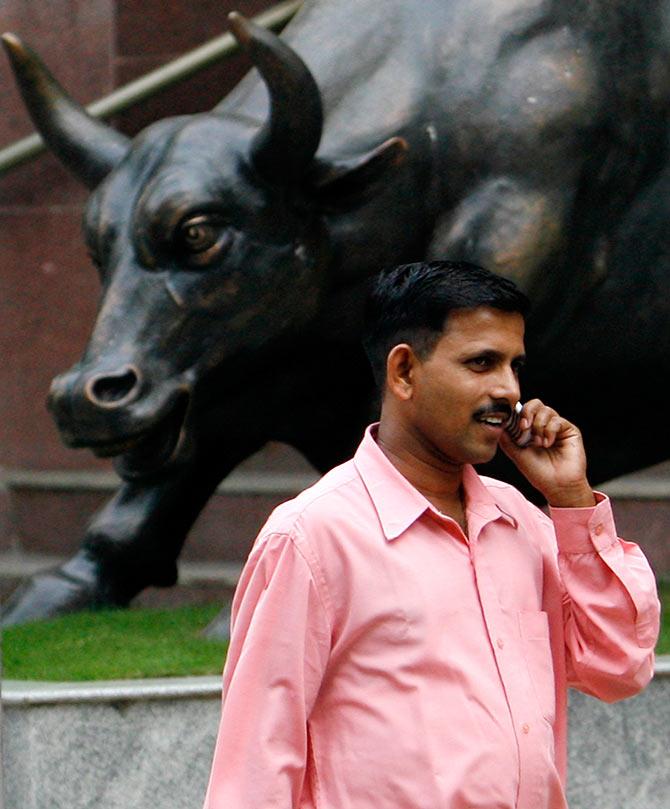 Global factors: There is concern about when the rest of the world will be able to recover. The export sector may remain subdued for some time. Kim Eng Tan, sovereign credit analyst at Standard & Poor's, says a steep fall in exports, especially in East Asia, has led to significant contractions in economic output, which could lead to a rise in corporate defaults in the next year or so.
"The pressures will mount on banking systems in Asia, particularly on the highly leveraged ones. Recent outlook revisions for India and Taiwan from stable to negative reflect the fiscal deterioration associated with providing support for their respective economies," says Tan.
Where will the Sensex go from here?
June 24, 2009 16:48 IST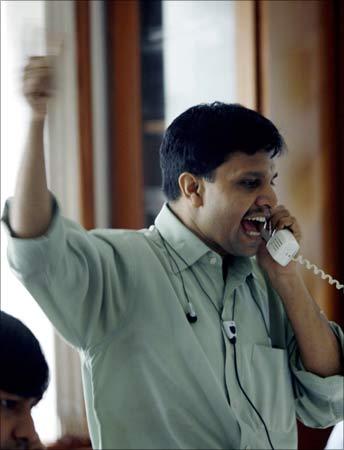 Markets: All indications are that there would be a cooling off in the current rally. The depth and breadth of the correction cannot be estimated now. So, if you plan to buy for the long term, it might help to wait till the market dips. In fact, now would be a good time to clean out your portfolio. If you have any stocks whose prospects you are not convinced about, we suggest you book profits while the rally is on, redeploy these funds and buy strong companies at every market dip.
The next big event is the Union Budget. Markets are expected to cool off after that.
Says Bharat: "Individual sectors will do well but you have to keep track of the sectors and make alterations in the portfolio accordingly. I would never invest in sectors where profitability is controlled by the government. At one stroke of the pen, all the bets you have made will go for a six. Lastly, sectors tend to be less important than managements and companies."
Where will the Sensex go from here?
June 24, 2009 16:48 IST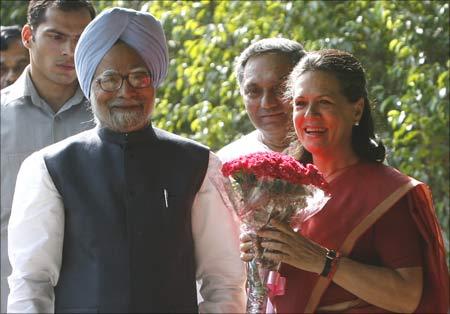 In March, when the markets sank, anyone who foretold a rising market in two months would have been laughed at. But, that's exactly what happened. This only reiterates that disciplined investing and right stock picking can never be a long-term wrong.
What happened
Surprising election result ushers in a stable government
Stimulus packages improve liquidity
Risk appetite improves globally
Markets move up 25% in three weeks
What's expected
Union Budget on July 6
Reforms expected to get back on track
Infrastructure expected to receive government impetus
Any global bad news could result in a fall
In Quick Succession
12,173: Friday, May 15: The Sensex closes at 12,173 in anticipation of a hung verdict in the General Elections
Saturday, May 16: UPA wins election by a clear majority
Monday, May 18: Indices hit upper circuit for the first time in history; markets close down within a few minutes of trading
14,931 Tuesday, May 19: The Sensex touches intra-day high of 14,931, 23 per cent higher than the last full day of trading
June 4: The Sensex closes above 15,000 for the first time in eight months