Once an export hub, Tirupur is today a ghost town
Last updated on: November 9, 2012 17:46 IST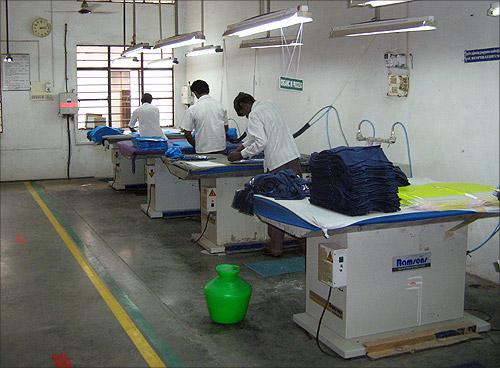 The streets of Tirupur are deserted, most of the shops are closed. A passer by explains, "The shops are shut due to the bandh in Madurai where 6 people were killed in communal violence."

Another worker at the tea shop said, "It's almost like a bandh here everyday, we used to work in two shifts and overtime, but now finding work for one shift is difficult".

Tirupur was once a powerhouse of exports. A series of events brought South India's largest garment export hub to its knees.

The downfall began with the closure of all dyeing units a few years ago, for polluting the Noyal river.

The units were closed following a court order. The dyeing units started running in the neighbouring districts of Namakkal and Salem but soon they closed down too.
Photographs: A Ganesh Nadar

Click NEXT to read more...
Once an export hub, Tirupur is today a ghost town
Last updated on: November 9, 2012 17:46 IST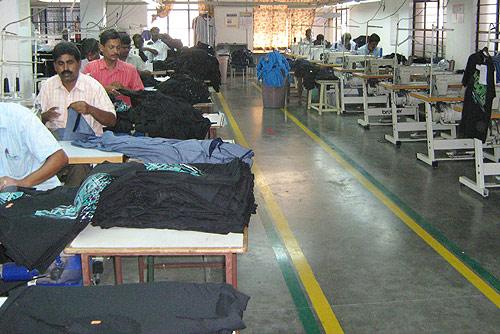 Finally, they went to Gujarat to find out how dyeing units were still working there. They bought machinery which assured 'zero discharge' and started again in Tirupur. But only a few have managed this. 
Dyeing makes up 35 per cent of the total cost of the finished product so its closure really affected business here. The increased price of yarn, ruthless power cuts and rising labour costs have brought this once booming city to its knees. 
This factory looked busy enough. "Not really" says the manager Jaishankar, "We are operating at 40 per cent of our capacity, only one shift earlier we used to do two shifts and overtime. We used to work till 1 a.m. in the night, not anymore". 
He has been in this business since 1996. As he took me around the factory he explained, "The checkers are the lowest paid they get Rs 200 per shift, then the ironers, the stain removers, the tailors and the cutters are at the top who make Rs 350 per shift". 
Click NEXT to read more...
Once an export hub, Tirupur is today a ghost town
Last updated on: November 9, 2012 17:46 IST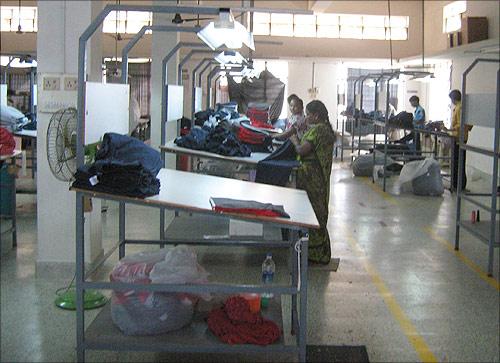 "The recession in the United States and the European Union really hit us hard. Bangladesh gets tax concessions as it's a under developed nation. We have lost our competitive edge. Power is not available at most times. We have to use generators which adds to the cost". 

Tirupur Exporters and Manufacturers Association Manager Prabhu told rediff.com, "When the dyeing units closed down many labourers left this city. Now when we have work, we cannot find workers, moreover NREGA keeps workers in the villages. Earlier, they used to come here when they had no agriculture work". 

Tirupur Export Association secretary T Saktivel says, "Five years ago, we were exporting goods worth Rs 12,000 crore (Rs 120 billion). At that time, we had said that in five years we will be exporting goods worth Rs 20,000 crore (Rs 200 billion) and we will create another Tirupur. Actually, we have halved our business."
 
Click NEXT to read more...
Once an export hub, Tirupur is today a ghost town
Last updated on: November 9, 2012 17:46 IST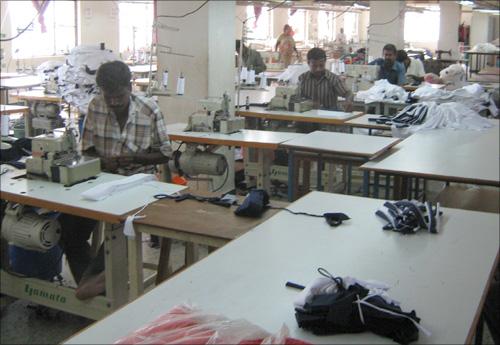 "This year, our exports will touch Rs 11,000 crore (Rs 110 billion) which at the prices of 2007 is about Rs 6,000 crore (Rs 60 billion). The reasons are many but the main one is the recession in the United States and Europe," T Saktivel adds.
Garments are exported to over 100 countries but 65 per cent of the exports are to the Unites States and the European Union.
"We have not given up. We are exploring new avenues in Africa and the South American countries. Bangladesh enjoys tax concession as it's an under developed nation. It's our biggest competitor," he explains.
China is not a competitor as labour costs have gone up there too. Their hope lies on the free trade agreement India is going to sign with the European Union in January 2013. Then it has to be ratified by the 27 participating countries. 
"After that we too will enjoy a tax free entry and can compete with the rest. We cannot provide enough work to our work force here. Earlier they used to work their shifts and also over time. They love over time as the pay is double for that," T Saktivel adds.
Manager Jaishankar says, "Most of them are willing to work two shifts, they are used to working two shifts, it's sad that we cannot give them work, see we don't sell our products, we never produce without orders, and we only make T-shirts and night wear".
Click NEXT to read more...
Once an export hub, Tirupur is today a ghost town
Last updated on: November 9, 2012 17:46 IST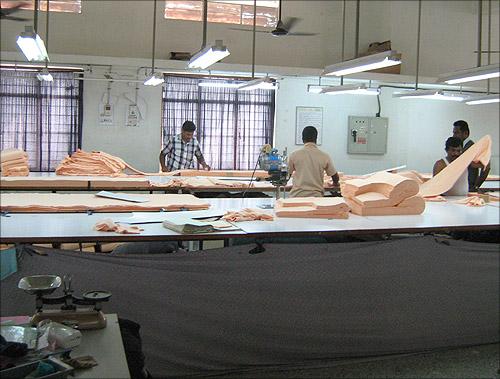 The industry faces a power crisis and the cost of diesel is high. Yarn rates and labour costs have gone up over the years, adding to the industry's mounting losses.
"The closure of the dyeing units was a huge hit to us, recovering from that cost us a bomb. It was like starting all over again. We invested Rs 800 crore (Rs 8 billion) in a pollution control unit and still it was not enough. The pollution control unit was a waste of money. It could not even clean 2,000 litres of water a day. It was supposed to clean a million litres," Jaishankar adds.
Tirupur was once the example of a successful entrepreneurship. The biggest brands in the world got their work done here. Now, it looks like a ghost town. 
Crime rates have gone up. Out of total crimes taking place in Tirupur and nearby Coimbatore, 67 per cent is reported from Tirupur. This is largely due to the floating population from other districts and other states. Crime rates go up when there is lack of work.
According to local journalists add, "There are 300 Nigerians here. Twenty years ago, there were just a few. They actually buy garments but what else they do no one knows, many of them have been caught selling drugs". 
Tirupur will rise again based on a Free Trade Agreement to be signed and ratified in another continent.