The secret behind Cognizant's amazing success
Last updated on: May 26, 2011 14:45 IST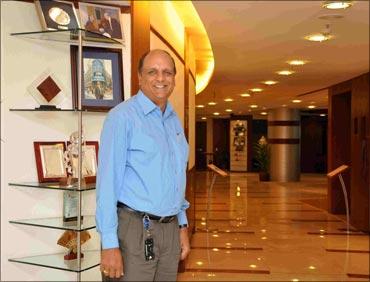 Fortune magazine's latest ranking of America's largest companies shows that Cognizant has joined the Fortune 500 (ranked at number 484), with $4.59 billion in annual revenue for 2010.
It was in 2008 that the company entered in the Fortune 1000 ranking at 859th position. In three years, it has ascended 375 places to find a place in the prestigious Fortune 500 ranking.
Cognizant employs approximately 111,000 people worldwide, serving over 700 clients. It was also ranked among Fortune's 'World's Most Admired Companies' in March 2011, 3rd year in a row.
In this exclusive interview, R Chandrasekaran, president and managing director, global delivery, Cognizant talks to rediff.com about how the company rose to such heights.
Cognizant has achieved 45 per cent growth in the last quarter. Is it because of the low margin-high growth model opted for by the management?
This definitely is a reason for our high growth but I don't want to categorise ours as a low margin business.
We have deliberately kept the model this way. Our business is as profitable as, or more profitable than, our peers'.
What we have told our investors is, anything in excess of 19-20 per cent will be invested back in the business so that we can hire high-calibre relationship managers and good partners.
We can also invest in creating technology and domain capabilities and build industry specific solutions.
Click NEXT to read on . . . 
The secret behind Cognizant's amazing success
Last updated on: May 26, 2011 14:45 IST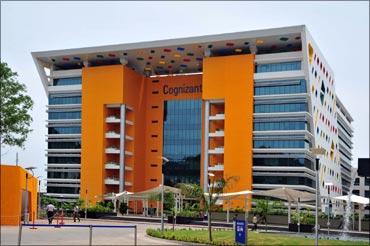 The operating margin of 19-20 per cent is much lower than the other companies in business...
The company's operating margin may be lower but anything in excess of 19-20 per cent is put back in the business. Overall, the profitability of the business is as good as anybody else's in the industry.
When did you start thinking about implementing this model?
This has been there from the beginning. We went public in 1998 and that is when we took the plan to the investors.
During that time, many of the offshore players were operating with a margin anywhere between 28-32 per cent but the on-site consulting players were operating at 12-14 per cent margin.
We felt that if we had to grow faster, we had to make a lot more of investment. That is what we told the investors; that at some point, the industry will converge around 19-20 per cent. And we really wanted to take the lead.
At Nasdaq also, Cognizant stocks soared much more than the other Indian players. It was reported that in the last one year, it rose by 55 per cent.
Yes. If you look at the other offshore players in the industry, we see that their margins are dropping and the margin has come down to 27-28 per cent.
We believe that our model is right in the middle and everybody will converge to a 19-20 per cent model. We have kept our margin stable at 19-20 per cent all these 12 years.
Click NEXT to read on . . . 
The secret behind Cognizant's amazing success
Last updated on: May 26, 2011 14:45 IST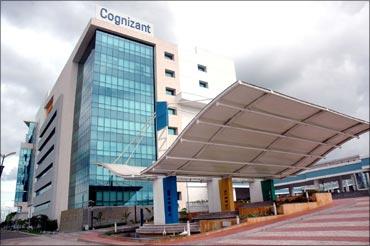 Three years ago, you were in the Fortune 1000. Now, you are in the Fortune 500, at 484. What are the reasons you attribute to this phenomenal growth?
Definitely to the model we follow. Fortune is more on growth and financial performance, company revenues and the ability of a company to grow faster.
Definitely our financial model has helped us to grow and be in the Fortune 500 in such a short period. That is reason number one.
In addition to this, it is not just the financial model; it is the operating model also which has brought in fresh air in the market place. Most of our customers think that we are very different.
We bring not only the cost advantage and value of being an offshore service provider, we are also able to bring good customer relationship. It is a unique blend of consulting-driven, relationship-driven management, backed by very solid delivery capability. We keep investing in technology to continuously upgrade ourselves.
So, it is a unique blend of what the big four consulting companies used to do and the traditional offshore players used to do. We have been able to combine the best of all the worlds!
The third reason is our ability to attract talent is a great source of strength for the organisation whether it is in India or outside.
We have local recruiters and we could see local talent everywhere. That way, we are building a truly global organisation. Customer retention is possible because we were able to deliver quality products all over.
All these three factors have helped us have industry leading growth.
Click NEXT to read on . . . 
The secret behind Cognizant's amazing success
Last updated on: May 26, 2011 14:45 IST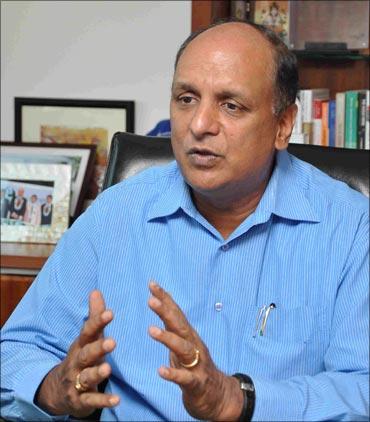 You spoke of talent. The industry has always been complaining of lack of co-ordination between the academia and the industry. Is there any improvement in the situation?
There is always a gap between what the industry wants and what the academia produces. Industry is moving ahead quite fast. The type of services we did in early 2000 is different from what we do in 2011.
We are trying to bridge the gap by having training sessions within the company like the Cognizant Academy which functions like a university.
We are also working closely with many academic institutions constantly reviewing their syllabus. Our associates go and take classes. There are a number of initiatives under way to bridge the gap.
Do you feel academia has remained stagnant while the industry is surging ahead?
It is not like that. The industry is going through an evolution. When we started the offshore industry, customers wanted cheaper labour and came to India. That was the customer expectation then.
When year 2000 started, they wanted lots of people to execute projects to fix it. Then, the Internet came in a big way. At that time, the customers wanted technology skills at a cheaper rate. Today, they expect not only technology knowledge but business knowledge too. That is also a moving target.
So, what the academic world has to do is move with the times. It's not that they are stagnant; they are also changing. The syllabus is not what it was 15-20 years ago.
Like we have to constantly reinvent ourselves to satisfy the customers' expectations, the academic world also has to update themselves constantly. Yes, there are a lot of interventions happening.
Click NEXT to read on . . . 
The secret behind Cognizant's amazing success
Last updated on: May 26, 2011 14:45 IST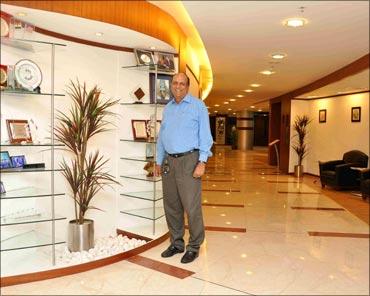 Earlier, jobs came to India because it was cheap here. With China, the Philippines, other low-cost nations entering the field and offering cheaper labour, do you think outsourcing is going away from India?
No, not at all. Look at the industry growth. It is projected to grow at 19-20 per cent. Which other industry in which other country is growing at this rate? So, there is a lot of growth opportunities out there.
Maybe, the voice services for call centres are going to the Philippines. Other than that, I don't think we are losing out to any country.
I feel we should view the Philippines as an opportunity by doing voice in the Philippines and other analytical processes in India.
Is China a threat to India?
A lot of people have asked me this question. I would say China is also an opportunity for us. Customers also would not like to have India as one vendor, China as another and the Philippines as yet one more.
If somebody can integrate talent and skills across multiple geographies -- because each geography has unique talents -- and offer high quality services, it will be great.
Cognizant taps talent in India, China, the Philippines and Latin America.
Is this the reason why many Indian companies have started operations from China, Eastern Europe, etc?
I think we should not operate with an Indian mindset; we should approach the industry with a global mindset.
The major Indian companies have a global outlook now with operations outside of India. This doesn't mean that India is losing out. India is gaining in the process.
Click NEXT to read on . . . 
The secret behind Cognizant's amazing success
Last updated on: May 26, 2011 14:45 IST
Does most of the business come from the United States to Indian companies?
About 65-75 per cent of the business comes from the US to most of the companies. If you look at the growth that is happening in Europe and other emerging markets like Asia Pacific, the ASEAN countries, etc, they are all emerging as major markets.
A few years ago, our revenue from Europe was in single digits but now, 18 per cent of our overall business is coming from Europe. There are tremendous growth opportunities outside the US, too.
Every day, you hear the US President talking about stopping their jobs going to Bengaluru and China. How will it affect the companies that work for US companies?
Like I said earlier, we have to work with a global mindset. In our case, if we need people in the US, we hire them there. If we need people in Europe, we hire them there.
In the US alone, we hire hundreds of people every month. We have a good recruitment programme to tap local talent. That is how it should be.
The success of the US is because it could attract talent from across the globe.