18 hottest technology innovators from India
Last updated on: March 11, 2011 10:30 IST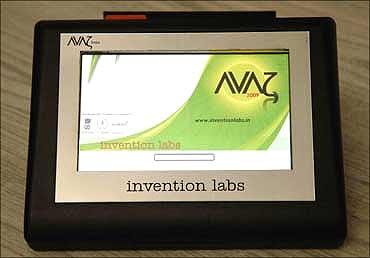 Meet India's young innovators who have established their prowess in business and technology. Massachusetts Institute of Technology's publication, Technology Review has announced its India list for 2011 representing innovators, all under the age of 35, for their outstanding contribution in business and technology.
Technology Review India recognises the game-changing achievements of young inventors from diverse areas covering biotechnology and medicine, nanotechnology and materials, computer and electronics hardware, energy, Internet and web and software.
Technology Review has handpicked three innovators from the Top 18 Indian innovators - Alefia Merchant, Ajit Narayananand, Gautam Kumar - for special honours.
These inventers will showcase their innovations and share the podium with eminent scientists and academics from Massachusetts Institute of Technology at the MIT Technology Review's emerging technologies conference, EmTech India, at Bangalore from March 22.
"Majority of the 18 young men and women chosen for India TR35 2011 have developed technological solutions for common problems faced by people. India TR35 list acknowledges their exceptional technical contributions that hold great promise to shape our future," says Narayanan Suresh, group editor of Technology Review India.
Profiles and photographs, courtesy: Technology Review India
Click NEXT to know more about India's 18 hottest tech innovators...

18 hottest technology innovators from India
Last updated on: March 11, 2011 10:30 IST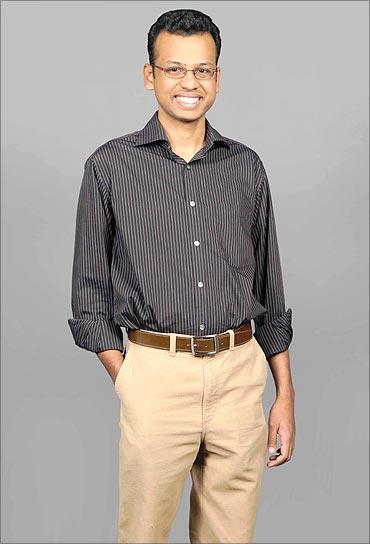 Ajit Narayananand
(29 years)
Innovator of the Year
Ajit Narayanan, 29, exemplifies the spirit of innovation in India. Toiling for a few years at a startup, Invention Labs Engineering, incubated at the IIT (Indian Institute of Technology) Madras, Narayanan has developed an alternate communication system for millions of people who remain incommunicado with the society due to their disabilities.
Avaz
Avaz, (voice in Hindi) is the tool which uses a variety of software and hardware to provide a voice to these muted millions using just their muscle movements.
There are an estimated 10 million people in India who suffer from speech impediments. They may not have speech but they have a lot to say. And they can benefit from Narayanan's device. AVAZ is a communication device for people with speech disorders such as cerebral palsy, autism, mental retardation, and aphasia.
Avaz works by converting limited muscle movements, such as head or finger movements, into speech. His invention broadly falls under the category of Augmentative and Alternative Communication (AAC) technologies.
Though speech generating devices are effective, most AAC devices aren't within the reach of the speech-impaired persons in the developing world and they mostly generate speech in English. This is another deterrent which has prevented these devices from becoming as popular in the developing world.
"Narayanan's innovation lies in bringing down the cost of the device to one-tenth of the price of similar devices, making it affordable to a wide swath of the Indian disabled population, and making it available in Indian languages," says N Suresh, Editor of Technology Review India who led the TR35 initiative in India for the second year in a row.
Click NEXT to read on

18 hottest technology innovators from India
Last updated on: March 11, 2011 10:30 IST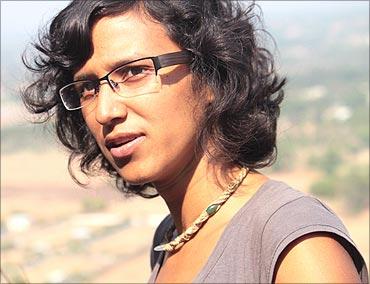 Alefia Merchant (32 years)
Humanitarian of the Year
Novel method of screening for eye disease in children under the age of five.
An estimated 1.4 million children in the world are blind and 90 percent of them are found in developing countries. In India, these children often face a lifetime of disability.
Poor vision affects every aspect of their lives - economic, social, and psychological. Ultimately, it undermines their function and acceptability in their families and in society.
If children with visual disabilities were detected sufficiently early, approximately 40 percent of such cases could be prevented or treated and the remaining could be rehabilitated to minimize the child's handicap.
In India, there are many hurdles in detecting, diagnosing, and treating such children. There is no organized screening program focused on identifying children under the age of five for sight-threatening eye conditions. The World Health Organization reports the lack of adequate community-based, primary-care screening programs as an important barrier to improvements in current morbidity and mortality rates due to eye-related diseases.
A novel method for eye-testing
Third year medical student at University of Montreal, Montreal, Canada, Alefia Merchant has developed a novel method of screening for eye disease in children under the age of five.
Merchant developed the method during September 2009 till June 2010 as part of her community pediatric ophthalmology project at the Narayana Nethralaya Postgraduate Institute of Ophthalmology, Bangalore, Karnataka. She was the co-investigator of the project along with Ashwin Mallipatna who is consultant pediatric eye surgeon at Narayana Nethralaya, Bangalore.
Merchant's method exploits existing, low-cost, and readily-available digital camera technology to photograph a child's eye for signs of vision-threatening disease as an alternative to standard medical technology in current use.
A red-reflex examination works on the principle that light entering the eye is reflected off the back of the eye (the retina).
This reflected light (or red reflex) is visible to the examiner when a specialized instrument called a direct ophthalmoscope is used. However, the standard red-reflex test requires expertise and equipment which is not commonly available in India.
To obtain a red reflex, all layers of the eye through which light passes must be transparent and the surface of the retina must be normal. "Any significant change in the structure of the eye changes the optics of the reflected light and can alter the reflex seen in the photograph.
A symmetrical, red reflex is considered normal. The loss of a reflex, a white reflex, or an asymmetry in the size or quality of the reflexes could all indicate the presence of an eye abnormality," says Merchant.
Photo-Red protocol
Merchant's method, which she calls as Photo-Red protocol, uses a digital camera to elicit red reflexes. "The Photo-Red protocol allows one to consistently elicit a standard, clinically-relevant red reflex in children and adults using a compact digital camera.
The amount of reflected light captured by the camera is controlled by two important factors: the size of the pupil and the angle at which the light enters the eye. The larger the pupil, the more light enters the eye. Similarly, the smaller the angle of reflection, the more light reaches the camera lens. We found that photographs taken in a dark room (maximising pupil size) at a distance of 4 meters (such that the angle of reflection is sufficiently small) reliably produced a red reflex in each photograph," she explains.
The Photo-Red protocol can be performed by rural health workers or other laypersons in a community with little initial training. Merchant now intends to pilot and implement the new technology into programs that cater to very young children, such as immunization clinics, Anganwadi services, and other community health services.
Click NEXT to read on

18 hottest technology innovators from India
Last updated on: March 11, 2011 10:30 IST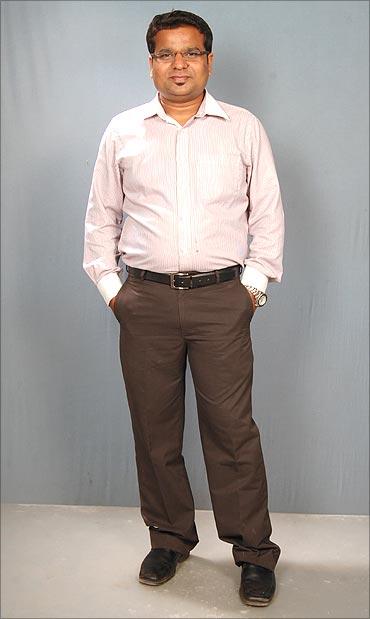 Gautam Kumar (26 years)
Social Innovator of the year
System to detect gas leakages - RoboticWares, Bhubaneshwar
Passionate to innovate, Gautam Kumar has developed a system that detects leakage of liquid petroleum gas (LPG) and sends warning messages to people connected with the device over their cell phones. He calls the device Suraksha which means "safety" in Hindi.
Kumar along with his cofounder Kushal Nahata got the idea to develop the device when he read about a gas leakage accident in Bhubaneshwar in which a few people lost their lives. "The incident reminded of a similar but bigger accident that occurred near Kushal's parents' house in Chandni Chowk, New Delhi, a few years back," recalls Kumar. The duo immediately felt the need of an alarm system which could warn people in time to save lives or even avoid such hazards before it is too late.
The device from Roboticwares is based on the olfactory kind of sensors which enables an intelligent machine to detect a certain type of smell and based on preset rules perform the actions which are programmed in it. Kumar's Suraksha can be configured to communicate with a maximum of five people by registering their cell phone numbers on the device. It sounds an alarm and sends a short message (SMS) to inform the registered users about the impending danger so that they are warned against starting any kind of fire or lighting a cigarette in the affected area. LPG blasts account for a significant chunk of burn and fire incidents in India. Yet there are hardly any devices developed to detect and automatically warn people of gas leakage so that safety measures can be taken in time. The team at Roboticwares had initially developed a leakage sensor with a buzzer alarm. Then they realised that a buzzer alarm is of no use in an empty house. The alarm was improvised into an SMS-based feedback system which was connected to the sensor to detect gas leakage and immediately send SMS alerts to all the phone numbers registered in the system.
The device starts checking the amount of LPG in the air if it reaches greater than or equal to seven parts per million (ppm). The buzzer or the SMS alerts, however, are set off once the amount of LPG reaches greater than or equal to 1000 ppm. The buzzer remains on until the amount of LPG in the air reduces to a safer level. And the SMSes are also sent again once the leakage stops.
The Suraksha device would cost a user approximately Rs 3,000-Rs 4,000. It also comes in separate variants for industrial and domestic use. The industry-optimised Suraksha is capable of sustaining extreme temperature conditions -from a range of minus 70 degrees centigrade to plus 70 degrees centigrade - as well as large voltage fluctuations. Roboticwares is now looking upto the government for a subsidy to further lower the price for the common man.
Click NEXT to read on

18 hottest technology innovators from India
Last updated on: March 11, 2011 10:30 IST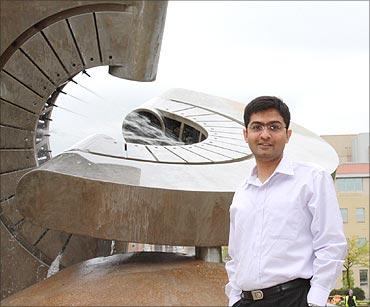 Akash Lal (29 years)
Improving software quality using automated verification
Microsoft Research, Bangalore
With software becoming all pervasive in our daily lives, it must become all the more reliable and shouldn't crash or behave unexpectedly. And the way to address this is through automated verification of programs.
Though automated verification can significantly improve the quality of software with little manual effort, the available verification tools have been used to test sequential programs. This is a concern as modern software is invariably concurrent.
The problem of automatically verifying concurrent programs is two-fold: one has to explore different inputs to the program, and also explore different interleavings that happen between threads in the program for each input.
Akash Lal's work shows that verification of real-world concurrent programs is possible. His innovation bridges the worlds of sequential and concurrent programs.

He has shown how a concurrent program can be efficiently transformed to a sequential one under certain conditions. Lal, along with his colleagues at Microsoft Research Lab in Bangalore, has built a tool called Poirot that is capable of finding bugs in real-world concurrent programs that are missed by conventional testing.
"Akash's research has created an opportunity for developing precise and scalable tools for analyzing concurrent software, and many researchers including me are building on top of his work," says Shaz Qadeer, Lal's colleague at Microsoft, Redmond. Using a collection of models of concurrent programs, Lal's approach is 30 times faster than any existing tool for verifying concurrent programs.
Click NEXT to read on

18 hottest technology innovators from India
Last updated on: March 11, 2011 10:30 IST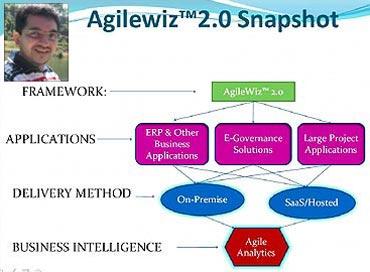 Akshay Shah (29 years)
iWeb Technology Solutions, Mumbai
A business process management generator which can create applications on the fly.
While working in Pune for enterprise resource planning software maintenance and support, Akshay Shah realised that the popular ERPs available in the market were very complex in nature.
He felt the need to develop a software which could churn out on-demand and cost effective applications for business process management. He developed a software platform called AgileWiz, a short form of agile wizard.
The Agilewiz technology is based on the concept of platform-as-a-service which can build fully functional application modules by feeding appropriate metadata as input.
The Agilewiz has a business rules management system (BRMS) which ensures that implementers do not have to repeatedly rely on software principals for critical but necessary customizations of the product.
Shah says that the platform has been designed from ground up and is technology independent. Any ERP, e-governance, hospital management, or a payroll application can be developed quickly using Agilewiz.
Conventional ERP platforms are unable to create quick, on-the-fly applications because of their embedded older and rigid technologies which have hard-coded knowledge base. Shah's Agilewiz has a non-wired structure available in the public or private domain with a flexible architecture and a built-in workflow.
The platform exists in cloud-based as well as Web-based models and is now also available as software-as-a-service platform. Agilewiz is patented with its unique feature that allows the user to customize an application, depending on the requirement changes, without having to depend for maintenance and support by any professional group.
"The RAD tool of the Agilewiz blends ISO, CMMi, and Six Sigma standards and makes programming redundant," says Shah. The first phase included database selection and maintenance, page layout, meta data creation and maintenance, email creation, chat integration, personalization of pages (changing theme), and compilation. Furthur enhancements to the platform have added its capability to create runtime functionalities based on various business rules. The engine is currently under the beta test phase.
Click NEXT to read on

18 hottest technology innovators from India
Last updated on: March 11, 2011 10:30 IST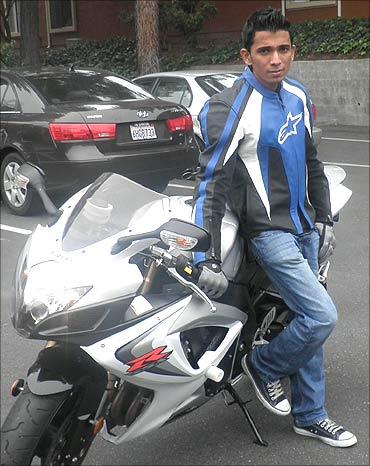 Deepak Ravindran (22 years)
Innoz Technologies, Haryana
A mobile based search engine to deliver information on any topic.
Deepak Ravindran calls it the "instant cup of knowledge". His mobile based service, SMSGyan, promises information on almost any topic to the user on his mobile phone without asking him to click on any link.
There are a host of services existing which would give users information on certain topics on their mobile phones but most of these are either limited to a sector, such as railway enquiry, or they send links to the user's mobile phone asking the user to click on them to access desired information.
Such services have not become very popular with the vast majority of the people because they don't have GPRS connection on their mobile phones or the connection is weak. Though India has almost 700 million users today, the smart phone penetration still remains very low.
Gyan means "knowledge" in Hindi, and the SMSGyan provides myriad information services which include dictionary, encyclopaedia, job search, health, stock market, and more via text messages.
The idea was seeded when one day, Hisam, one of the founders of Innoz Technologies, was in transit and wanted to know the meaning of a word and found that his basic phone was of no use to get the information. Since the phone had no application and no Internet connection to go to a dictionary and enquire, Hisam had to do without knowing the meaning.
"This kind of a thing has happened to each one of us and it can be frustrating," says Ravindran. The team then sat down to put together an answer engine which would give users answers to various kinds of queries from anywhere at any time.
The SMSGyan platform can work with any number of databases or resources. It delivers mobile-optimized results. These text results support upto a maximum 500 characters of information across all operators in India.
A user would have to type an SMS with the keyword GYAN followed by the query and send it to 56161. For example, to know the stock price of Infosys, a user would have to type "GYAN Stock Infosys" and send it to the specified number.
Once the Gyan engine gets a query from a mobile user, the algorithm spiders the World Wide Web or Wikis on the Web for the related information, zeroes in on the most relevant inputs, and then shortens it to be sent to a mobile phone via the text message route.
The categories that are currently available are encyclopedia, dictionary, acronym, live cricket scores, movie reviews, book reviews, weather alerts, stock market, gadgets prices, and calorie meter. Other recent additions to premium services include localized searches, job search, and even a health service over the phone.
For these services, the platform makes use of its content partners to deliver the required information. In some cases, pictures are also sent as results to support the text results to a user's mobile device in answer to his or her query.
Having added services for Facebook, Twitter, and email via SMS over the SMSGyan platform, Ravindran now has plans of making information in local languages available for the benefit of the rural masses.
Future tweaks to the service would also include translators and video or voice based on-demand results. RC Dutt of Technopark, Trivandrum, where Ravindran's company is incubated and is being mentored, says "Deepak's product is a paradigm shift from standard mobile service offerings as it adopts a user centric learning approach using a low cost, low bandwidth medium as its delivery mechanism."
SMSGyan was launched in January 2009, and it currently caters to five million users, answering almost 20,000 queries daily.
Click NEXT to read on

18 hottest technology innovators from India
Last updated on: March 11, 2011 10:30 IST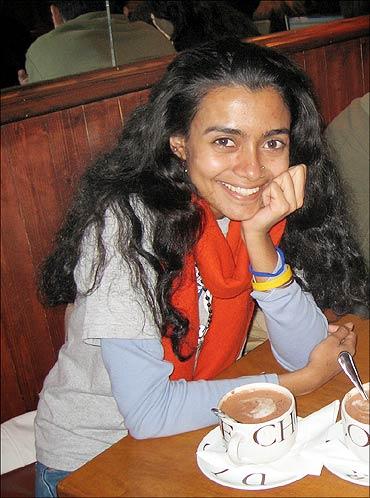 Aishwarya Lakshmi Ratan (29 years)
Microsoft Research, Bangalore
A hybrid paper, pen, and digital slate solution for a low-cost digital record management system.
Technologies that exist today either require users to use a digital pen and a digital slate, which are not very user-friendly, or they require users to digress totally from pen and paper to a personal digital assistant or a computer-based interaction.
All of these technologies are expensive as compared to a pen and paper medium. And therefore, such technologies have not taken off in countries like India where the masses are still comfortable using pen and paper to write in their regional languages.
Aishwarya Ratan has come up with a low-cost digital system which lets the users have the convenience of using a normal pen and a plain paper to record data and instantly store it in the digital form.
This solution has been piloted with self help groups (SHGs) who microfinance and maintain records of each person's savings and loans. Conventionally, the data was recorded at a site on papers and it was later converted into digital data.
Aishwarya's team chose a low-cost digital slate and pen prototype device that allows handwritten entries, made with the pen on ordinary paper forms placed on the device, to be instantly digitized.
On top of the device they built a financial record management application that followed the structure of the paper accounting system used by the SHGs. An account writer would have to simply make entries in a smaller version of the ledger book placed on the digital slate.
He would then simultaneously open the digital application on the slate, progressing from one module to the next using the back of the pen as a stylus. As entries are made, they are automatically stored in their respective fields in the database.
At the end, a voice-over in the local language is played back to validate the data. Once the errors are reconciled, the data gets validated and saved.
Click NEXT to read on

18 hottest technology innovators from India
Last updated on: March 11, 2011 10:30 IST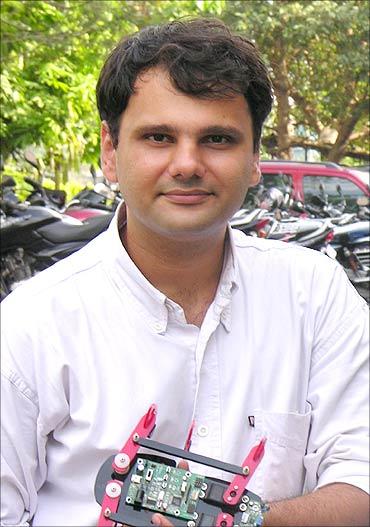 Fahad Azad (29 years)
Robosoft Systems, Mumbai
Duct cleaning robot to improve quality of the air we breathe.
The quality of the air that we breathe indoors depends on the air circulating in the air-conditioning ducts in our offices. To maintain the health and quality of this air that is circulated within the premises of an office or a home facility, it is essential that the ducts are cleaned properly at regular intervals.
Duct cleaning in enterprises remains a challenge because of the tough accessibility of these narrow metallic passages and the requirement of shutting down the entire system. Fahad Azad with his team at Robosoft Systems has developed a robot, called DuctBot, designed specifically to do this job effectively.

Earlier practices in large enterprises and industries included sending humans inside the ducts who would clean them with dusting equipment. But they faced the risk of respiratory problems and other health hazards. Azad's innovation at Robosoft Systems was aimed at eliminating this practice.
While the ducts get filled with dirt and grime deposits, the air conditioners need to do more work to achieve the same amount of cooling and therefore they start consuming more electricity than usual.
Moreover, dirt-filled ducts can cause the whole air conditioning system to break down, which is presently the reason for 90 percent of failures in such systems. The DuctBot in a way promises enterprises and individuals in achieving energy efficiency and reduce their electricity consumption.

The toy-car sized DuctBot measures 23 centimeters in length, 19 centimeters in width and 9 centimeters in height and weighs just two kilograms. There are motors attached on both sides of the small vehicle on wheels which are controlled or turned by supplying differential voltage to the differential turning motors.
The system has attachments for cleaning, LED lights to move inside the duct, and an onwards camera for a live feed. The DuctBot can be controlled wirelessly by any playstation joystick without the need of any sort of programming.
The cleaning process is carried out by placing the DuctBot inside the air duct from one end and blowing compressed air in the duct and helping the filter attached at the other end to collect the debris. The DuctBot costs around Rs1 lakh, which is almost five times cheaper than what is available in global market. Robosoft Systems has also filed a patent for DuctBot.

While other duct-cleaners are available in European markets, the Robosoft Systems' DuctBot is the first-of-its kind attempt in India. The company has supplied DuctBots at various places successfully. Some of its clients in India include Bluestar, EPSCO, and the Indian Navy.
Robosoft Systems is now developing multiple variants of the DuctBot ranging from robots suited for vertical ducts to those meant for extremely small ducts found on ships and submarines. Going forward, the team is also thinking of developing comprehensive cleaning solutions.

Click NEXT to read on

18 hottest technology innovators from India
Last updated on: March 11, 2011 10:30 IST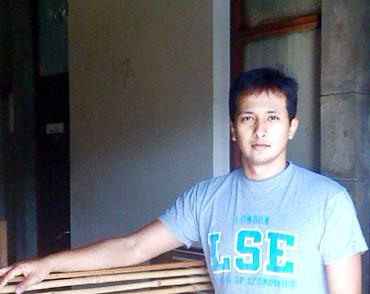 Harit Soni (27 years)
Ecolibrium Energy, Ahmedabad
Smart grid technology to optimise the use of electricity in India.
Supported by the Ministry of New and Renewable Energy of the Government of India, Ecolibrium is a smart-grid startup aimed at enabling consumers to manage power consumption in real-time. A humungous amount of electricity is wasted because of the lack of a feedback loop between suppliers and consumers.

India has a power deficit of 12 percent with almost 300 million people living without electricity. Transmission losses amount to 1.5 percent of India's gross domestic product. Harit Soni, founder of Ecolibrium Energy, opines that achieving energy efficiency is more cost effective and environment-healthy than setting up new power plants to fulfil India's power demands.
At Ecolibrium Soni has led the development of indigenous smart grid technologies. The smart grid is essentially addition of communication and application layers on top of the existing power transmission layer. Though smart grid technologies are available, India needs a customized solution to address the transmission and distribution losses.

At present smart meters in India use GSM and GPRS based data acquisition systems, which increase the cost of each node, as each node requires a SIM card and GSM network access.

Ecolibrium has reduced the cost of each node by developing Zigbee, a free radio frequency network-based proprietary device, which tracks real-time energy consumption and can also control the switch on/off function from an online portal or from a cell phone.
The company offers solutions for automated metering which enables consumers to track generation of electricity from any distributed source in real-time. Soni has led the installation of a pilot smart grid in Gandhinagar, Gujarat, showcasing key concepts such as demand, response, theft detection, and real-time tracking of energy consumption and generation.

The pilot was commissioned in October 2010. In the first three months the project has demonstrated the ability to install smart grid infrastructure in Indian conditions using wireless standards; the ability to perform automated and manual demand response during peak hours based on predefined conditions; and the real-time generation monitoring results have shown nearly 90 percent increase in power harnessed from the solar installations.
Click NEXT to read on

18 hottest technology innovators from India
Last updated on: March 11, 2011 10:30 IST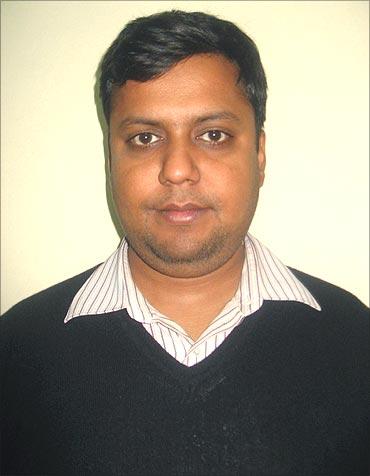 Krishna Gopal Singh (29 years)
EnNatura Technology Ventures, Delhi
Eco-friendly printing ink that reduces harmful emissions by almost 99 per cent.
The offset printing industry emits 500,000 tons of volatile organic compounds (VOCs) annually into the atmosphere.
These emissions are huge contributors to global warming and are also detrimental to the health of millions of workers in the global print industry.
The major source of pollution is the petroleum components in such inks which are released in the atmosphere as harmful emissions during the drying and the washing processes of printing, causing photochemical smog formation and ozone depletion.
Printers who are exposed to regular emissions are in danger of acquiring respiratory ailments such as tuberculosis and even cancer. The current eco-friendly solutions available in the global market are either expensive or do not produce the same quality output as the widely-available petroleum based inks.
Krishna Gopal Singh, chief technology officer of Ennatura Technology Ventures, Delhi, has formulated a biodegradable printing ink which is mainly composed of the resin, the solvent which is used to dissolve the resin, the color pigment, and additives.
Singh and his team created a functional resin from renewable feedstock so that all the chemical reactions involved in the printing process don't result in emission of volatile organic compounds.
This particular kind of resin is pH-sensitive and the inks formulated with it print well with mildly acidic fountain solutions used in lithography printing.
The Ennatura inks contain non-edible vegetable oil as the drying oil, thus removing VOCs from ink formulation itself. This typical characteristic of the ink changes the way it dries after printing, causing no emissions during the process.
Since the resin is pH-sensitive, it can be washed off by a mildly alkaline aqueous wash solution, thus eliminating the need of using hydrocarbon based wash solutions like kerosene.
Thus, the composition of the ink renders the whole printing ecosystem to produce no harmful emissions. Since a simple alkali solution can be used to wash off the inks effectively, the washing costs could be brought down by 85 to 90 percent, reducing the overall cost considerably. Singh is presently working on a bench scale production.
Click NEXT to read on

18 hottest technology innovators from India
Last updated on: March 11, 2011 10:30 IST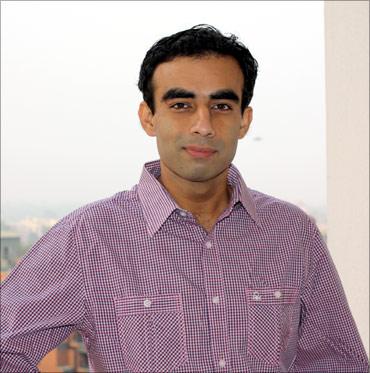 Manav Bhatia (32 years)
Alcatel-Lucent, Bangalore
Securing the Internet service provider's routing network.
Routing in the Internet is a very complex task and routing protocols play the key role in ensuring that Internet works in a sane way.
And Manav Bhatia's security and authentication algorithms help in making the routing protocols more secure and less susceptible to attacks, such as Denial of Service (DoS) or traffic redirection, so that data transfers happen seamlessly over the Internet.
Having spent a considerable amount of time studying and working in routing protocols, Bhatia started noticing that protocols were not as secure as they were always thought to be.
He looked closely at how these protocols used the cryptographic authentication mechanisms and saw vulnerabilities in almost all the popular protocols deployed in the service provider and enterprise networks. Bhatia worked on the mechanisms that were defined by the Internet Engineering Task Force (IETF) standards and fixed the vulnerabilities.
The IETF is a global community of network designers, operators, and researchers responsible for producing technical specifications for the evolution of the Internet architecture and smooth operation of the Internet.
These standards are called Requests for Comments (RFCs). Bhatia has worked on various such standards for authentication and security of data. His standards have been adopted by the IETF and various router vendors.
A new working group, called KARP (keying and authentication for routing protocols), has been formed in IETF that aims to develop new standards for securing the routing packets as they transit a network. Bhatia is the co-author of two base documents that define how the work in KARP must be carried out.
He has published various standards like RFC 6039 that describe potential threats and how attackers could harm the networks despite using cryptographic authentication mechanisms in place.
The RFC 5840 standard explains how firewalls can inspect the data that passes through it and RFC 5310 defines a new way to authenticate the IS-IS (intermediate system to intermediate system) packets.
"Manav has been instrumental in driving the standards for securing the routing protocols (OSPF and IS-IS) that the service providers and enterprises depend upon. IETF is now working on fixing the issues that were found by Manav and he is spearheading that effort in different IETF working groups," says Srini Sundarajan, head of Alcatel-Lucent R&D Center in Bangalore.
Bhatia's innovation of introducing a Key ID in IS-IS helps the operators in maintaining key-agility so that an attacker cannot discover the key. The challenge is to change the security keys without affecting the routing session so that it doesn't bounce.
Another challenge was to secure the IP header without implementing any tunnelling mechanism where the original IP payload is tunnelled inside another IP packet. Bhatia made it possible by including the important parts of the IP header in the crypto computation that both the sender and the receiver do when they receive an IP routing protocol packet.
"He is one of the primary contributors to the KARP working group where he has been innovating on solving some of the toughest problems of securing the routing protocols," adds Sundarajan.
Most of Bhatia's work has been published as standards (RFCs) which most router vendors in India are supporting in their implementations. These extensions are now available in the market and are being deployed and used by the service providers and enterprises.
Click NEXT to read on

18 hottest technology innovators from India
Last updated on: March 11, 2011 10:30 IST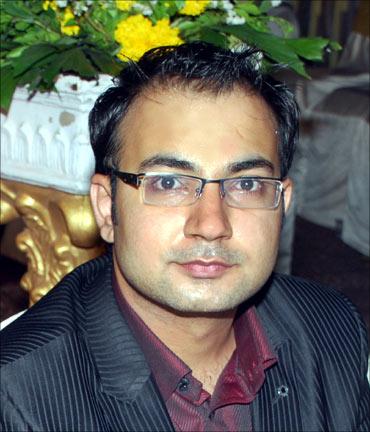 Mayur M. Sadawana (26 years)
Indian Institute of Technology, Mumbai
Point-of-Care multianalyte sensor
Diabetic ketoacidosis (DKA) is a complication of diabetes that occurs when the body cannot use sugar (glucose) as the energy source because it does not have enough insulin. As a result the body breaks down fat for use.

As fats are broken down, acids called ketones build up in the blood and urine. In high levels, ketones are poisonous and this condition is called ketoacidosis. Every diabetic case is a potential case of DKA. The key to the management of DKA is early diagnosis and rigorous treatment.
Today, DKA diagnosis is based on glucose estimation and monitoring. Once DKA is confirmed, patient is closely monitored for electrolytes, acid-base balance of the blood (pH), oxygen concentration of the arterial blood, and glucose. All these tests require the patient to undergo a series of painful invasive blood tests and each time these tests are done, it costs the person nearly Rs. 1,500.

Mayur M. Sadawana, who is pursuing PhD in biomedical engineering at the Indian Institute of Technology in Mumbai, has developed a minimally invasive, cost-effective, and accurate system that requires just a drop of blood as sample for the estimation of multianalytes for DKA diagnosis. He uses quantum dots (QDs) as biosensors for sensing analytes. Quantum dots are photo-luminescent nano particles of the size range of 2-10 nanometers.
When the QDs are excited with high-energy photons (for example, ultraviolet light), they absorb the same and their electrons get excited into a higher energy level. When these electrons return to the normal energy level, they emit photons of a lower energy (for example, visible light).

This phenomenon is called photo-luminescence. Sadawana has attached biomolecules (for example, enzymes like glucose oxidase) to these QDs such that when the UV light is projected onto them the photo-luminescence of the QDs changes, turning them into biosensors.
Nearly 10 microliters of biosensor QDs have been incorporated in a single cell of a poly dimethyl siloxane (PDMS) microchip of a size of 0.8 centimeter. Once the blood drop is put on the microchip, the specially built pen-like instrument holds the chip, throws UV light on the QDs, and records the photo-luminescent effect.

The captured data is then analyzed with the help of software also developed by Sadawana. To begin with, he has created a glucose biosensor which will occupy one cell of the microchip.

He is building more biosensors which can be incorporated onto the chip to test multianalytes for DKA diagnosis. The error range in Sadawana's glucose sensing is between 4 to 9 percent as compared to 20 percent in existing glucometers. His technology promises to reduce the cost of tests to Rs. 100.
Click NEXT to read on

18 hottest technology innovators from India
Last updated on: March 11, 2011 10:30 IST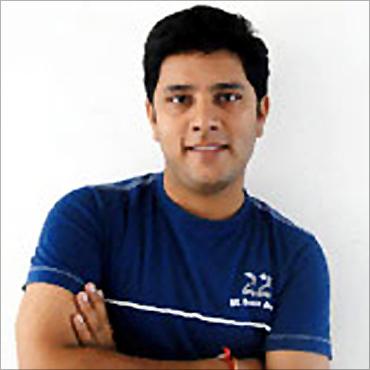 Pulkit Gaur (29 years)
Gridbots, Ahmedabad
Underwater robot to clean tanks and reduce water wastage.
Coming from the water scare region of Rajasthan, Pulkit Gaur understood the value of creating a mechanism which could clean water storage tanks without emptying them or wasting water. Passionate about robots, Gaur has developed a smart waterproof robot capable of carrying various underwater operations with ease. He calls his invention SaUsR (smart autonomous underwater service robot).
The underwater robot from Gridbots is specially capable of cleaning deep water tanks and has found application in industries which have the need of a continuous supply of water but for whom cleaning the tank on a regular basis and keeping the water free of impurities is a major issue of water wastage and labor. Gaur's Sausr ensures smooth and fail-proof operations for such machines.
The Sausr uses visual sensors with high resolution cameras mounted on its back, which are also capable of giving a feedback of live video for better control. Light emitting diodes are used for lighting. The robot has sensors for direction, temperature, and acidity measurement. It is made of anodized aluminum and coated by hard chromium and is therefore rendered waterproof.
The robot is controlled from an external source such as a keypad and a monitor. It weighs 30 kilograms and comes in two models: a 2 feet wide, 2 feet long model for domestic purposes (since tank openings are small), and a 3 feet wide and 2 feet long model for industrial purposes.
"We tried making indigenous smart cleaning robots which would be light, small, and cost-effective than what was available anywhere else so that it would fit in well in the multitudes of the Indian scene," says Gaur.
The machine has onboard sludge collection units which are modular in nature to help in cleaning sludge deposited within tanks of various sizes. It has an attached cable of 50 meters and hence is rated for a 50 meter depth with a linear speed of five centimeters per second and an underwater payload capacity of 30 kilograms.
Gaur has made the robot unique by adding peripherals like a totally waterproof robotic arm with a gripper attachment facility so that cleaning equipment can be attached to the robot.
The robot size and attachments vary according to the nature of the sludge in different geographies. For example, Maharashtra has a sticky sludge while Rajasthan has a sludge deposition which is sandy in nature. The Sausr uses different kinds of pumps in different geographies.
To develop the Sausr has been tough. Gaur and his team had the challenge of not only creating an indigenous waterproof and rustproof device, but also of adding a camera feed and making everything work on a single phase power supply. Currently, the Sausr costs Rs 7.5-Rs 12.5 lakh. The Gridbots is incubated at the Center for Innovation, Incubation and Entrepreneurship, Indian Institute of Management, Ahmedabad.
Click NEXT to read on

18 hottest technology innovators from India
Last updated on: March 11, 2011 10:30 IST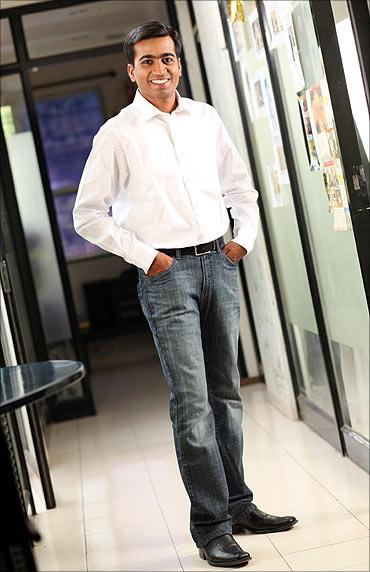 Sagar Bedmutha (29 years)
Optinno Mobitech, Pune
An intelligent anti-spamming software for mobile phones.
Spam messages are a bane to any individual as they bring with them a host of problems such as flooding the in-box, infecting the system with malware, and more.
As one witnesses the growth of mobile phones over that of PCs, it is needless to say that there is a need of good spam blockers. While a variety of email-spam blockers are available today, but the same accuracy and variety lacks in case of SMS blockers.
The anti-spam software available today require users to manually keep adding senders that they wish to block, into a list. But the new trend shows that spammers outdo these blockers by constantly changing their numbers and the sender titles. Many users find it easier to just delete such messages than to add them to a list.
Sagar Bedmutha, CEO of Pune-based Optinno Mobitech, has created an intelligent SMS blocker which automatically blocks spam without the need of user intervention. His product smsBlocker also allows users to restore a blocked message.
The application comprises almost 6,000 different predefined spam cases created out of numerous permutations and combinations. Every message that comes from an unknown source is analyzed against all predefined cases. Based on the result, the application transfers identified spam messages into a separate folder. In certain cases if the algorithm remains undecided whether a message is spam or not, it pops up a snapshot of the message for the user to view and make the decision.
Apart from the in-built logic, the user can manually change or add any rule or setting in the smsBlocker. "Most SMS blockers are not very effective as they are based on CAP-4 protocol platforms, while the one from Optinno is different," says Jaspal Riyat, senior mobile marketing manager, Bharti Airtel. "This app is successful in blocking spams 99 percent of the times," he comments.
The application runs in the background and keeps filtering SMSes as they pour in. It displays a counter of the number of messages blocked on the home screen of a mobile phone for the user to see.
One interesting feature of the app which makes it localized and more effective for Indian users is that it identifies the widely spoken Hinglish-English infused with regular Hindi words.
Bedmutha explains that during the development, their focus was to make the app use phone memory efficiently and intercept a potential spam message without allowing the phone to vibrate or ring or even flash on the screen.
smsBlocker deflects from the regular spam blockers in the manner that it doesn't automatically pulls group messages from banks or others into the spam bin. Bedmutha says he has studied more than 3,000 patterns of promotion and other types of SMSes to identify spammers. The smsBlocker app costs Rs 199 and since its launch in July 2010, the app has been downloaded by almost 70,000 mobile phone users from over 110 countries.
Click NEXT to read on

18 hottest technology innovators from India
Last updated on: March 11, 2011 10:30 IST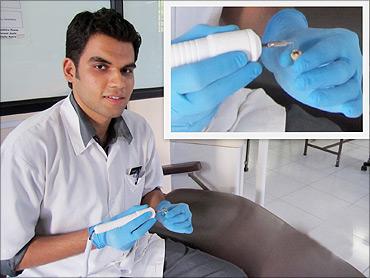 Sameer Jain (21 years)
MGV Dental College, Nashik
Innovative root canal machine
Sameer Jain has designed and developed a root canal obturating machine, called Magik, which could make a root canal treatment failure proof. Jain's invention has the potential to change the way root canal treatment is practiced across the globe, and particularly in India.
A root canal obturating machine is used for filling the root canal of a tooth after the removal of the infected tooth pulp, which is a small thread like tissue in the center of the tooth.
The filling process consists of multiple steps: An access opening is made depending on the area affected; the damaged, diseased or dead pulp is removed; the remaining space is cleaned (irrigated with antibacterial agent), shaped (by filing), and filled with a thin, tapered, rubbery material called gutta percha coated with a sealing agent. This final step is called obturation which is the penultimate stage of a root canal treatment.
Pune-born Jain, a final year student of Dentistry at Mahatma Gandhi Vidyamandir Dental College, Nashik, discovered that though various studies mention that a proper root canal filling should achieve three-dimensional obturation of the root canal space to prevent micro organisms from entering and re-infecting the root canal system, conventionally, dentists in India practice the cold lateral/vertical compaction technique (that is, placing the gutta percha cones into the canal and compressing it tightly) for root canal obturation.
"Ideally the root canal filling should seal all portals of exit to impede any sort of communication or exchange between the endodontium (dental pulp) and periodontium (tissues that both surround and support the teeth). If the tooth is not sealed properly the root canal may leak and lead to failure of treatment. There are often chances of air gaps and voids being present in cases of curved canals since the gutta percha is just mechanically compacted rather than allowed to flow to achieve sealing. The cold lateral compaction technique is far less reliable in preventing re-infection thus invariably leading to root canal failure," explains Jain.
The dental gutta percha is present in beta form. Magik heats the gutta percha at 60 to 70 degrees Celsius to transform it from beta phase to alpha phase so that it flows smoothly. The Magik also provides sonic vibrations that allow the formation of a homogenous mass of gutta percha devoid of any air spaces.
The vibratory strokes also enable the gutta percha to adhere better to the canal walls achieving better coronal seal and lateral seal. "Magik's three-dimensional homogenous fluid tight seal in the root canal prevents re-infection of the canal and fulfills one of the main goals of endodontic treatment," says Jain.
As compared to similar machines in market which cost between Rs 1- Rs 1.25 lakh, the Magik was developed under Rs 1,000. It decreases the time of treatment by ten-fold, requires no special training and is easy enough to be operated by any dentist, and it guarantees prevention from re-infection with chances of the tooth lasting for more than 10 years. Jain has developed a prototype of the tool and he is now looking for a funding from a renowned dental company.
Click NEXT to read on

18 hottest technology innovators from India
Last updated on: March 11, 2011 10:30 IST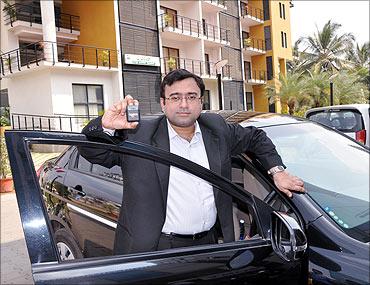 Sanjoy Ghosh (32 years)
Product manager, Innovation, Logica India, Bangalore
A device that wirelessly monitors and reports vehicular emission in real-time.
Sanjoy Ghosh, Logica India, has developed Logica EMO, a device aimed at reducing vehicular pollution. It allows wireless monitoring and reporting of vehicular emissions in real-time.
The product also empowers a driver to improve his driving pattern and turn the vehicle more environment-friendly.
Research shows that vehicular emission constitutes 51 percent of an average household's carbon footprint and close to a third of global world pollution.
"Deployed in hundreds of cars in multiple pilots, Logica EMO has successfully enabled users to reduce their carbon emissions on average by 15 percent along with similar reductions in fuel consumption," says Ghosh.
The compact Logica EMO is an integrated plug-in device that connects to the onboard port (OBD II) of vehicles and transmits emission values from the vehicle wirelessly to a central office.
The device also acts as a connected node in the dynamic traffic network. It makes the vehicle location- and context-aware, allowing it to constantly exchange contextual information such as traffic status and infrastructure usage.
The solution has the capability to talk to other devices, for example, devices installed at fuel stations. The concept can then be used to offer differential fuel pricing, an idea pioneered by Ghosh at Logica. Under the concept, the real-time vehicular emission data captured by the Logica EMO device will be transferred to fuel dispensers at gas stations.
The fuel dispensers will then use predetermined logic to provide fuel at a price proportional to the carbon emissions of the vehicle as per the policy set by the government and oil companies.
Thus, the solution provides a real and monetary way of providing incentive to drivers to improve their driving behavior. The better the driving behavior, the lesser the emission will be and the lesser the fuel will cost to the driver.
Logica EMO offers audible feedback on the driving behaviour of the driver in real-time to allow him or her to alter the driving style to make most efficient use of fuel.
"The Logica EMO uses a unique, patented algorithm which measures driving behavior and carbon emissions in real-time. It has been extensively tested both in-house and with clients. It is now all set to reach various stakeholders across geographies," says Ghosh. Ghosh believes that the success of EMO lies in individuals adopting better driving habits.
Click NEXT to read on

18 hottest technology innovators from India
Last updated on: March 11, 2011 10:30 IST
Srinivasan Jayaraman (32 years)
Tata Consultancy Services, Bangalore
Secure system using human ECG to authenticate, identify and diagnose.
With research interests in areas like healthcare devices, bio-signal processing, human system interface, biometrics, and ergonomics, Srinivasan Jayaraman has sought new ways of doing things.
He has demonstrated application of human electrocardiogram (ECG) as a biometric.
Using a collection of ECG waveforms corresponding to different people at different times, he has developed an algorithm to extract relevant morphological features and cluster them with sufficient distance for mapping them to respective people.
He has implemented a miniature three-channel device to acquire ECG data and transmit it over bluetooth or USB for the data collection.
Major impact of this work, according to Balamuralidhar P, head of Tata Consultancy Services Innovation Labs, Bangalore, can be applied for pervasive authentication like in the case of vehicle drivers, people working at high security zones, and at military or nuclear installations, or within a highly restricted area where the individual needs to be monitored continuously or queried wirelessly.
Jayaraman has filed a patent for its potential in practical applications. The technology has the potential to be developed as a secure identification and authentication system based on individual specific ECG signature.
Though a number of biometric techniques, such as fingerprint recognition systems, having very high levels of accuracy exist today, these biometrics methods are either not robust against falsification or are too costly like the iris technique.
"It has also been estimated that 2-3 percent of population fail to spot the features that are required for authentication or the data obtained for authentication is of poor quality. Further, as biometric credentials are not secured, spoofing attack occurs either physically or digitally. For example, fingerprints may be obtained from any physical surfaces that one touches such as doors, glass, and keyboard. Facial images can also be stolen from any supermarket where one visits often. However, due to ECG's unique feature it is more difficult to falsify and ECG signals can be used for aliveness detection as well," says Jayaraman.
ECG is a record of time varying bio-potential generated by electrical activity of the heart. And it is unique for individuals, even in identical twins. Jayaraman has developed the prototype wearable ECG device with a wireless capability. And he has tested it for a small group of individuals.
Further, he has also tested the performance of the algorithm and has validated it with MIT-BIH ECG database. The wearable ECG device is configurable either as continuous mode or on-demand mode.
In the on-demand mode, the PC user will raise a request based on device ID and the wearable ECG device will acknowledge the request and acquire and transmit the data to the PC through wireless mode. In the continuous mode, wearable ECG device will continuously acquire and transmit the data to PC.
"The next step would be to test the system with a larger group of individuals and integrating an automatic emergency call for times when any abnormality is detected by the system," says Jayraman. He is also exploring to add other physiological parameters like skin temperature, respiration, and blood pressure measurements.
Click NEXT to read on

18 hottest technology innovators from India
Last updated on: March 11, 2011 10:30 IST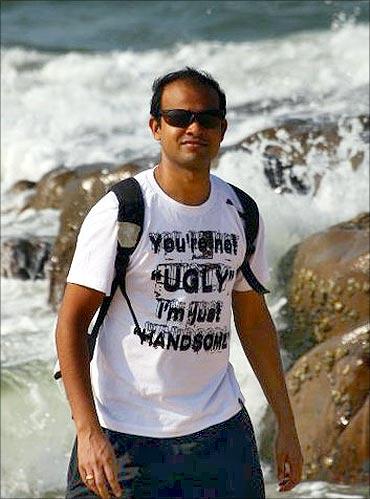 Sushant Sinha (30 years)
Indian Kanoon, Bangalore
A search engine for Indian laws and court judgments.
Sushant Sinha has developed Indian Kanoon, a search engine of Indian law. The portal has been designed to provide the most relevant Indian laws and court judgments in response to a query.
It enables people to quickly determine the standing law of the land on any issue and empowers them to seek justice.
The website has gained quick attention and is used by roughly half a million unique visitors and has more than two million page views every month.
With dual degree in computer science and engineering from Indian Institute of Technology, Madras, and PhD in the same discipline from University of Michigan, Sinha felt the need to generate awareness of laws among the citizens of India. In May 2007, he started developing the portal and finally launched it on 4 January 2008.
"Even when laws empower citizens in a large number of ways, a significant fraction of the population is completely ignorant of their rights and privileges. As a result, common people are afraid of going to the police and rarely go to court to seek justice. People continue to live under the fear of unknown laws and a corrupt police. I started the project as a way to enrich court judgments by linking them with laws and other references. The linking turned out to be so useful that I started building a search engine for Indian law. Indian Kanoon makes it simpler for people to access information on any law or judgment," explains Sinha. He currently works in the Document Processing Team at Yahoo! India.
Even though there are a number of government initiatives to present all laws at indiacode.nic.in and all court judgments at judis.nic.in, it is quite difficult for the common man to easily find the required information or even to decipher it.
The legal acts are large and in most scenarios only a few sections of laws are applicable. Finding most applicable sections from hundreds of pages of law documents is a daunting task for anyone except lawyers. Moreover, laws are often vague and to find judgments that interpret certain law clauses is again very difficult.
Sinha's Indian Kanoon is a free search engine for Indian law that breaks law documents into smallest possible clauses and integrates law/statutes with court judgments. This tight integration of court judgments with laws allows automatic determination of the most relevant clauses and court judgments in India.
Presently the Indian Kanoon hosts over 1.2 million documents. It is integrated with the Supreme Court of India, 22 High Courts, and 17 Tribunals to provide a real-time fresh judgments to the users. Sinha is now working on integrating the online channel further with all state laws and with different rules formed by government agencies.