'Starve us to death, that's the government plan'
Last updated on: May 24, 2012 19:08 IST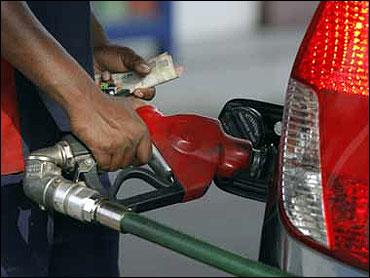 Nothing seems to be going right for the Indian economy at the moment. Rupee is on a free fall, rating agencies are downgrading the economy, growth is going downhill and the future looks as bleak as ever.
To add to the common people's views, petrol prices were hiked by a steepest ever Rs 7.50 a litre from Wednesday midnight.
As we spoke to people from various walks of life, they all conveyed their anguish over this 'unreasonable hike' and slammed the government for mismanaging the economy.
Click here to listen to people's voices. . .
'Poriborton indeed! Prices going through the roof'
Last updated on: May 24, 2012 19:08 IST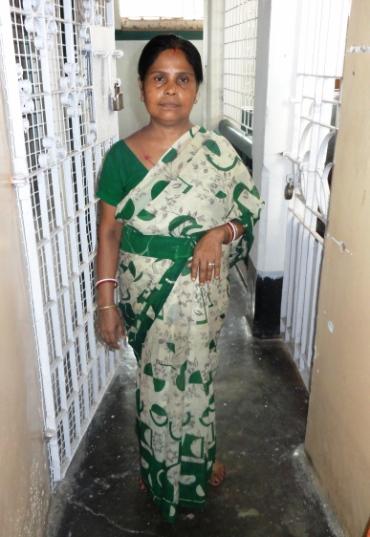 Putul Sinha
Ayah
When the Left were ousted and Trinamool Congress came to power in the state, we rejoiced.
My unemployed husband was given a job, albeit a temporary one, and we thought better days ways were here to say.
But how wrong we were!
As days passed, we saw prices spiralling upwards and our new Chief Minister Mamata Banerjee only giving a lip service to her commitment towards Maa, Maati, Maanush.
I had forgotten for the moment: after all, she is just a politician and she has no time for us, the commoners.
While in power, politicians forget that they attained the seat of power with our votes.
The way things are progressing, petrol will soon cost Rs 100 a litre.
Our monthly household expenditure used to be Rs 6,000 even a year ago.
But last month, it exceeded Rs 7,000 and it's going to be even higher this month.
I got my son admitted to an English medium school and had to take up this job to sustain ourselves.
Now, an LPG cylinder costs almost Rs 500. Wonder how far it will be hiked now.
Those days are not far when I will have to go back to cooking in the chullah or stove.
But then kerosene too has become so expensive.
I shudder to think how to run the house in days to come.
Does the United Progressive Alliance government want the poor like us to starve to death?
Click NEXT to read further. . .
'No more non-veg food for me'
Last updated on: May 24, 2012 19:08 IST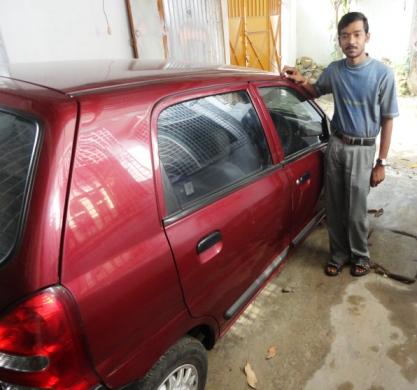 Surinder Garhnayak
Driver
Rice, dal, a vegetable curry and a fish used to be our daily menu till date. But our beloved government does not want us to enjoy the four-course meal.
The petrol is now dearer by Rs 7.5 a litre. A stupendous hike!
Prices of essential commodities are going to hit the roof.
Hence as my employer was filling the oil tank of his car last night, I decided to turn vegetarian from today.
That way, I would not be pressured by this steep hike in petrol price.
I earn about Rs 8,000 a month and my wife gets another Rs 3,000.
Out of that, Rs 7,000 is spent on room rent, daily expenditure etc. Though I am supposed to save rest of the amount, I never get to see the money.
For the last three months, I have not been able to make a household budget.
In fact, making a budget does not help.
Prices are escalating every month almost.
It's a mad situation.
Wonder what the leaders at the top doing?
They have been voted to power to manage the economy well and not to make a mess.
But sadly, they have forgotten their duties.
If there is a next life, I will try to be a politician and enjoy all the benefits instead of a commoner who is just destined to suffer.
Click NEXT to read further. . .
'Should I stop sending my kids to school?'
Last updated on: May 24, 2012 19:08 IST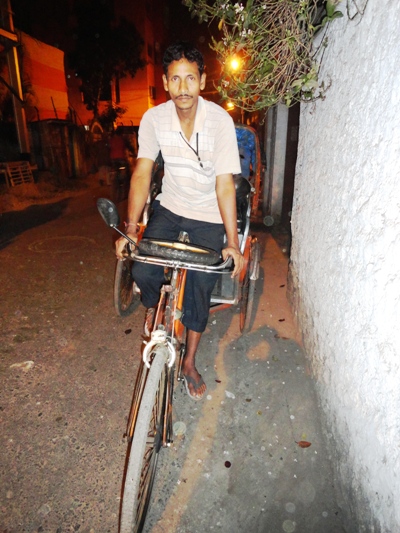 Siraj Sheikh
Rickshaw-puller
The last night's steep hike in petrol price has come as a huge shock.
Every essential commodity is going to be more expensive.
I am at my wit's end.
How will I run the house now?
Should I stop sending my kids to school?
Should I ask my little boy to join my profession?
At present, my day starts in the wee hours. I pick up school kids from their homes and drop them at their respective schools.
Till their schools get over, I take flying customers. From noon till about 4 pm, I ferry the school kids to their homes.
Apart from a very short lunch break, I don't have any respite and work continuously till 9 and 9.30 pm.
And can you guess how much I earn in lieu of this backbreaking exercise? A paltry Rs 3,500 a month.
People in our state are bragging so much about poriborton (change).
But as a citizen of this country, nothing has changed in my life.
It is just getting worse.
My wife was forced to take up a job as a housemaid a few months ago. She earns about Rs 1,000 -- it somewhat adds up to our household expenses.
But with this meagre earning and prices rising every second, how will we live?
Does the government have an answer?
Click NEXT to read further. . .
'We can afford only rice, a pinch of salt a luxury'
Last updated on: May 24, 2012 19:08 IST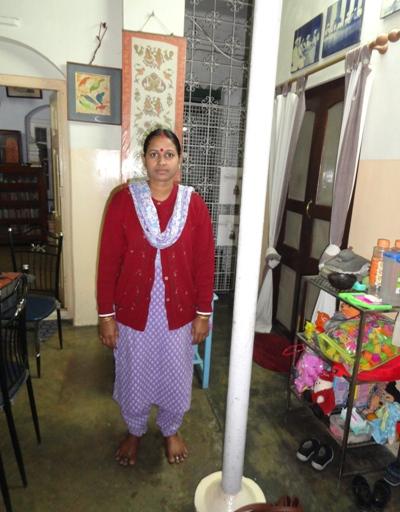 Sumita Halder
Baby-sitter
We will just die, Didi.

I earn about Rs 4,500 monthly.
And with this paltry amount, I have to feed four people.
Towards the 25th of every month, we are forced to eat rice and salt only as we cannot afford any other vegetable, let alone non-veg.
But now that petrol prices are raised by Rs 7.50 a litre, we would have to live on only rice towards the end of the month.
Another hike, and we will be left with only water to sustain ourselves.
I am so amused by this United Progressive Alliance government and its 'misdeeds'.
Congress is a rich people's party, I had heard.
Now I believe so.
I am not too educated. Yet while commuting to my place of work every morning, I hear people chatting on the train about some scam or the other.
Can't the government do something to curb corruption.
That single measure can lead to more inflow of money into the system and that in turn can bring down the prices.
If things continue the way they are, that day won't be far when people like us will be forced to commit suicide.
Though we are poor, we have lived a life of dignity
And if economic condition compels us to beg, we would have to take our own lives.
Click NEXT to read further. . .
'Are we living in a democracy?'
Last updated on: May 24, 2012 19:08 IST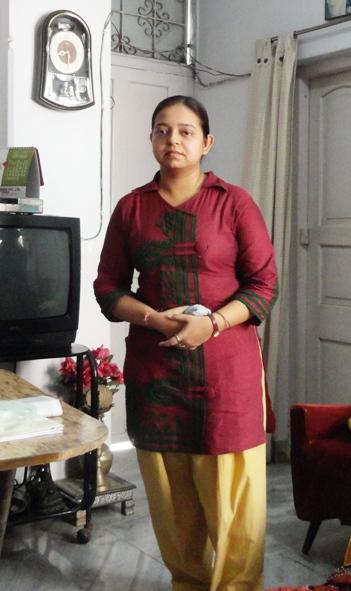 Moumita Choudhury
Student
We have two veteran economists at the top -- Manmohan Singh and Pranab Mukherjee. Yet, the Indian economy is in a mess.
This indicates that the leaders have not handled things well.
They have just worked towards making their own lives comfortable.
There are some analysts who are saying that raising petrol prices was an absolute necessity.
As one of the reasons, they are citing the sharp fall in rupee against the dollar.
I am not as knowledgeable as Singh or Mukherjee.
Yet I know that alternative measures, other than hiking petrol prices, could have been taken to ease the burden on rupee.
In 1991, (though I was too young then), I heard that government had to sell gold to pull the value of rupee.
Instead of raising the petrol prices, the government should have opted for some other measure.
We, the common people, are already gasping because of rising prices. A hike of petrol price as steep as Rs 7.50 a litre is going to make things even worse.
At times, I feel that the policymakers have forgotten that we, the people, have voted them to power and they just can't afford to do what they like.
We are living in a democracy -- a government of the people, for the people and by the people.
But it's the people that are being made to suffer in this largest democracy of the world.
It's a pathetic situation.
Click NEXT to read further. . .
'I may have to close down my car rental unit'
Last updated on: May 24, 2012 19:08 IST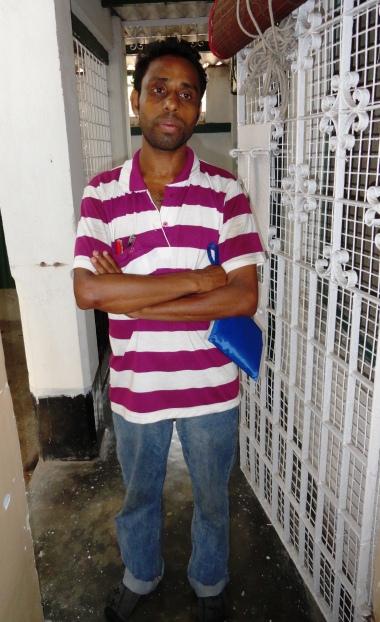 Sreemanta Kapat
Car rental owner

Our business will be the worst hit with such a steep rise in petrol prices.
I run a small establishment and have about 15 cars in the loop.
Now, I may have to cut down the number of the cars.
I cannot afford to maintain 15 vehicles now.
Also, this hike in petrol prices will eat into my profit as I won't be able to raise the car rental rates overnight.
For, hiking the rates may displease my clients and I might end up losing a few of them.
It's a Catch-22 situation for me.
I have already taken a loan of 3 lakhs from the bank for the business. I cannot opt for further loans.
Yet, with prices of all essential commodities skyrocketting, my hands are tied.
I have nowhere to go.
Should I close down my unit and look for a small job of any kind?
I have no clue.
I appeal to the government to do something immediately so that there is a roll back.
Else, people like us will have a harrowing time.
'I am so ashamed of being a govt servant'
Last updated on: May 24, 2012 19:08 IST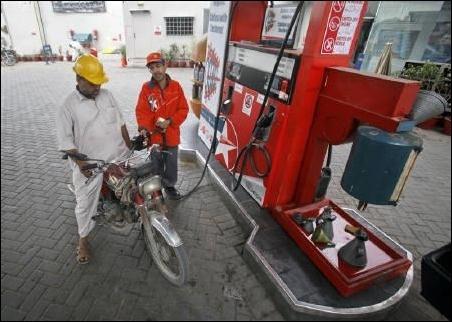 Amit Dubey
Govt servant

As a youngster, I always aspired for a government job. I prepared for all the government job-related examinations from an early age.
Reason: I wanted a secure future.
But now, at 40, I am so ashamed of serving a government that is just oppressing the poor.
I cannot imagine how could the government allow such a steep hike at a time when the people are already over-burdened with price rise.
It's really unfair and unjust on the UPA's part.
With two 'great' economists managing the helm of affairs, rupee is on a free fall, rating agencies are downgrading India and the country's growth perspective look bleak.
And as a human being, it hurts me to think that I am serving such a government that has no sympathy for the poor.
I am the principle bread winner for my family of four and cannot afford to resign.
If I were single and were richer, I would have just walked out of this job.
My conscience refuses to work under such a government.
Instead of raising the petrol price, why couldn't the government curb corruption?
On second thoughts, why should it indict the rich and the corrupt when it has the poorer and the weaker as its easy target.
This government has lost its moral right to rule.
Click NEXT to read further. . .
'We never expected this poriborton
Last updated on: May 24, 2012 19:08 IST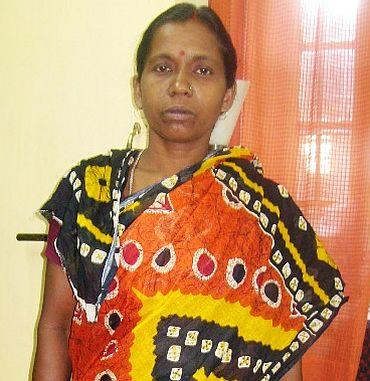 Purnima Bairagi
Housemaid
Just before elections, people made such a hue and cry about poriborton (change).
Leaders made nice speeches.
'Everything will be nice and sweet if you vote us to power,' they said.
I felt happy.
I thought my days of poverty will be over soon and I will need a better life.
But after a year, I sadly realise that I am much worse off now than before.
I used to have about Rs 2,000 as monthly savings.
But now, I am left with may be a couple of hundred notes at the end of each month.
And with this hike in petrol prices, I will have a big zero.
A poriborton indeed!
The rich are getting richer.
And the poor poorer.
Very soon, India will be loaded with poor people's corpses.
Starvation will be the poor's ultimate destination.
The leaders will keep mum, corrupt politicians will keep stealing.
What will be the future of our country?
I shudder to think!